This Easy Lemon Sheet Cake is absolutely foolproof and is perfect for feeding a crowd. Soft lemon cake and fluffy cream cheese buttercream frosting make this one cake that everyone loves!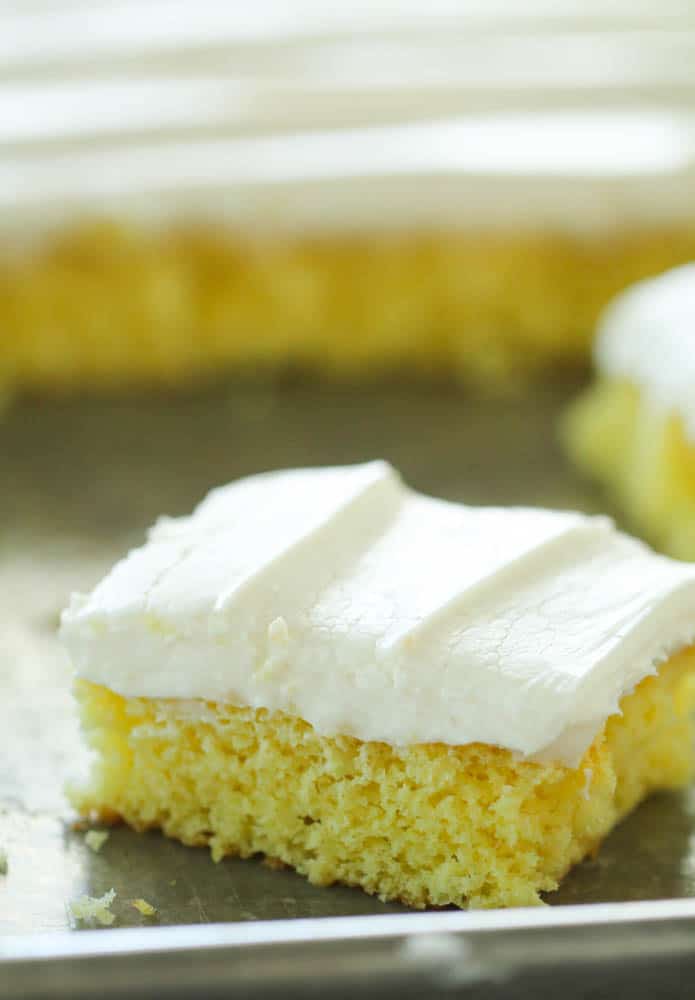 I love making sheet cakes for parties, potlucks and gatherings. Not only is this Easy Lemon Sheet Cake simple to throw together, but it is perfect for feeding a crowd.
This Easy Lemon Sheet Cake has the best lemon flavor and is topped with a delicious cream cheese buttercream frosting. This lemon cake can be cut to feed 20+ people, depending on how many pieces you slice it into.
Whenever I bring this cake to parties or potlucks, everyone always asks me for the recipe and I'm almost embarrassed to admit how easy it is to make.
How to make Easy Lemon Sheet Cake:
We call this Easy Lemon Sheet Cake, because it is just that – EASY!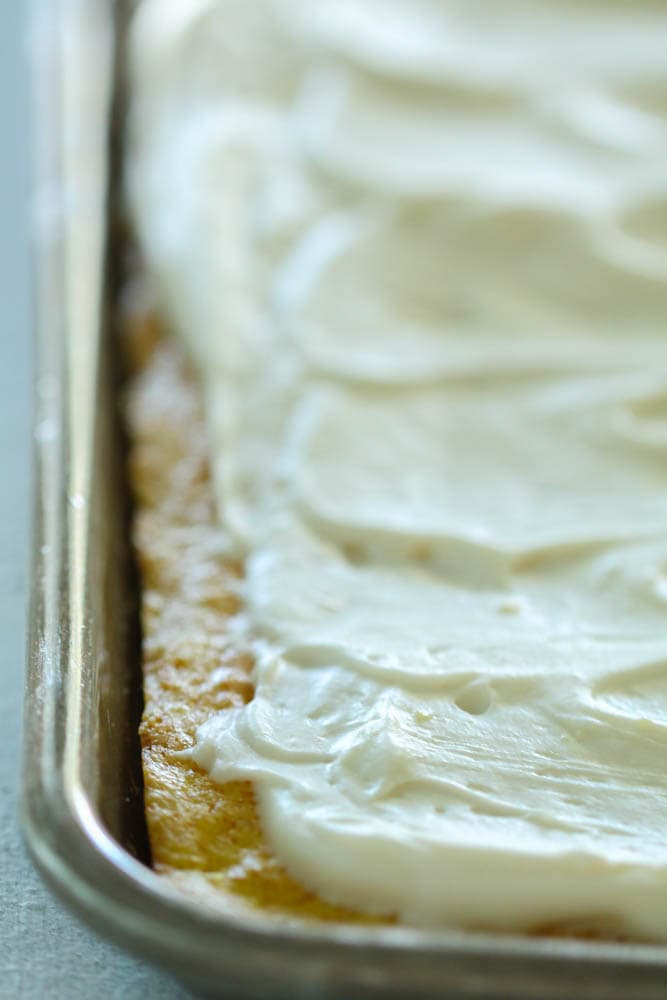 To make the cake, you simply combine a box of lemon cake mix, 4 eggs and and a can of lemon pie filling. The lemon pie filling really gives this cake some extra lemony flavor and makes it so moist.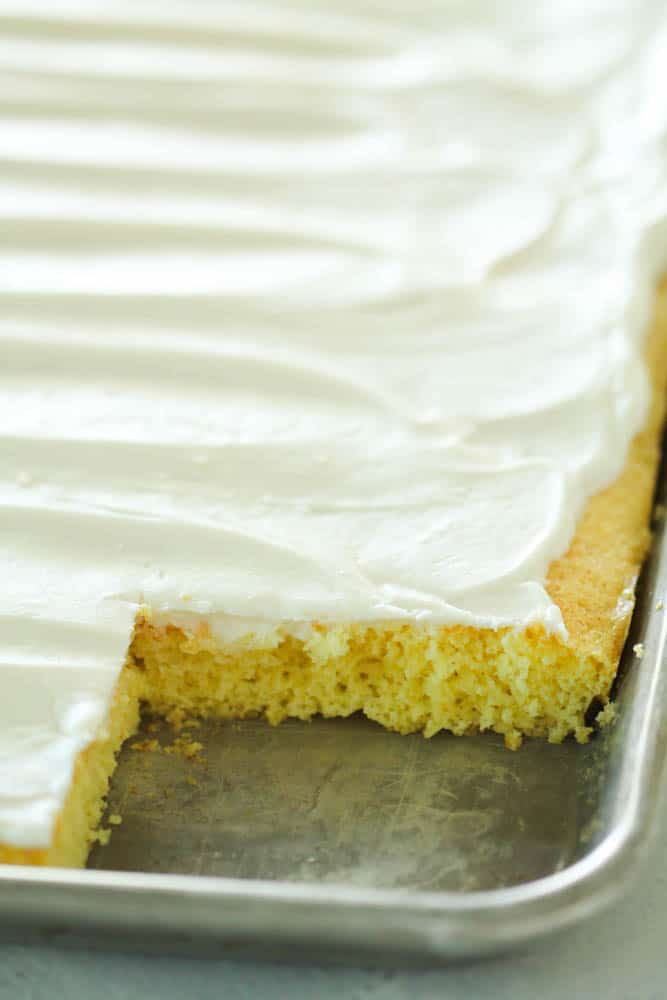 Spread the prepared cake batter into a half sheet pan that has been sprayed with nonstick cooking spray and bake at 350 degrees F. for 18-20 minutes.
An easy way to check if your cake is completely cooked is to insert a toothpick into the center of the cake and if it comes out clean, then it's done. If it comes out covered in crumbs or batter, keep your cake in the oven for a few more minutes.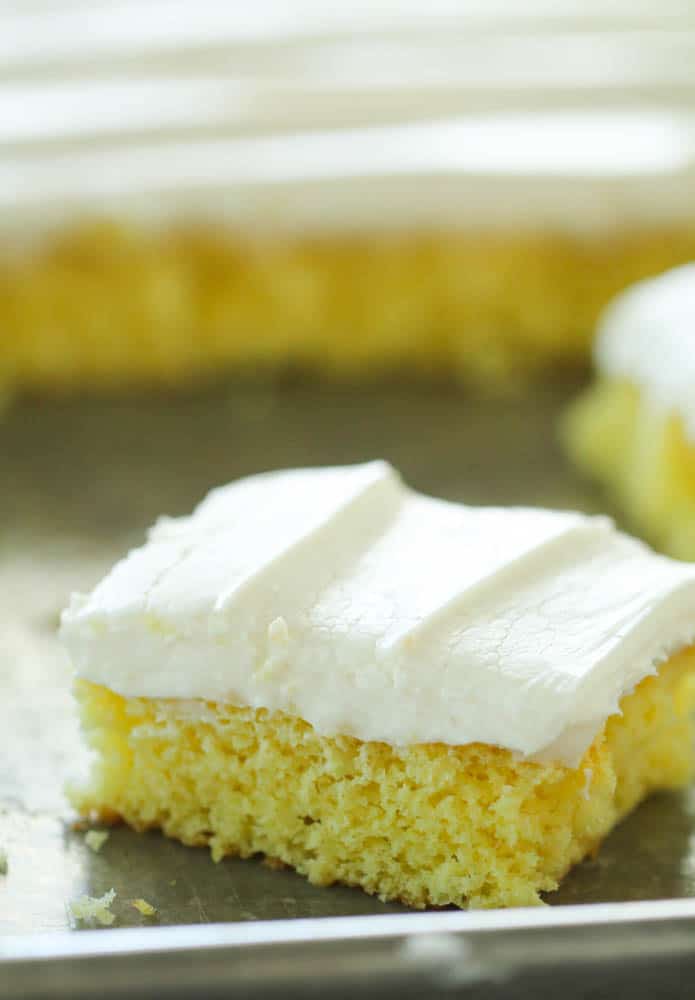 Let the cake cool completely after taking it out of the oven.  While the cake is cooling, prepare your frosting.
Looking for more Lemon desserts? Try our easy Mini Lemon Cheesecake Tarts!