This delicious Easy Cream Cheese Vegetable Dip Recipe is perfect for dipping veggies and crackers. It comes together in a matter of minutes!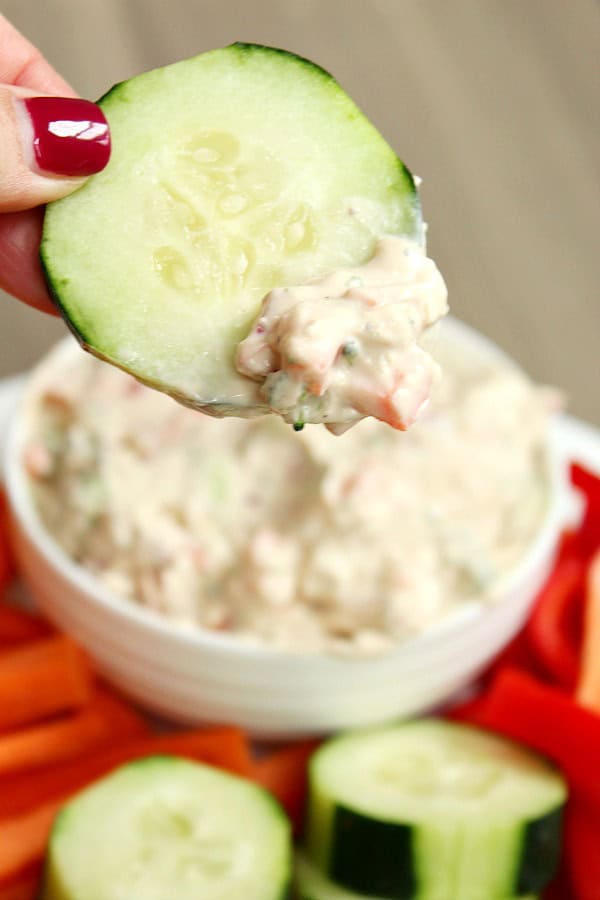 This light and EASY Cream Cheese Vegetable Dip is perfect for lunch with a plate of raw vegetables or crackers, chips, or rice cakes (basically anything that you like to dip works great for this!).
It also makes a great appetizer or easy after school snack for your kids.
Creamy dips make everything better!
Ingredients needed for this Easy Cream Cheese Vegetable Dip Recipe:
12 ounces light cream cheese low fat
1 cup Greek Yogurt
1 teaspoon Worcestershire sauce
1 carrot shredded
1 cup broccoli finely chopped
⅓ red bell pepper finely diced
⅓ red onion finely diced
½ teaspoon salt
⅛ teaspoon pepper
How to make this yummy Cream Cheese Vegetable Dip:
Combine all ingredients in a medium bowl; taste and season with additional salt and pepper as desired. Refrigerate and serve chilled.
*To mellow out the flavor of the onion, soak it for 15 minutes in cold water after dicing, then drain, pat dry, and proceed with the recipe. Or if you prefer, you can use scallions or chives.
Related Recipe: Try our delicious