This Smooth Orange Jell-O Delight is the perfect dessert or side dish for any occasion. If you are looking for the best Jell-O Dessert, this is the one. It is so creamy, delicious, and easy to make. Definitely my go to.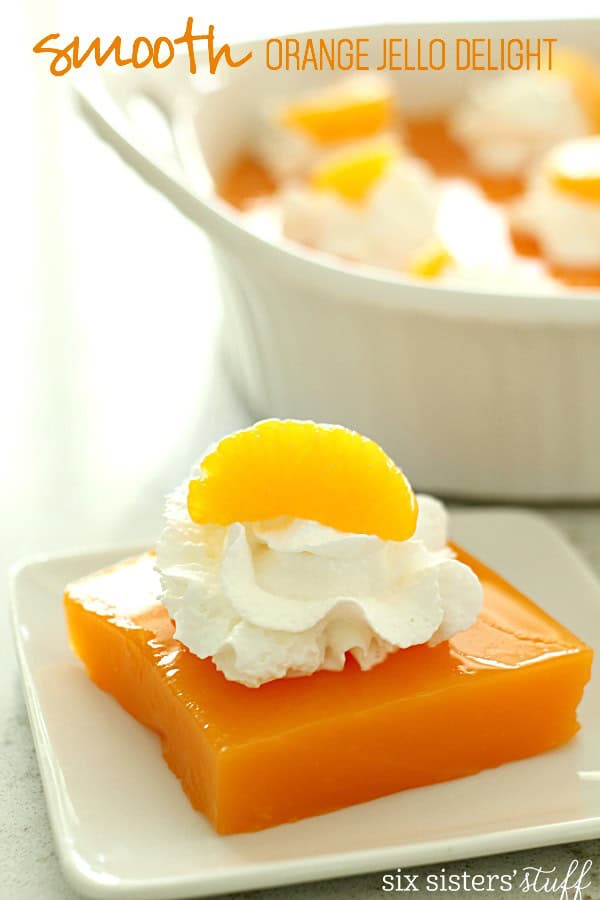 Our Smooth Orange Jello Delight is a family favorite!
Is it a dessert? Is it a side dish? Honestly, I eat it for both.
We only bust out the jell-o recipes for special occasions at our house and this is probably the best jell-o recipe that I have ever tried.
Ingredients needed to make Smooth Orange Jello Delight:
1 (6 ounce) box orange jello
1 (4.3 ounce) box lemon cook and serve pudding
5¼ cups water divided
¾ cup sugar
3 egg yolks beaten
whipped cream
mandarin oranges for garnish
bananas for garnish
Could I make this recipe using other jello flavors?
You could most definitely make this Jell-O using other flavors. Here are a few of our favorite:
-Raspberry
-Lime
-Lemon
-Strawberry
-Black Cherry
-Grape
Can I use instant pudding instead of cook and serve?
This particular recipe only works with cook and serve pudding mix.
It will not work with instant. It will have a hard time solidifying if you use instant pudding mix. It will have a totally different texture.
If you are looking for a recipe that calls for Instant Pudding mix, we recommend trying our Snicker's Trifle.
That's why we have created a Youtube Channel