If you are looking for a delicious vegetarian, healthy, protein full meal, you need to make this Enchilada Quinoa. You can also serve this as a side dish, to any Mexican inspired dish.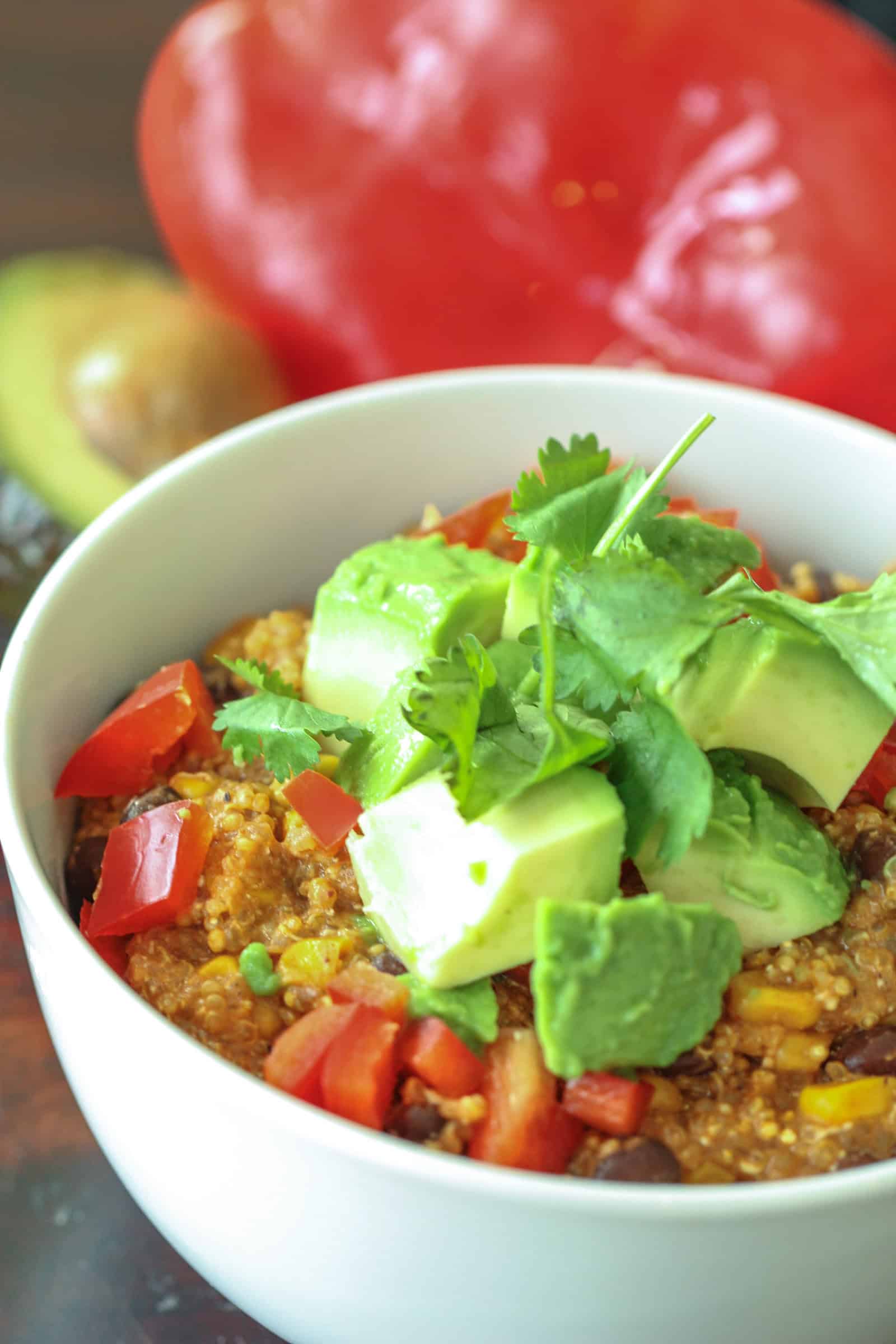 I can't believe I am about to say this, but I just got back from a cruise, and have literally eaten meat for every meal.
I didn't even want meat when I came home. I was so sick of it. I needed to find a delicious and filling meal, that was still healthy, and my family would love.
Well, the good news is, I found it. I created this delicious and simple recipe, your family is going to love.
The best part is, you make it in the slow cooker. It is so delicious, and comes together in an hour and thirty minutes.
Here are a few tips when it comes to making Enchilada Quinoa:
tips for making enchilada quinoa:
This quinoa is so easy to make. When you are making it, be sure to remember to add the quinoa to the slow cooker, uncooked. If you cook it before, then add it in, it is going to burn.
Be sure you drain both you black beans and corn, before adding them to the recipe. The black bean juice taste will linger if you don't. It will also give it a strange color. So be sure to drain the beans, and corn.
I have only tried making this recipe, on high for 1.5 hours. However, you could also cook it on low for 3, and I am sure it would turn out perfect as well.
I stir mine halfway through cooking, just to ensure, everything is cooking evenly. I have found with my slow cookers, that the bottom and sides of my food cook faster, than the middle food.So I just give it a little stir to make sure everything is cooking evenly.
what meat could I add to this recipe?
I am sure within a few days, I will be back on the meat eater train, but for now, I need at least a two day break. I seriously had so much meat.
Anyway, if you are looking to add a little protein to this dish, here are a few of my favorites, you can add.
However, I do recommend making these meats, then adding them in separately, because they won't cook as fast as the quinoa, and your quinoa will burn and be dry.
-Ground Turkey
-Shredded Chicken
-Grilled Chicken
-Ground Beef
-Steak Slices
-Shredded Pork
Usually I just add a little taco or fajita seasoning mix, to any of these meats, then add it to the enchilada quinoa, after that has been fully cooked. It is so easy to make, and tastes delicious, with or without meat.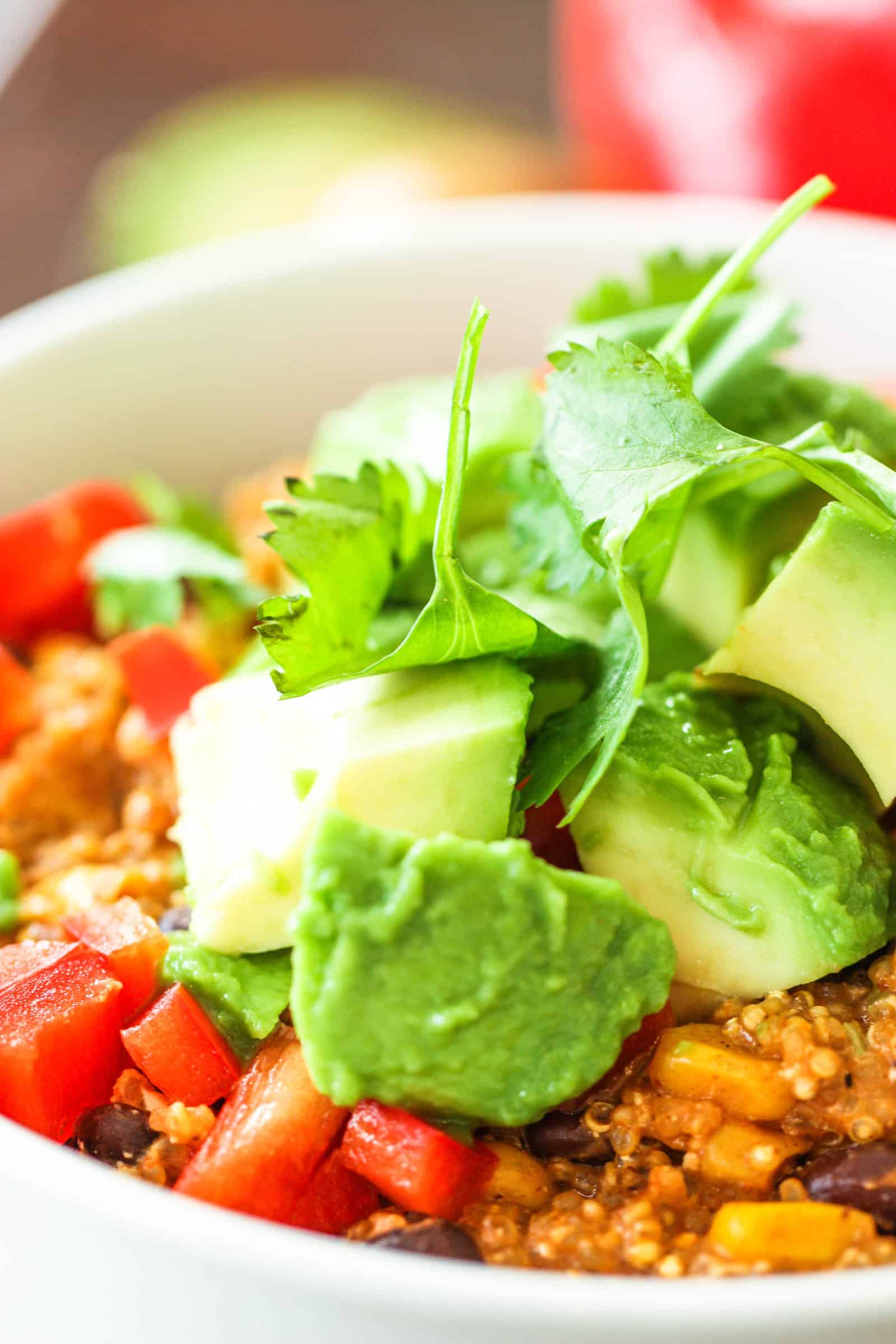 what could I top this enchilada quinoa with?
If you are looking for some extra garnish, I love to add olives, tomatoes, shredded lettuce, sour cream, guacamole, red pepper, cheese, red onion, avocado, cilantro, lime juice, or any of your favorite toppings.
This recipe goes with any Mexican cuisine. You could also serve it as a side dish to tacos, enchiladas, Mexican casseroles, etc.
This is also one of my kids favorite recipes. I love it too, mostly because it is effortless.
want to add a little more heat?
If you are looking to add more heat, you could use a hotter enchilada sauce. I have a wimpy mouth, so I tend to reach for the mild enchilada sauce.
You could also top or add jalapeños to the slow cooker, for a little extra kick.
if you love this instant pot enchilada quinoa, you'll want to try our instant pot dr pepper pulled pork! It's so moist and full of flavor.
watch how to make another one of our favorite enchilada dishes here:
Did you know we have a Youtube Channel? We created our channel, for busy people like you. We take you through each recipe, step by step, and show you exactly how to make it.
Each recipe is simple, delicious, and tried and true, so you know your family will love it.
Watch how to make our favorite Enchilada Soup Recipe, here:
looking for more enchilada dishes? here are a few of our favorites:
Kendra Murdock
Enchilada Quinoa
Enchilada Quinoa made in the slow cooker, for the perfect meatless meal.
10 minPrep Time
1 hr, 30 Cook Time
1 hr, 40 Total Time
Ingredients
1 cup uncooked quinoa
1 can black beans, drained
1 can corn, drained
1/2 cup yellow onion, diced
2 cups red enchilada sauce
1 tablespoon taco seasoning mix
1/2 teaspoon black pepper
1/2 teaspoon cumin
1 tablespoon garlic minced
toppings as desired.
Instructions
In the slow cooker, combine the quinoa, black beans, corn, yellow onion, enchilada sauce, taco seasoning mix, cumin and black pepper.
Stir until fully incorporated.
Place the lid on the slow cooker, and cook on high for 1 hour and 30 minutes, or until quinoa is soft.
Remove from slow cooker and top with meat, or desired enchilada toppings.
Serve immediately.
7.8.1.2
3964
https://www.sixsistersstuff.com/recipe/enchilada-quinoa/