Creamy sausage and tomato pasta is one of the easiest and most delicious pasta recipes you and your family will love!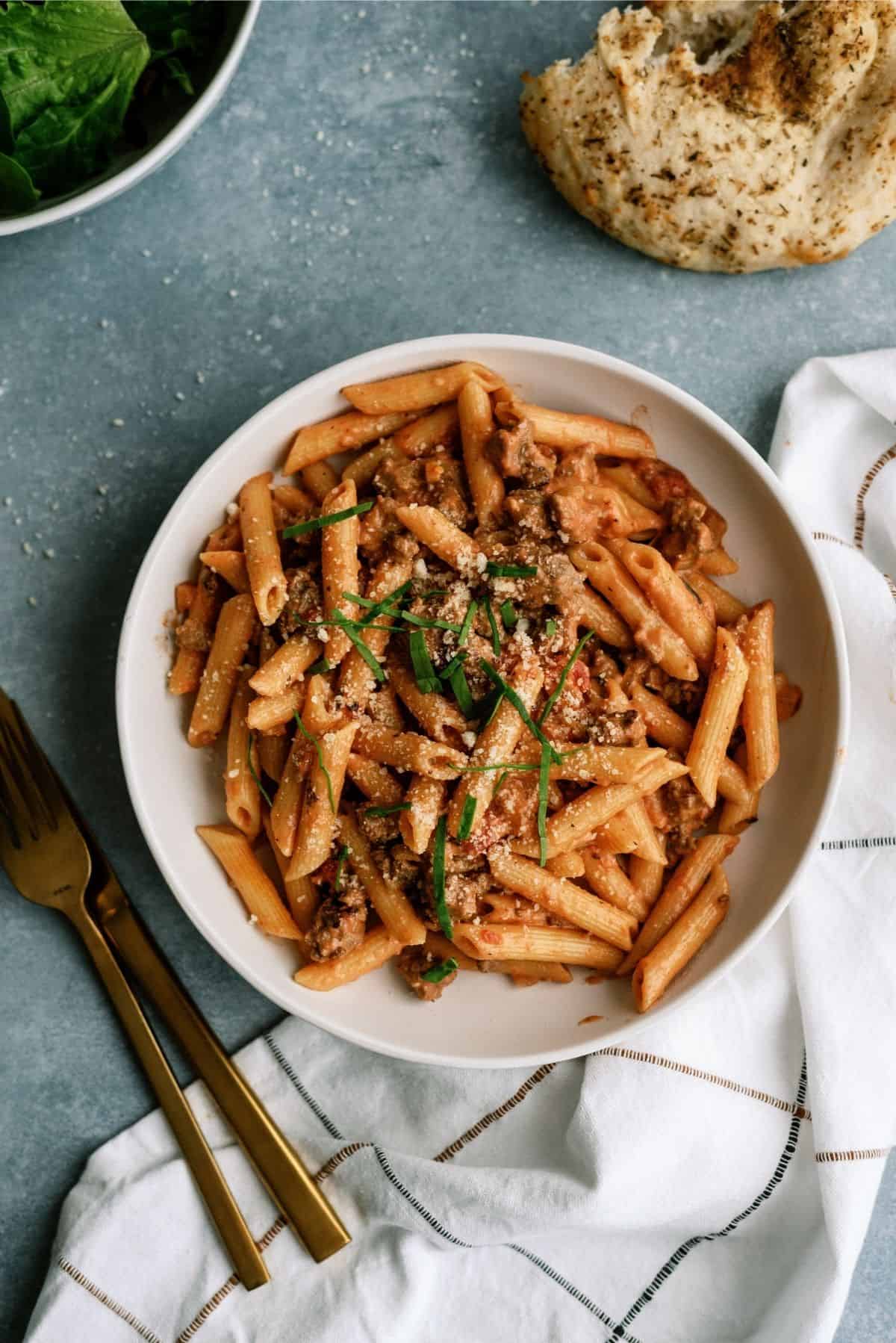 I love a good comfort food recipe, and creamy sausage and tomato pasta is just that. It is a great budget-friendly dinner recipe that you can make to feed the whole family without breaking the bank and be ready in no time!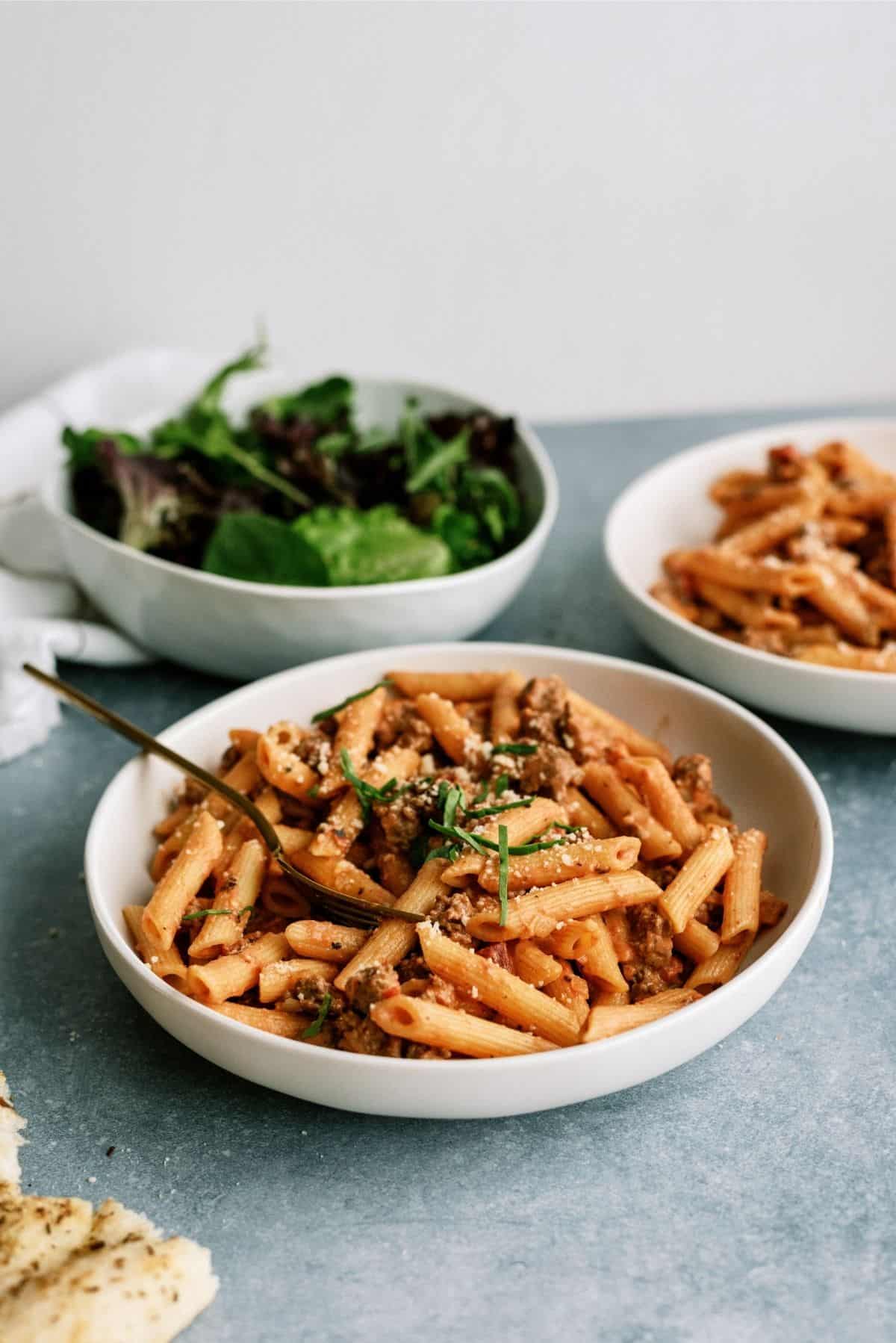 If you are looking for a tasty and easy family dinner, make sure you add this recipe to your list. Any time I make this for my family I am lucky to have leftovers for the next day.
Knowing that I'll be able to make a meal and I do not have to bribe anyone to eat just two more bites, makes this meal pop up on the meal rotation often. And of course, the fact that this recipe can be tossed together super quickly is also a plus!
This creamy pasta goes wonderfully with some of our green beans with candied pecans, strawberry spinach salad with homemade poppyseed dressing. And of course you cannot forget dessert, so make sure to make some blueberry fluff salad too, it has blueberry so it's healthy right? 😉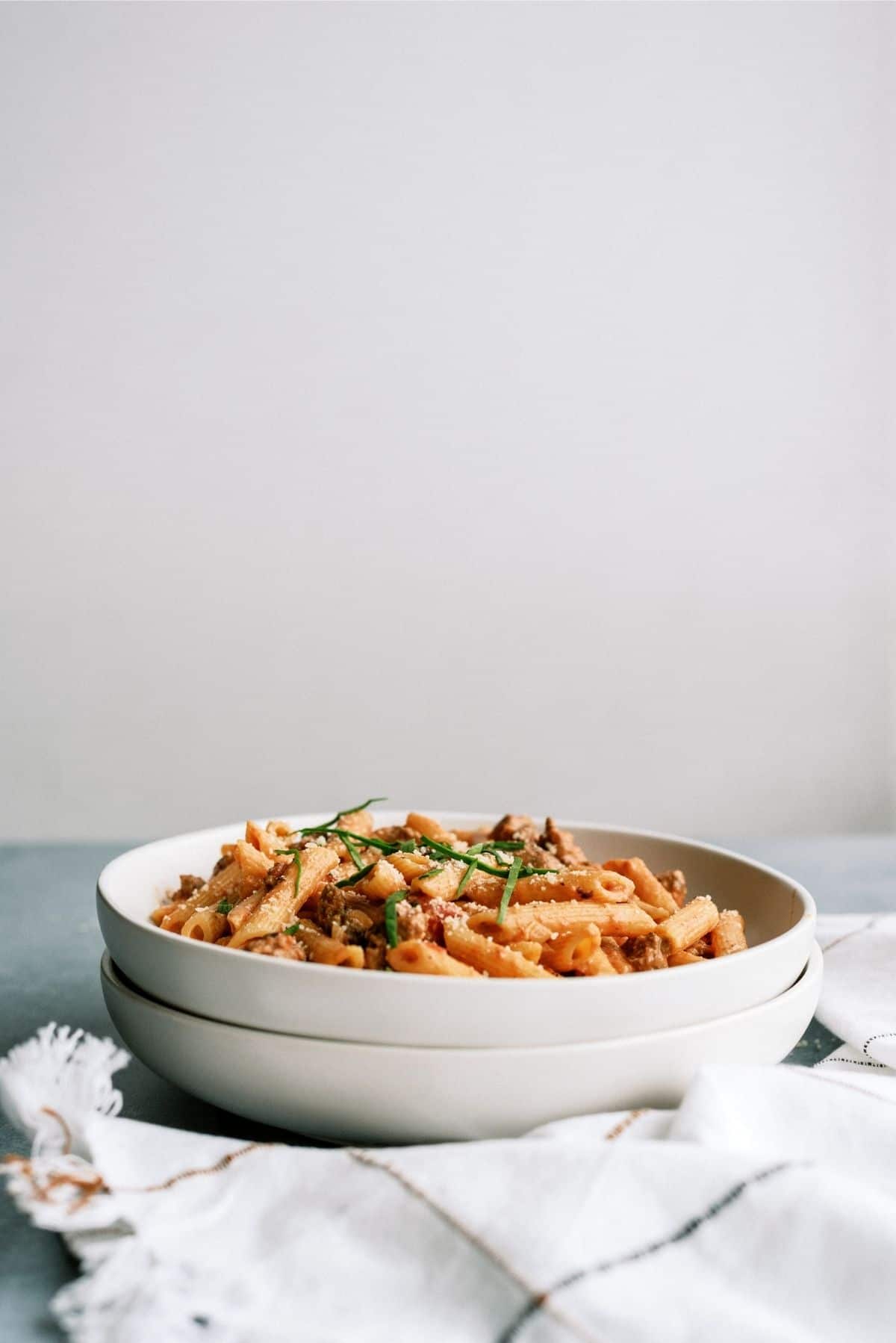 Ingredients You'll Need For Our Creamy Sausage and Tomato Pasta:
Penne pasta
Turkey Italian sausage
Medium sized onion
Cloves of garlic
Italian-style diced tomatoes
Tomato sauce
Half and half
Dried basil
Parmesan cheese
Fresh basil (optional as a garnish)
How To Make Our Creamy Sausage and Tomato Pasta: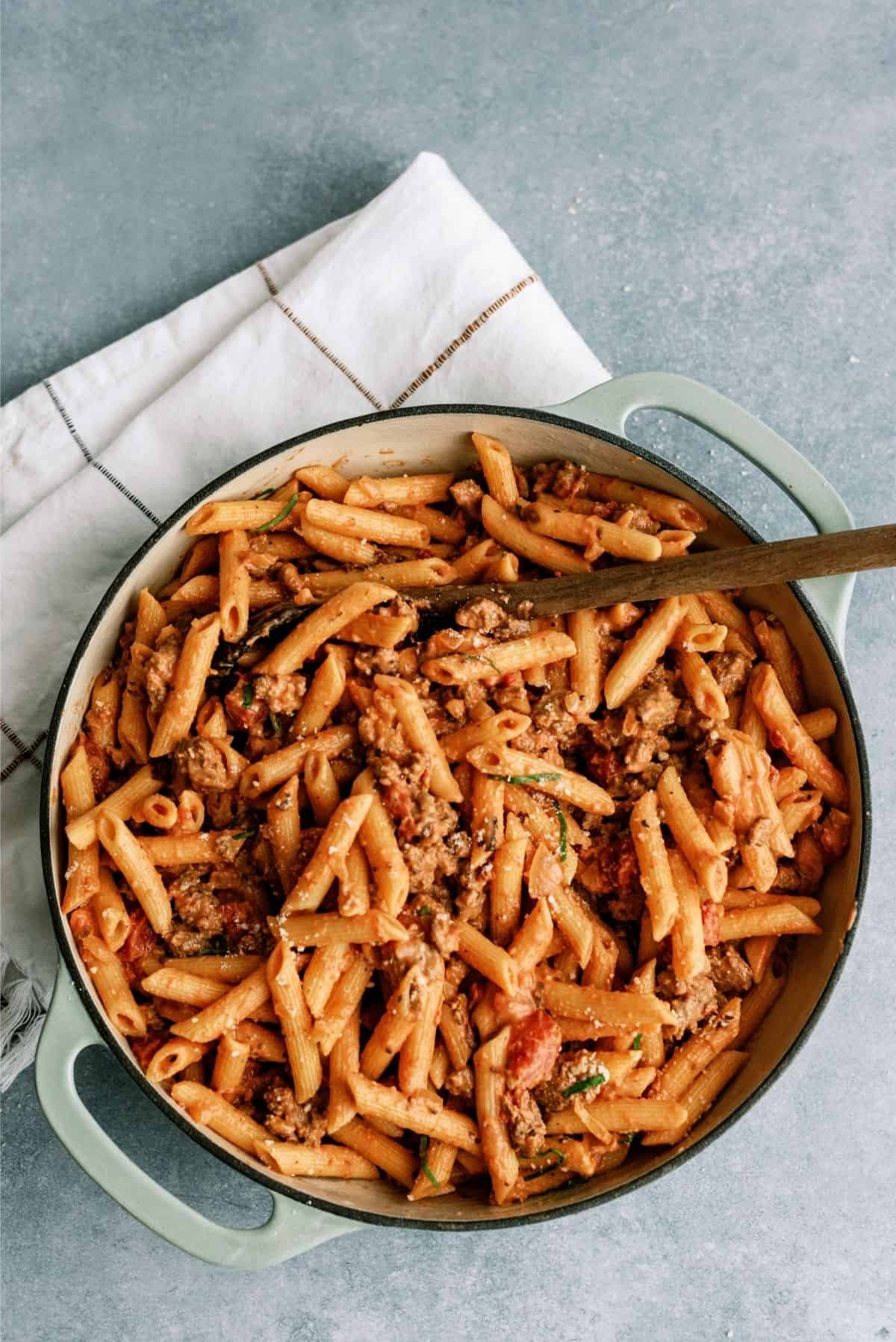 Begin by cooking the penne pasta in salted water until it reaches the point of being Al Dente. Be sure to follow the package instructions to make sure to have the correct cook time.
Then while the pasta is cooking, brown the sausage in a large skillet and then drain the grease from the meat using a colander.
Return the meat to the pan and add in the diced onions and minced garlic, and then continue to saute it together over medium high heat for 3-4 minutes.
Once the onions are tender, add in the can of diced tomatoes and the tomato sauce.
Heat it all until the sauce has been heated through.
Now, add in the half and half, and again continue to heat until the cream sauce is heated all the way through.
Let the sauce simmer for 5-10 minutes. While the sauce cooks it will continue to thicken up. So, keep simmering until you get the consistency you like.
Now it is time to add in the basil and give the sauce a good stir and let it simmer for another 2-3 minutes.
Then just add the penne pasta into the sausage sauce, and mix it up to cover the pasta in all of the sauce.
When you are ready to serve, top each plate with some parmesan and fresh basil and enjoy!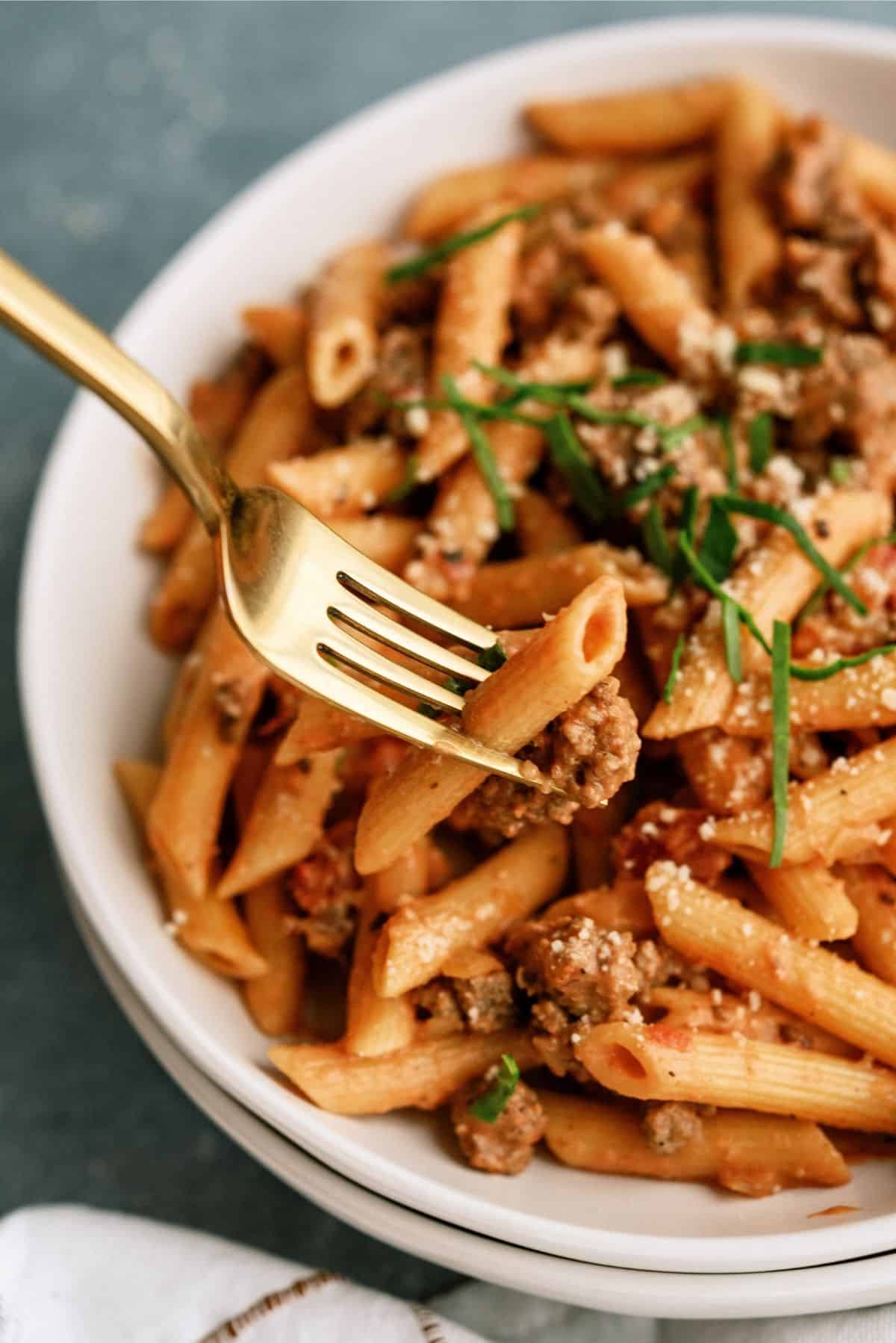 To Make This Budget-Friendly Dinner Recipe You Will Need:
Large skillet
Large pot
Colander
Slotted spoon (THIS is a nice one!)