These moist, fluffy, delicious, and FUN Confetti Cupcakes with homemade Strawberry Buttercream Frosting are made using a cake mix and a few key ingredients! Also sharing my secret ingredient to flavoring homemade frosting.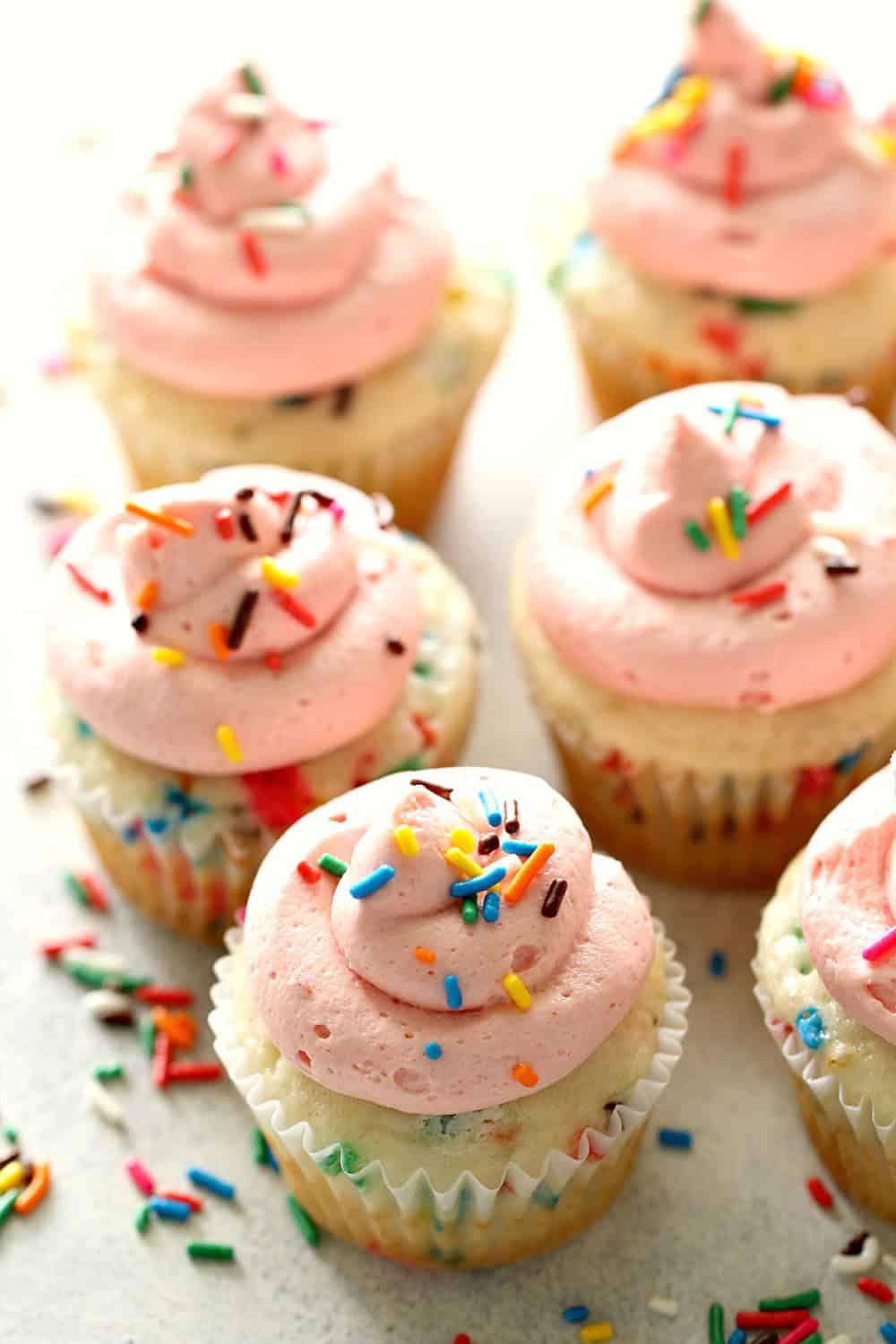 Cupcakes are so fun and tasty – they are perfect for parties or birthdays. These Confetti Cupcakes are even more fun with all of the colors with the addition of the homemade strawberry buttercream frosting and sprinkles.
My kids also absolutely LOVE the strawberry frosting. They even claim its the BEST strawberry frosting EVER and it's so easy to make using my 1 secret ingredient: STRAWBERRY JAM!
You might also want to check out our Snickers Cupcakes, Chocolate Chip Cookie Cupcakes, and our Raspberry Lemonade Cupcakes!
INGREDIENTS NEEDED TO MAKE CONFETTI CUPCAKES:
Box of white cake mix
Eggs whites
Oil
Milk
Sour Cream
Vanilla extract
Sprinkles
Butter
Strawberry jam
Powdered sugar
HOW TO FROST CONFETTI CUPCAKES
To make this frosting, you will need:
1 cup (2 sticks) butter at room temperature
1 teaspoon vanilla extract
1/3 cup strawberry jam or preserves (I used our Homemade Freezer Jam)
4-5 cups powdered sugar (just keep adding it until it's the consistency you want)
2 Tablespoons milk
To get the frosting started, after the butter has reached room temperature, beat it together with the vanilla until it becomes creamy and fluffy.
Next, add the strawberry jam or preserves to the mixture.
Feel free to use either jam or preserves it just depends on your preference. I use our Homemade Freezer Jam and it works fantastically.
Now that the strawberry jam (or preserves) have been incorporated, add in one cup of powdered sugar at a time.