I just can't get enough of Apple Desserts right now! I found an old family cookbook and saw this recipe in there. It was so easy and so delicious!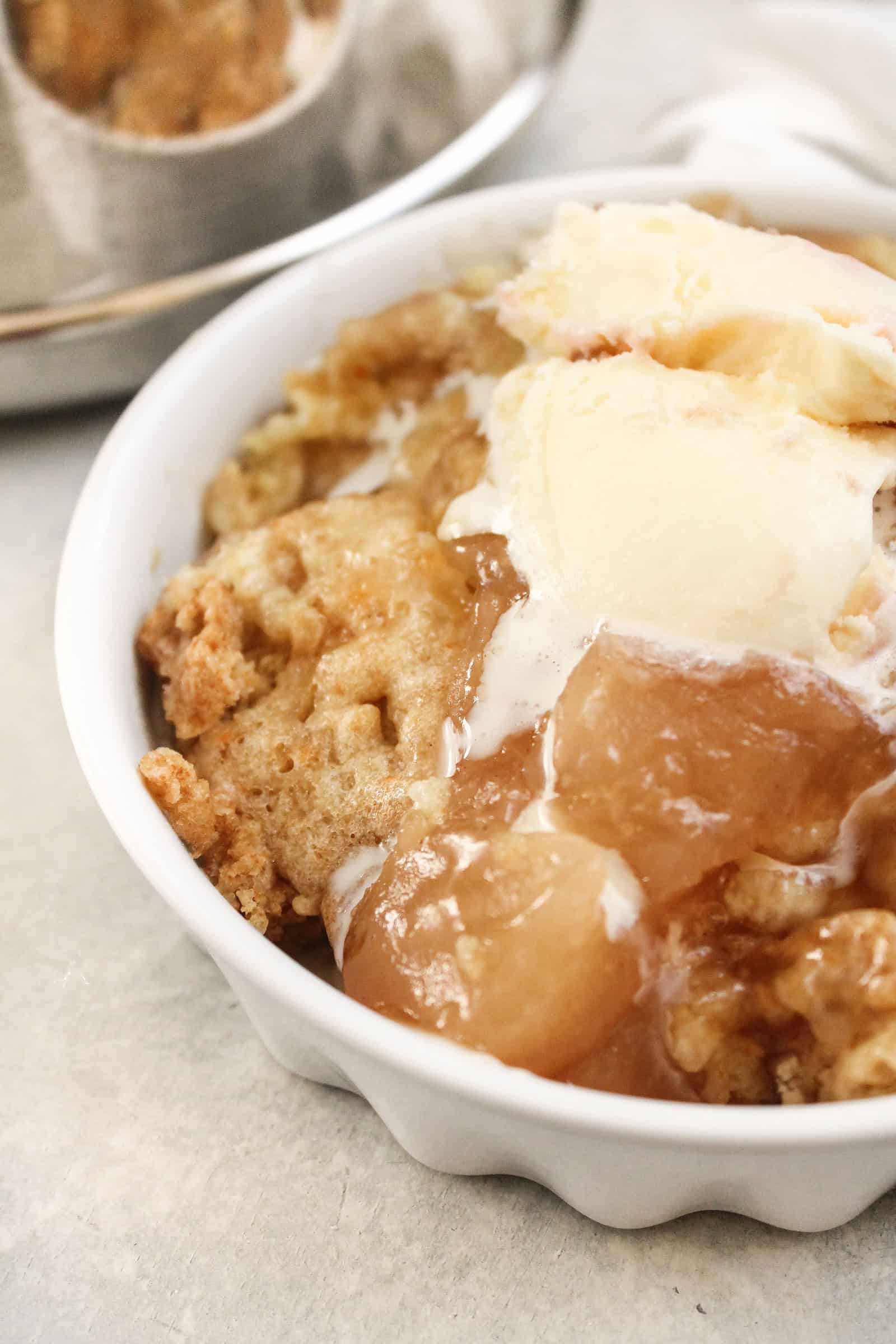 It is HOT here in Dallas, Texas and I refuse to open my oven, cook with my oven, or you know, do ANYTHING with my oven!
This recipe is perfect if you want to throw a dessert together quickly!
How to Make Slow Cooker Apple Cobbler
Now if you are new to cooking or you just want a fast dessert, this recipe is for you!
All you need for this recipe is an Apple Pie Filling, Cake Mix, and Butter! You read that right, that is ALL you need!
1. First take the apple pie filling and put in into the bottom of the slow cooker.
2. Then dump the cake mix right on top
3. Take the butter and pour it carefully on top of the cake mix. Don't MIX! That is the most important thing! – Then cook in your slow cooker and you are GOOD TO GO!
How to make apple cobbler in the instant pot
Did you know you can make this recipe right inside of the instant pot? It is just as easy of the Slow Cooker Apple Cobbler – but it is SO MUCH FASTER! Here is how you do it:
1. Dump your apple pie filling into a pan that fits inside of you Instant Pot. I use this one HERE.
2. Pour 2 cups of yellow cake mix on top of your apple pie filling
3. Melt 4 Tablespoons of butter and pour it on top of your cake mix. DO NOT MIX IT!
4. Pour 1 cup of water into your instant pot. Put a trivet in, then place your pan on top.
5. Put your lid on, push manual and cook for 25 minutes. (Make sure the knob is on sealing)
6. When it is done, push the knob to venting (quick release). Serve while it is still hot!
Watch How I Make Instant Pot Apple Cobbler (VIDEO)<
Now you can serve this with cinnamon, ice cream, whipping cream, or anything else you want! I personally like it right when it is done cooking, (so it is VERY HOT) and putting some vanilla ice cream on top. Melted ice cream on this is AMAZING! ha ha!

Check Out More Six Sisters' Stuff Dump Recipes:
Peach Cobbler Dump Cake
Apple Cider Dump Cake
Apple Raspberry Dump Cake
Pumpkin Dump Cake
Slow Cooker Cake Mix Apple Cobbler
Ingredients
1Yellow Cake Mix
20 oz can of Apple Pie Filling
6 Tablespoons of butter, melted
Instructions
Dump your can of Apple Pie Filling into the bottom of your slow cooker.
Spread your yellow cake mix over the apple pie filling.
Then spoon your butter onto the cake mix - DON'T mix the cake mix and butter around. The moisture will make it cook.
Cook on High for 4 hours in your slow cooker.
I took it out right after it was done cooking and put ice cream on top. . . it was SO good!
Hope you like it as much as we did!
7.8.1.2
1916
https://www.sixsistersstuff.com/recipe/slow-cooker-cake-mix-apple-cobbler/