This recipe has changed because MCP Pectin has changed it's formula. The recipe for this strawberry freezer jam no longer contains corn syrup as one of it's ingredients. Follow the new directions below for a tasty jam your family will love.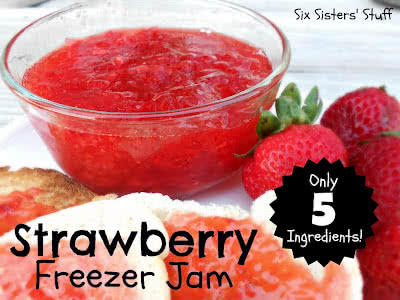 When we were growing up, I don't ever remember having store-bought jam. My mom would whip out a million batches of this jam every summer and we would eat it year-round. After I moved out, I remember sneaking jars of jam out of the freezer so that I could take it to college. I still remember having to buy my first jar of store-bought jam after I got married and being so disappointed in myself for not making my own jam. Well, after 8 years of marriage, I am happy to announce that I finally made my own . . . and I don't know what took me so long!! It was seriously so easy . . . and my husband RAVES about it. He now thinks I am a domestic goddess. This recipe is for MCP pectin only.  We've tried the other pectins and it turns out runny.
If you have ever wanted to try homemade jam, I promise that this recipe is simple and fail-proof!
Serves: 7 cups
Mom's Easy Strawberry Freezer Jam
45 minPrep Time
45 minTotal Time
Ingredients
3 1/4 cups crushed strawberries*
1/4 cup lemon juice
1 box MCP pectin (must be MCP pectin)
4 1/2 cups sugar
*My mom always uses this recipe for peach jam, apricot jam, and raspberry jam. They are all just as delicious! Just substitute whatever fruit you want for the strawberries.
Instructions
Wash and cut the tops off all the strawberries. Place in a large bowl.
Mash the strawberries (I used a good ol' potato masher and it works great!). If you like chunky jam, leave more chunks. Remember that the strawberries will continue to break down even more as you add other ingredients.
Place the crushed strawberries in a large mixing bowl.
Add in the lemon juice.
Then stir in the MCP pectin into the berries. Set aside and let set for 30 minutes. Stir about every 5 minutes to dissolve the pectin.
After 30 minutes stir in the sugar gradually. Stir until the sugar is dissolved and an no longer grainy.
Pour jam into prepared containers. Leave about 1/2 inch at the top for expansion during freezing. Cover with lids.
Let stand at room temperature for 24 hours or until set.
Then place in the freezer.
Notes
This recipe has been changed because MCP pectin has changed over the years. We used to follow the recipe that had Karo syrup in it. That recipe no longer works with this pectin. The result is runny jam. But this new revised recipe seems to work well.
7.8.1.2
1846
https://www.sixsistersstuff.com/recipe/moms-easy-strawberry-freezer-jam-only-5/