Texas Sheet Cake is a tried-and-true recipe that has stood the test of time - put it in cupcake form and it is bite-sized perfection. The fudgy frosting is poured over the hot cupcakes to make the ultimate dessert.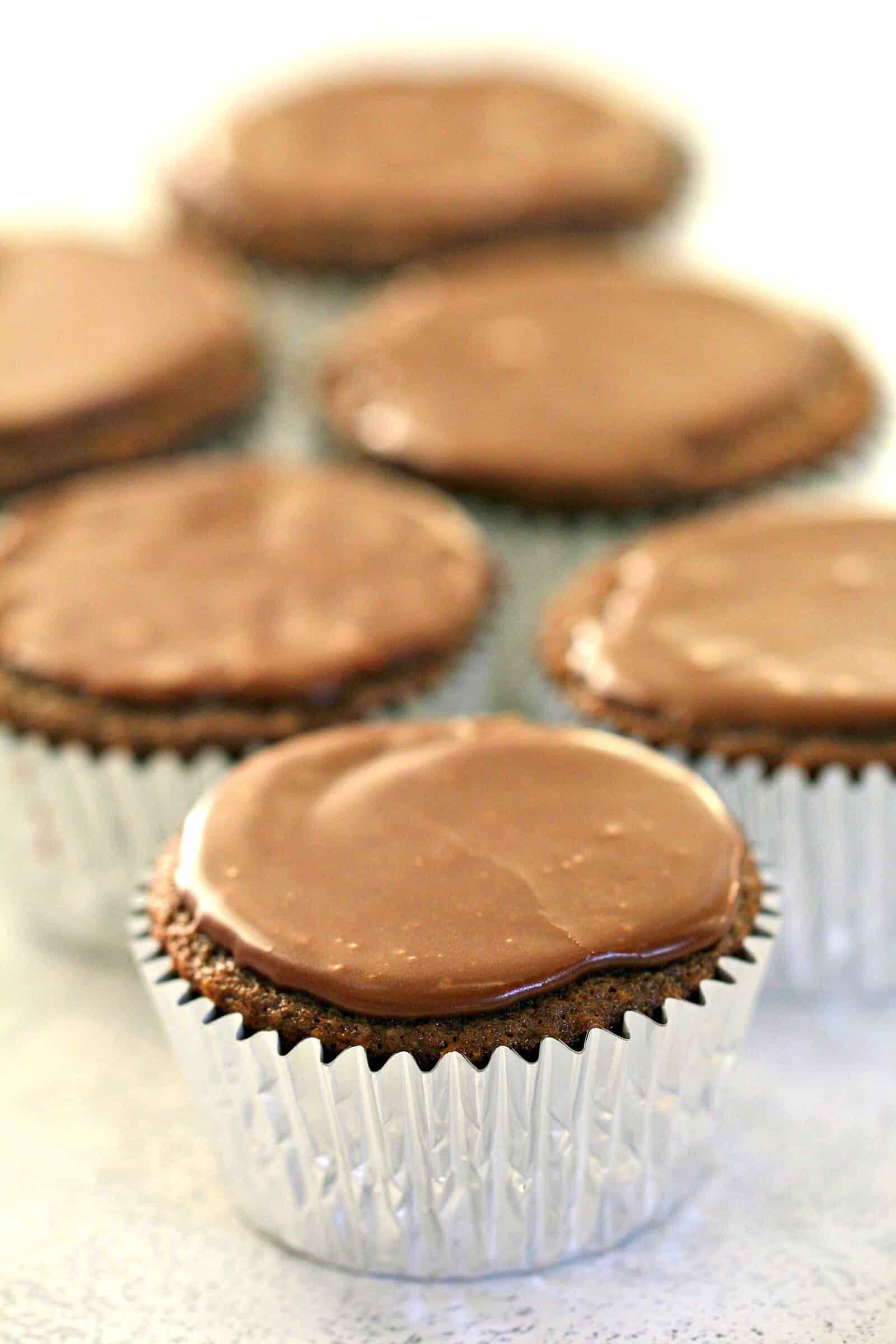 Our Grandma's Texas Sheet Cake is one of my favorite desserts – what's not to love about a tried-and-true chocolate recipe that has stood the test of time?! I have always wondered why they call it Texas Sheet Cake.
I've heard that the recipe originated in Texas in the 1950's and I have also heard that it's called that because the cake is so huge and perfect for feeding a crowd the size of Texas. Regardless of the name, it's delicious!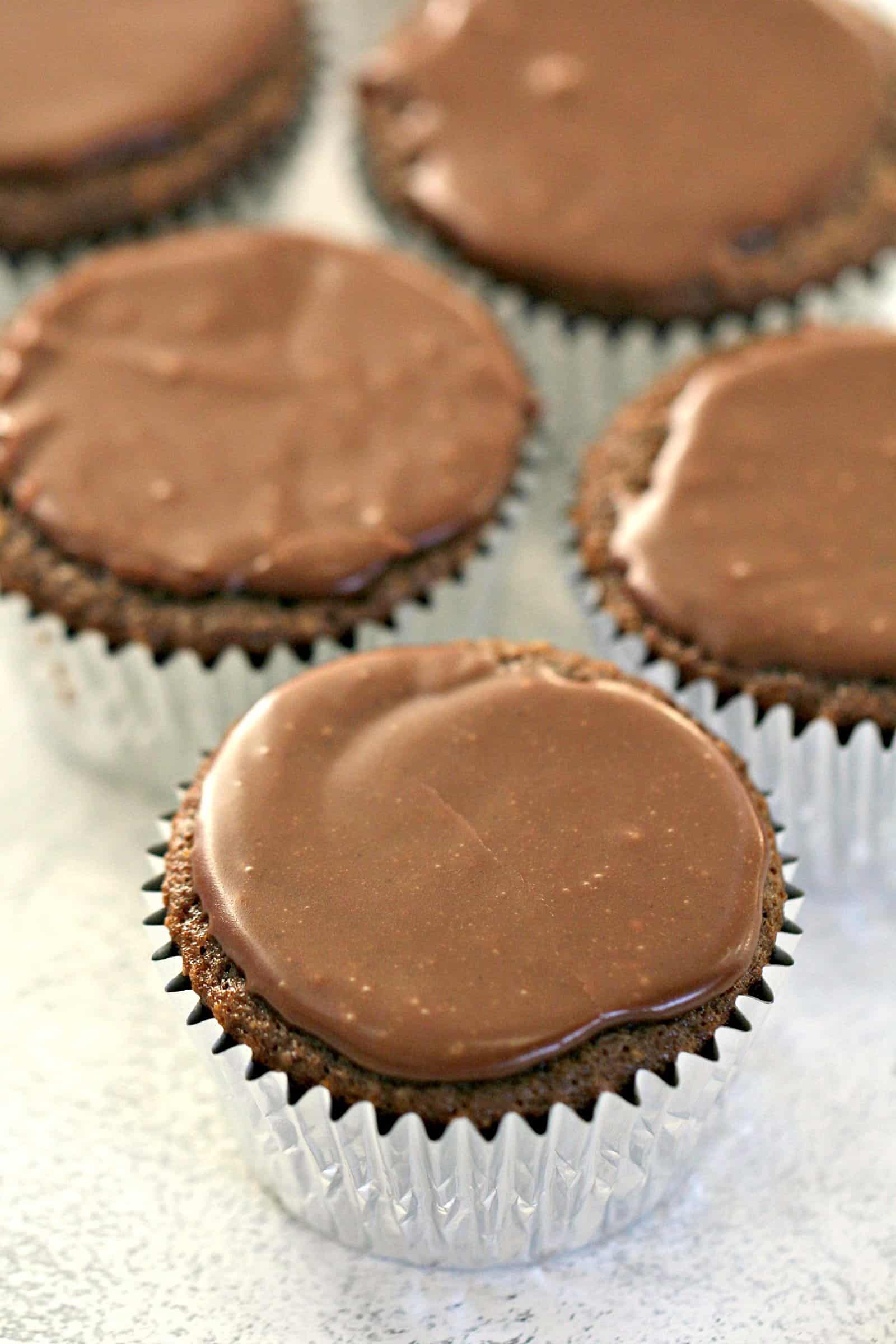 My grandma would sometimes top her Texas Sheet Cake with nuts, but always made sure to leave part of the cake nut-free for the kids. If you want, you could top these cupcakes with chopped nuts and it would be delicious!
The fudge frosting on these cupcakes are what make the cupcakes. The frosting is different than your regular frosting because you don't need to pipe or spread it on, but instead you mix it all together and pour it over the hot cupcakes.
As the cupcakes cool, the frosting will set and stay in place. I wouldn't recommend making these cupcakes without this frosting!
I wondered if it would be possible to make Texas Sheet Cake in cupcake form . . . and surprise! It worked!! I love how moist and fudgy Texas Sheet Cake is and it was perfect in cupcake form – just like an individual serving of Texas Sheet Cake should be.
Related Recipe: Try our Texas Turtle Sheet Cake!
Love cooking as much as we do? Join our FREE private Facebook Group: Six Sisters' Dinner Club!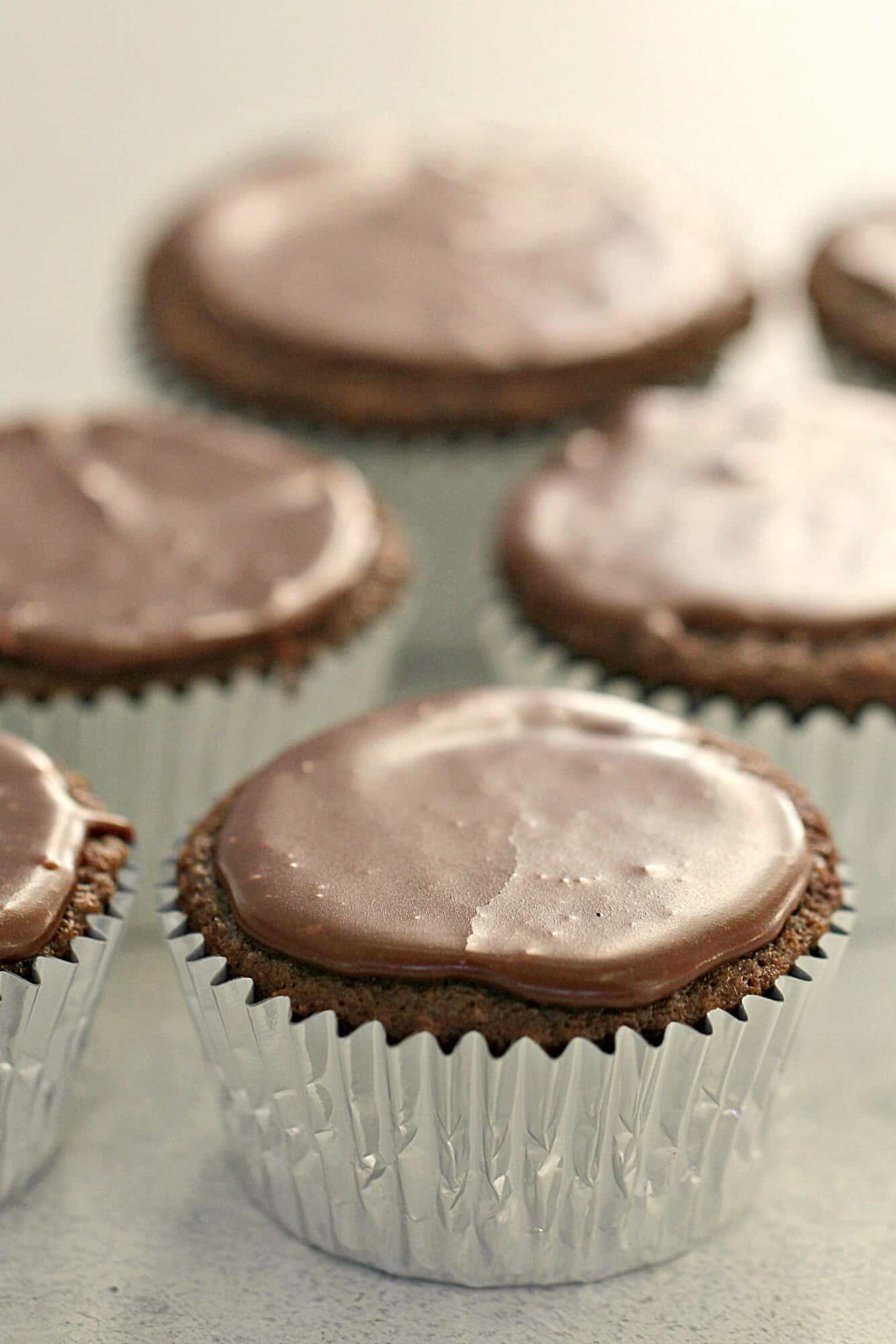 Tips for making these Texas Sheet Cake Cupcakes:
There have been quite a few people who have made this recipe and struggled with the middles of the cupcakes sinking in. The beautiful thing about this recipe is that you can fill that sunken middle with fudgy frosting and no one will even know!
However, here are some tips to keep the middles from sinking in:
Do not fill these cupcakes more than 2/3 full. In fact, I would recommend going a little less than 2/3 full, more like 1/2 full. These cupcakes do not have a rounded top like regular cupcakes, but instead they are more of a flat top. If you fill the cupcake liner more than 2/3 full, the batter will cook up and over the edge and your middle will sink down. They will also be undercooked, making them more prone to sinking in the middle. Less batter is definitely the way to go with this recipe!
Do not use an electric mixer, but instead beat these by hand. Over-mixing will cause your cupcakes to fall in the center when they cook. You want to make sure that you mix with a whisk or spatula until the ingredients are just combined and then be done.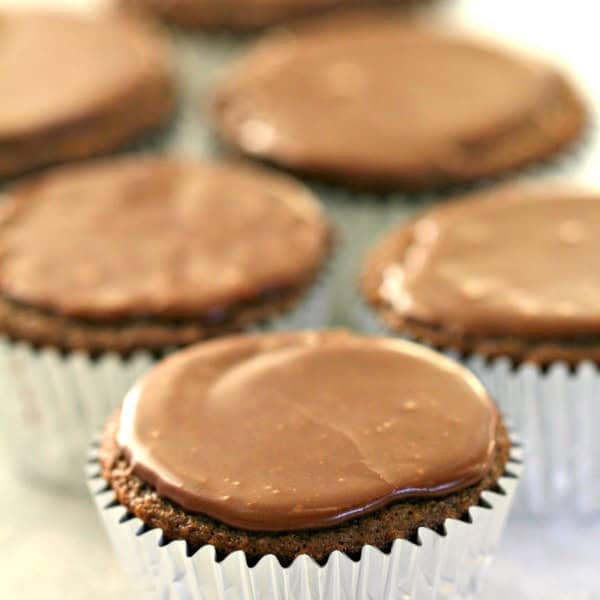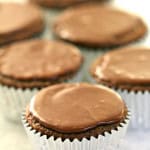 Texas Sheet Cake Cupcakes Recipe
Texas Sheet Cake is a tried-and-true recipe that has stood the test of time – put it in cupcake form and it is bite-sized perfection.
Ingredients
1

cup

butter

½

cup

water

¼

cup

unsweetened cocoa powder

2

cups

all-purpose flour

2

cups

white sugar

1

teaspoon

baking soda

½

cup

buttermilk

*

2

eggs

1

teaspoon

vanilla
Fudge frosting:
6

Tablespoons

milk

¼

cup

unsweetened cocoa powder

½

cup

butter

4½

cups

powdered sugar

1

teaspoon

vanilla
Instructions
Preheat the oven to 350 degrees. Place 24 cupcake liners into muffin pans.

In a small saucepan, bring the butter, water, and cocoa powder to a boil. Turn off and set aside.

In a separate bowl, combine flour, sugar, and baking soda. Add eggs, buttermilk, vanilla, and cocoa mixture to dry ingredients in bowl. Stir until blended, being careful to not over-mix. Pour batter into cupcake liners (a little less than 2/3 full, no more than 2/3 full or they will sink in the middle).

Bake for 18-20 minutes or until done. They will be moist- make sure that you don't overcook them! Cool completely.

In a small saucepan, combine milk, cocoa powder, and butter. Bring to a boil. Remove from heat.

Add vanilla and powdered sugar. Stir until it starts to thicken slightly (about 3-4 minutes). Drop a tablespoon full onto center of each cupcake. The frosting will thicken quickly, so do not make the frosting until ready to put on cupcakes.

This frosting is different than other frostings because it's a "pour-on frosting." It is not a spread or pipe-on. It will still be a little runny when it is applied. The frosting will harden as it cools on the cupcake. The best way to tell when it is ready to use is to drop a spoonful on a plate and see how far it spreads. When it spreads just to the width of a cupcake, it's ready. If it spreads too far, stir for a little longer.
Notes
*If you don't have buttermilk, no worries! Mix 1/2 cup milk with 2 teaspoons vinegar or lemon juice. Let sit for a minute before adding to other ingredients.
Nutrition
Calories:
307
kcal
·
Carbohydrates:
49
g
·
Protein:
2
g
·
Fat:
12
g
·
Saturated Fat:
8
g
·
Trans Fat:
1
g
·
Cholesterol:
45
mg
·
Sodium:
160
mg
·
Potassium:
60
mg
·
Fiber:
1
g
·
Sugar:
39
g
·
Vitamin A:
389
IU
·
Calcium:
20
mg
·
Iron:
1
mg
Equipment
Saucepan

small bowl

Cupcake pan

Cupcake Liners
Recipe Details