This Cinnabon Cinnamon Roll Cake has all the delicious flavor of homemade cinnamon rolls, but without all the work! Simple cake made from scratch, swirled with cinnamon, butter and brown sugar with a sweet glaze drizzled on top makes this cake an absolute favorite.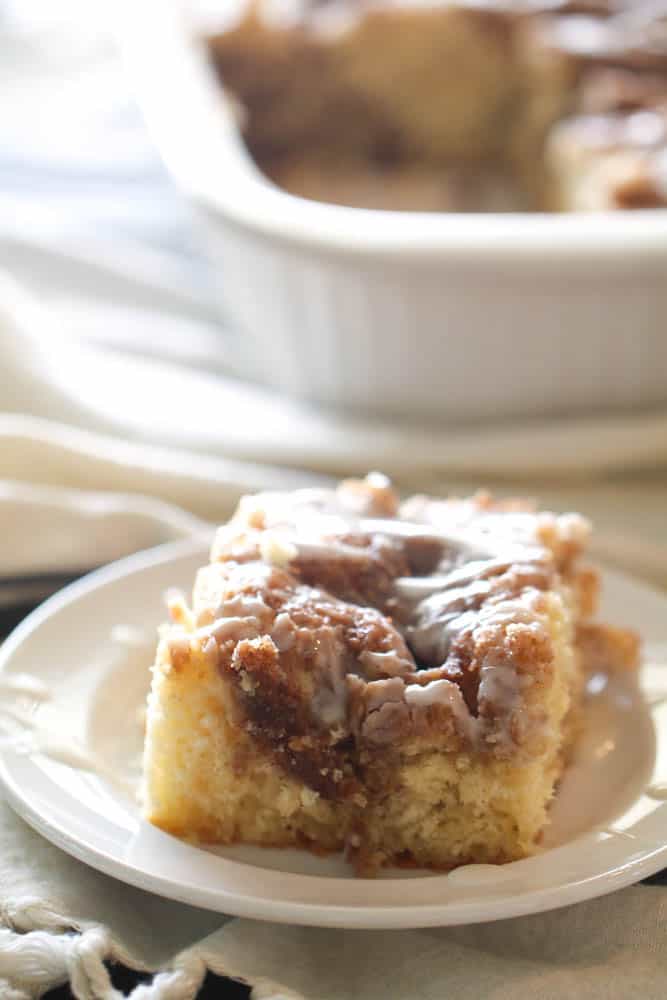 If you love cinnamon rolls, then you will love our Cinnabon Cinnamon Roll Cake.
Every Halloween I make homemade cinnamon rolls and hot chocolate for all the trick-or-treaters in our neighborhood. It's quite the undertaking!
I absolutely love homemade cinnamon rolls, but I don't love the time and mess it takes to make them.
The other great thing about this recipe is you don't have to fuss with yeast, which so many people hate dealing with when it comes to making cinnamon rolls.
That's where this Cinnabon Cinnamon Roll Cake comes in. All the delicious flavor of delicious Cinnabon cinnamon rolls in one easy-to-make cake (with ingredients you probably already have!).
How to make Cinnabon Cinnamon Roll Cake:
Don't let the words "cinnamon roll" scare you away! This cake is so simple and has just a few ingredients.
Step 1: Preheat oven to 350 degrees F.
Step 2: With a hand or stand mixer, combine flour, salt, sugar, baking powder, milk, eggs and vanilla. Once combined, mix in melted butter.
Step 3: Pour batter into a 9×13-inch baking pan sprayed with nonstick cooking spray.
Step 4: In a large bowl, mix together softened butter, brown sugar, flour and cinnamon until combined.
Step 5: Drop by spoonfuls over the batter and use a knife to swirl cinnamon topping into the cake for a marbling effect.
Step 6: Bake for 25-30 minutes, or until an inserted toothpick comes out clean.
Step 7: Whisk together all glaze ingredients until smooth and drizzle over warm cake.
Step 8: Cut into slices and serve.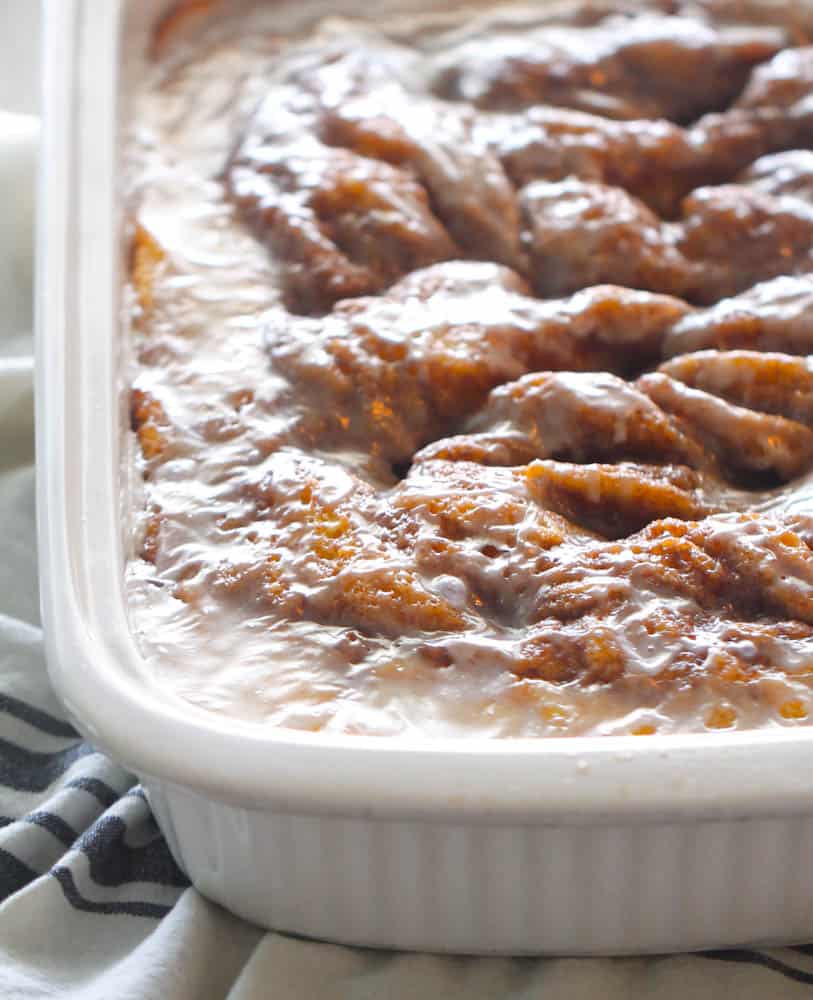 My kids thought this was the best cake ever. I love how the top gets a little bit of a crispy, sweet topping.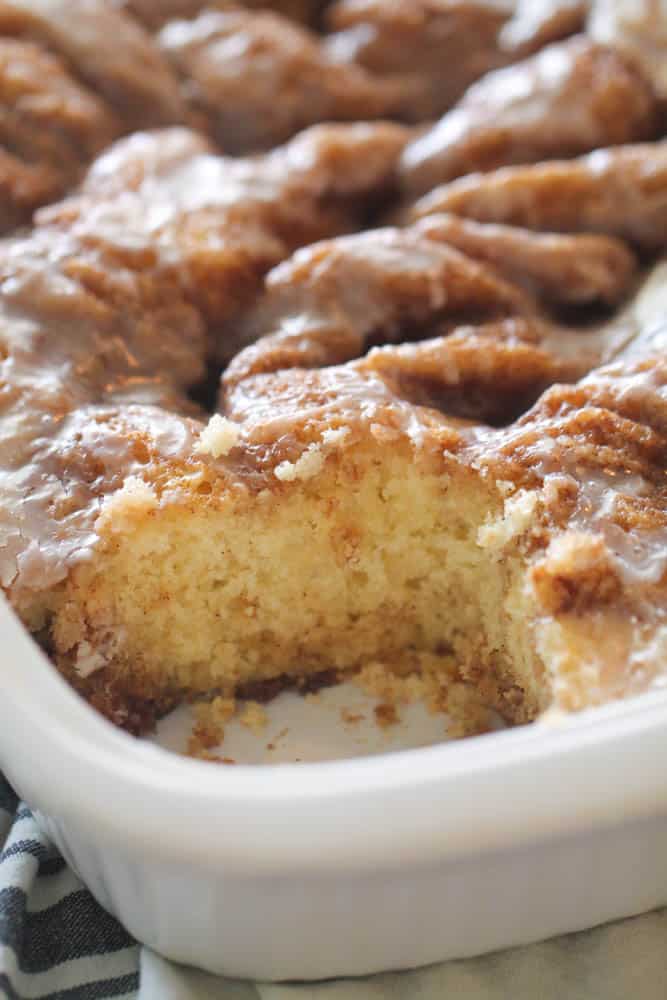 I love how light and fluffy this cake is!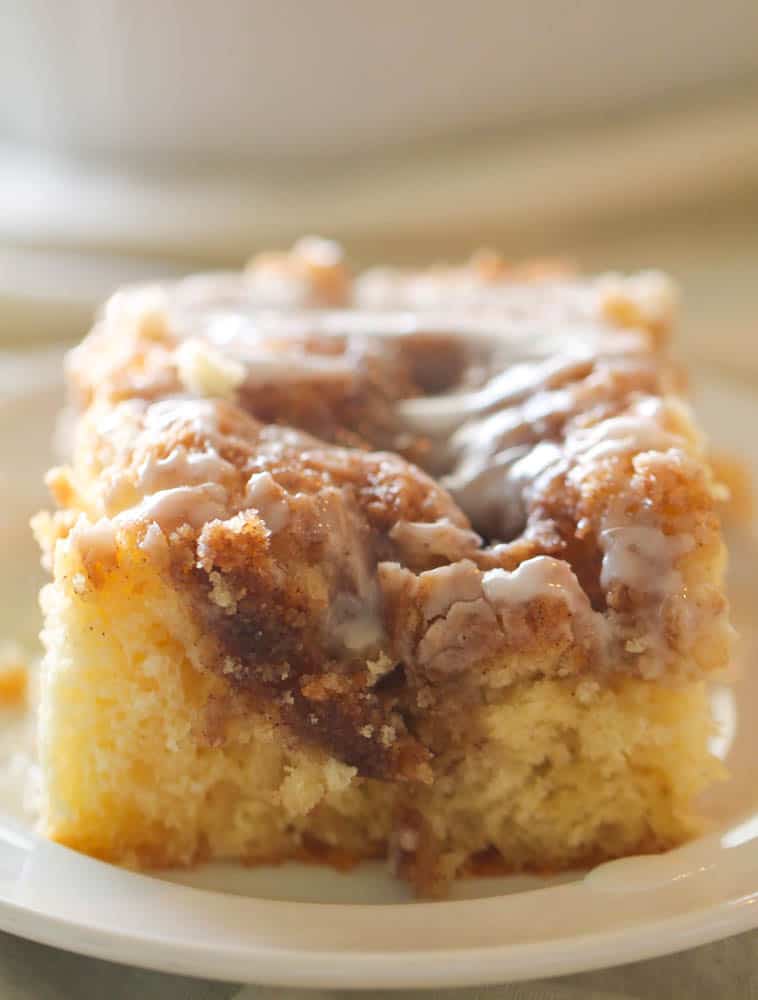 My husband said this Cinnamon Roll Cake "melts in your mouth" and I have to agree!