The BEST Homemade Cinnamon Roll recipe has been discovered, and I am sharing it with you today. This is a family favorite recipe, that has won awards, and my heart. You are going to go crazy for these. They are so simple, and so delicious. Keep reading to make the best cinnamon rolls out there!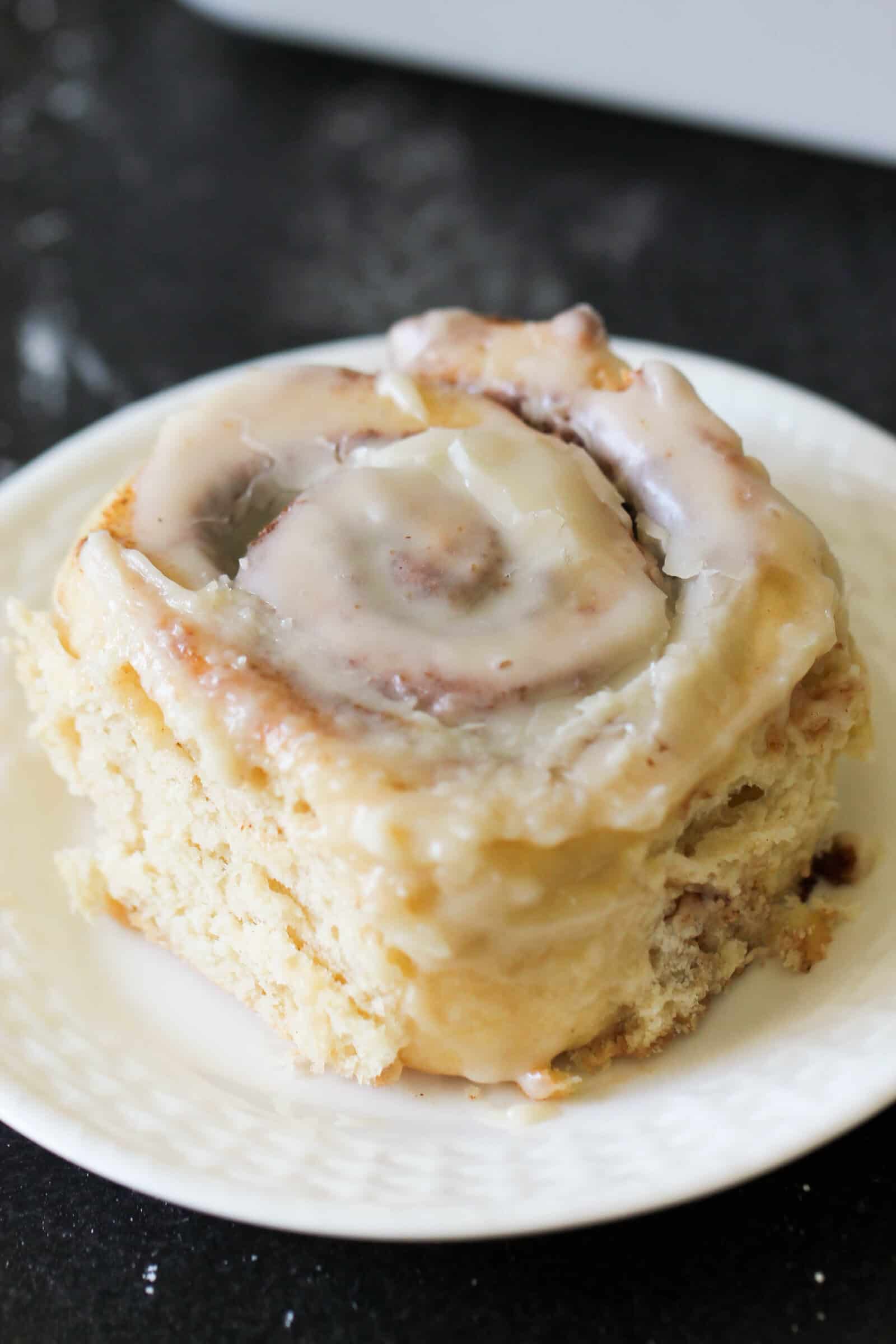 Are you a cinnamon roll lover? Because we finally have the best cinnamon roll recipe!
Any time we're traveling, I always end up at the airport with fresh Cinnabon cinnamon rolls. I just can't help it. There's something about cinnamon buns that just take me to a warm place and bring me so much joy!
They are just so soft, full of flavor, smell so good, and taste even more amazing.
We have a few different cinnamon roll recipes on our site (like our Homemade Apple Cinnamon Rolls or Cake Mix Cinnamon Rolls), but I tweaked them to be a bit more cinnabony. These will quickly become a new Christmas morning tradition for the whole family!
They were a HUGE hit and we will be making them again and again.
Another simple homemade bread recipe: EASY Homemade French Bread (it makes 2 loaves and is fool proof!)
How to make the BEST homemade cinnamon rolls:
Step 1: Mix yeast, sugar, eggs, milk, butter and salt together in a large bowl, all at once.
I did this with a wooden spoon, but you could also use a whisk, or a kitchen mixer on low speed, with a dough hook attachment. You could also use a bread machine.
For this step, still recommend just using a spoon or whisk to combine the ingredients.
Step 2: Add 4 cups of flour. Mix well with a spoon. Get all the ingredients to evenly combine.
Step 3: Cover the bowl with plastic wrap and allow dough to rise 4-6 hours on counter or overnight in the refrigerator. The cooling in the refrigerator, allows the sugars to take on more fats, leaving your cinnamon rolls, tasting a little sweeter. The cooling in the refrigerator allows the sugars to take on more fats, leaving your cinnamon rolls tasting a little sweeter.
Step 4: Remove from the fridge after a few hours. Do not knead the dough, but roll out dough with a rolling pin into a long, thin rectangle on a lightly floured surface (save some additional flour for this step, but don't use too much flour).
Step 5: Spread on softened butter. I did this with a basting brush, but you could also use a knife.
Step 6: Mix together brown sugar and cinnamon, and spread the cinnamon brown sugar filling evenly over the dough.
Step 7: Tightly roll into a jellyroll shape, starting at the long end of the dough.
Step 8: Use a string or dental floss to cut cinnamon rolls into 1-inch pieces and place rolls into a greased 9×13-inch baking pan (I placed 15 rolls in a 9×13-inch pan so the rolls were touching).
I find that when the rolls touch, the outsides of each roll don't get as golden or crunchy, so I recommend that you allow the unbaked rolls to touch.
Step 9: Cover and let the cinnamon rolls rise an additional 30 minutes.
Step 10: Preheat oven to 375 degrees F and bake for 20-25 minutes or until golden brown.
Step 11: Prepare the cream cheese frosting by combining the cream cheese, powdered sugar, vanilla, butter, salt, and milk. The cream cheese icing is delicious, so make a little extra if you like more frosting!
I used a hand mixer to make smooth, but you could also use a whisk.
Step 12: Spread the mixture over the cinnamon rolls.
You can do this when they are warm or cooled. I like to spread mine on when they are warm, because the frosting melts into the roll, making it more flavorful and moist, throughout.
Related Recipe: Try our Easy Homemade Rolls!