The BEST Homemade Cinnamon Roll recipe has been discovered, and I am sharing it with you today. This is a family favorite recipe, that has won awards, and my heart. You are going to go crazy for these. They are so simple, and so delicious.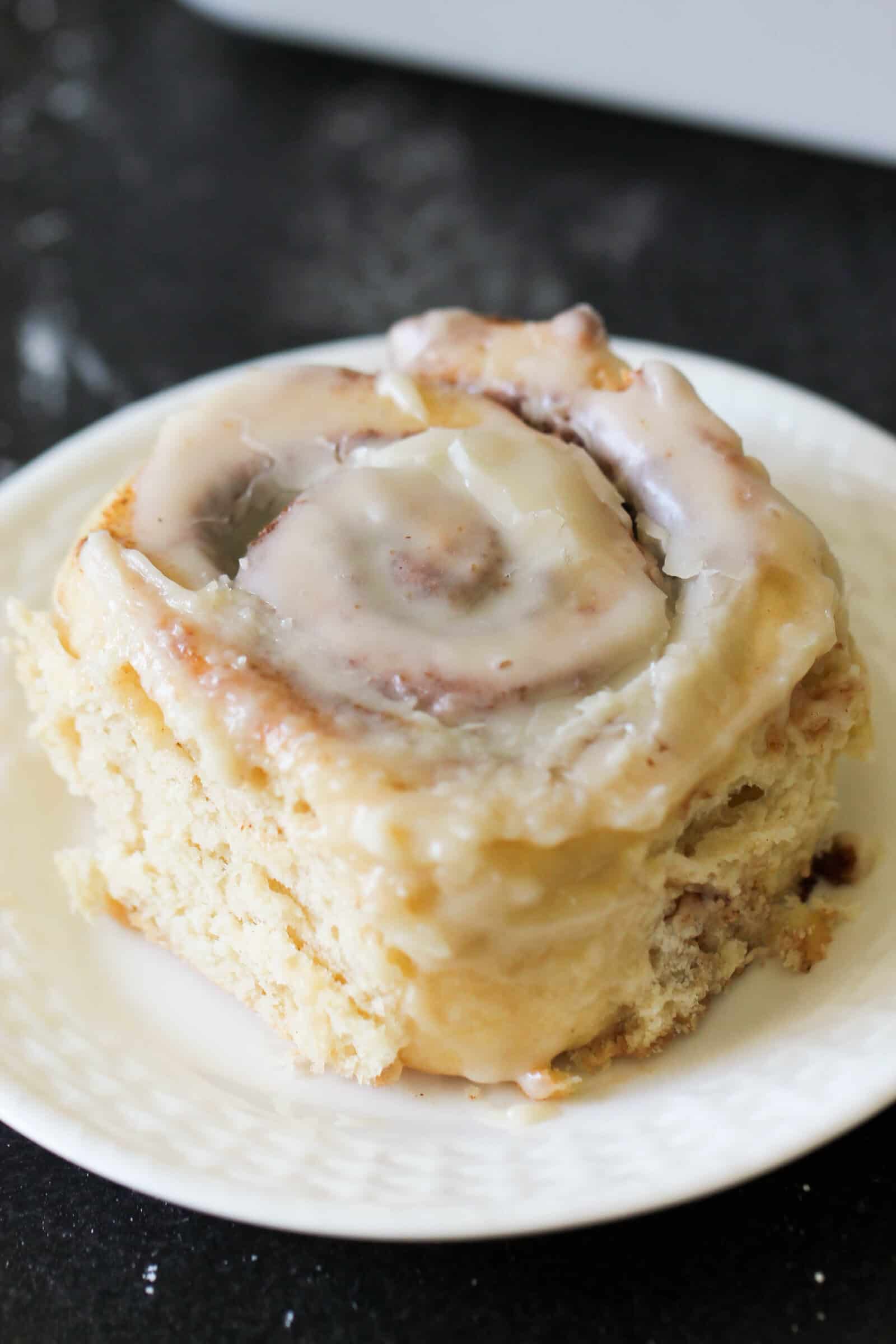 Are you a cinnamon roll lover? Because we finally have The Best Homemade Cinnamon Rolls recipe!
Any time we're traveling, I always end up at the airport with a fresh Cinnabon cinnamon roll. I just can't help it.
They are just so soft, full of flavor, smell so good, and taste even more amazing.
We have a few different cinnamon roll recipes on our site (like our Homemade Apple Cinnamon Rolls or Cake Mix Cinnamon Rolls), but I tweaked them to be a bit more cinnabony.
They were a HUGE hit and we will be making them again and again.
Another simple homemade bread recipe: EASY Homemade French Bread (it makes 2 loaves and is fool proof!)
How to make the BEST homemade cinnamon rolls:
Step 1: Mix yeast, sugar, eggs, milk, butter and salt together in a large bowl, all at once.
I did this with a wooden spoon, but you could also use a whisk, or a kitchen mixer, with a dough handle attached.
For this step, still recommend just using a spoon or whisk to combine the ingredients.
Step 2: Add 4 cups of all-purpose flour. Mix well with a spoon. Get all the ingredients to evenly combine.
Step 3: Cover the bowl with plastic wrap and allow dough to rise 4-6 hours on counter or overnight in the refrigerator. The cooling in the refrigerator, allows the sugars to take on more fats, leaving your cinnamon rolls, tasting a little sweeter.
Step 4: Remove from the fridge after a few hours. Do not knead the dough, but roll out dough into a long, thin rectangle on a lightly floured surface.
Step 5: Spread on softened butter. I did this with a basting brush, but you could also use a knife.
Step 6: Mix together brown sugar and cinnamon, and spread evenly over the dough.
Step 7: Tightly roll into a jellyroll shape, starting at the long end of the dough.
Step 8: Use a string or floss to cut dough into 1-inch pieces and place into a greased 9×13-inch baking pan (I placed 15 rolls in a 9×13-inch pan so the rolls were touching).
I find that when the rolls touch, the outsides of each roll don't get as golden or crunchy, so I recommend that you allow the rolls to touch.
Step 9: Cover and let raise an additional 30 minutes.
Step 10: Preheat oven to 375 degrees F and bake for 20-25 minutes or until golden brown.
Step 11: Prepare the frosting by combining the cream cheese, powdered sugar, vanilla, butter, salt, and milk.
I used a hand mixer to make smooth, but you could also use a whisk.
Step 12: Spread the mixture over the cinnamon rolls.
You can do this when they are warm or cooled. I like to spread mine on when they are warm, because the frosting melts into the roll, making it more flavorful and moist, throughout.
Related Recipe: Try our Easy Homemade Rolls!