These Baked Pizza Stuffed Zucchini Boats have all the flavor of pizza but without all the extra calories. Fresh zucchini filled with marinara, cheese, vegetables and all your favorite toppings, baked to perfection for a delicious healthy lunch or dinner.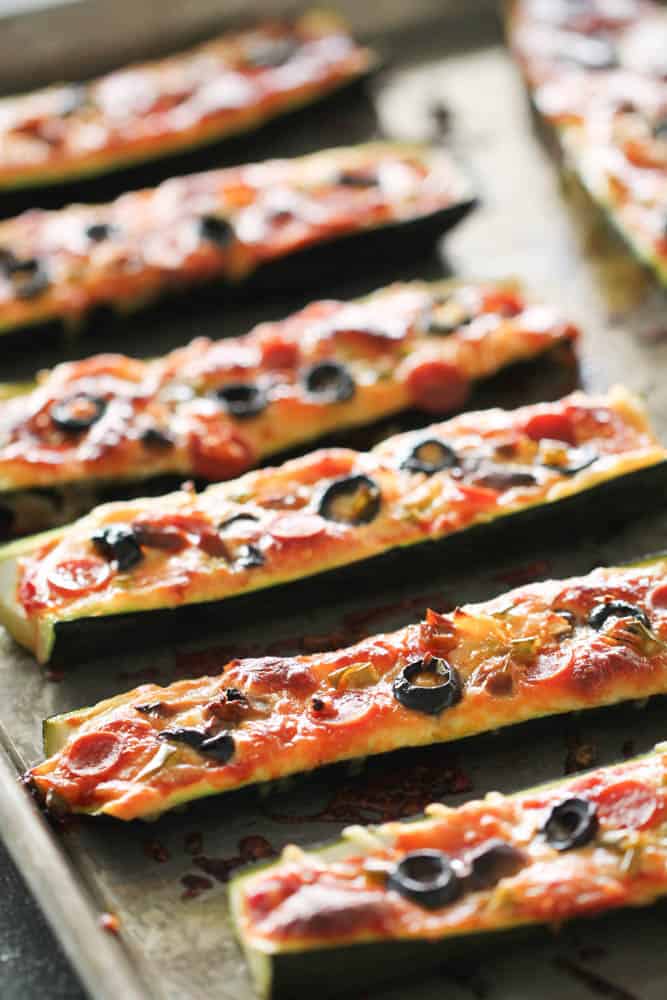 How do you make stuffed these Baked Pizza Stuffed Zucchini Boats?
Trim the stems off your zucchini and cut in half lengthwise. Use a spoon to scoop out seeds and fill with desired toppings and ingredients. We like these Italian Stuffed Zucchini Boats and Bacon Asparagus Zucchini Boats.
How long do you bake stuffed zucchini?
Cooking time for baked stuffed zucchini can vary due to thickness. I used medium sized zucchini, which was about one and a half inches thick in diameter and it cooked perfectly at 400 degrees F. for 15 minutes.
I would suggest keeping an eye on your stuffed zucchini and even using a fork to puncture it and check if it is tender.
Low carb pizza?!
My family loves having some form of pizza every weekend. I am always looking for ways to help my family eat a little bit healthier so I thought I would make a fun twist on traditional pizza.
Each one of these Baked Pizza Stuffed Zucchini Boats had 6 grams of carbs, compared to 41 grams in a traditional slice of pepperoni pizza. If you are counting macros or trying to eat fewer carbs, this recipe is perfect for you.