This Baked Salting Cracker Chicken could not get any easier. If you are gluten free, you could easily swap out the crackers for almonds or tree nuts. It takes minutes to make, and it will be a family favorite at your house. The chicken is moist and juicy with just the right amount of crunch from the crackers.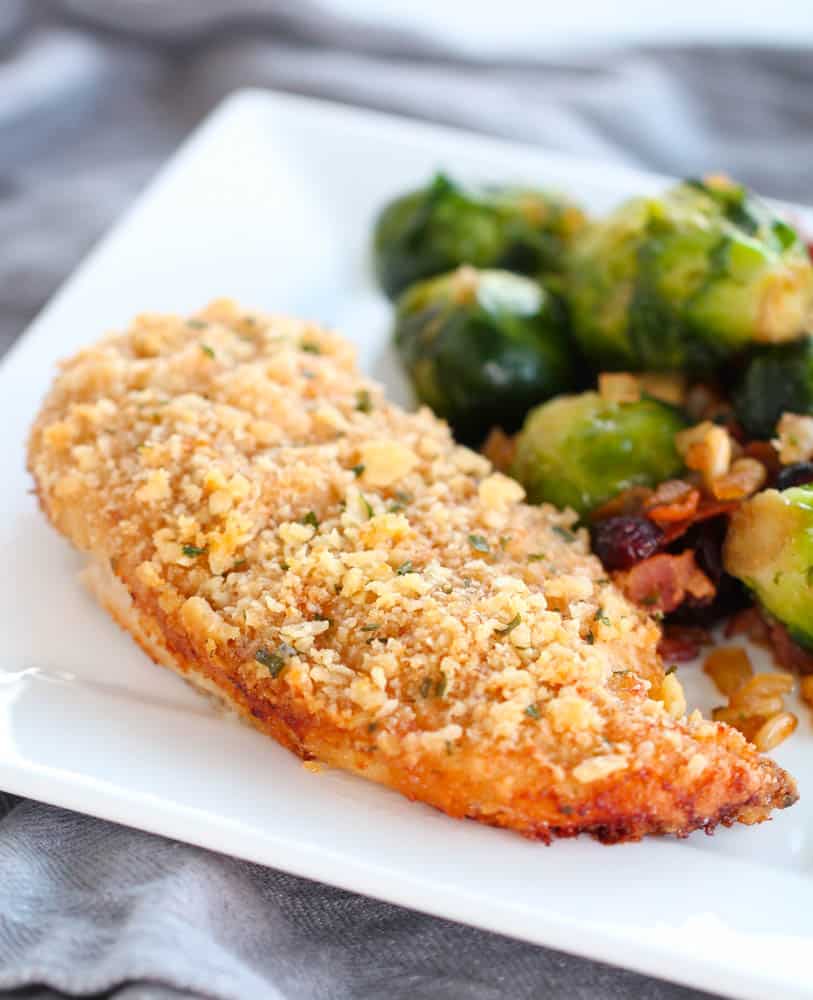 I love my husband, but the man can be pretty picky when it comes to chicken!
We eat quite a bit of chicken at our house and he gave this baked saltine cracker chicken recipe two big thumbs up!
How to make baked saltine cracker chicken
Preheat oven to 375 degrees F.
Melt butter in a small bowl and set aside
Crush crackers in a food processor or a Ziploc bag with a rolling pin, until they become fine crumbs. You could also use bread crumbs if you are in a rush, but the taste of the saltine crackers is delicious.
Combine crushed crackers, Italian seasoning, garlic powder, salt and pepper in a separate mixing bowl.
Spray a 9×13-inch baking pan with nonstick cooking spray.
Dip each chicken breast in melted butter, coat completely in crumb mixture and place in prepared pan.
Bake for 25-30 minutes, or until cooked through. For best results we recommending flipping halfway through and sprinkling fresh crackers on top.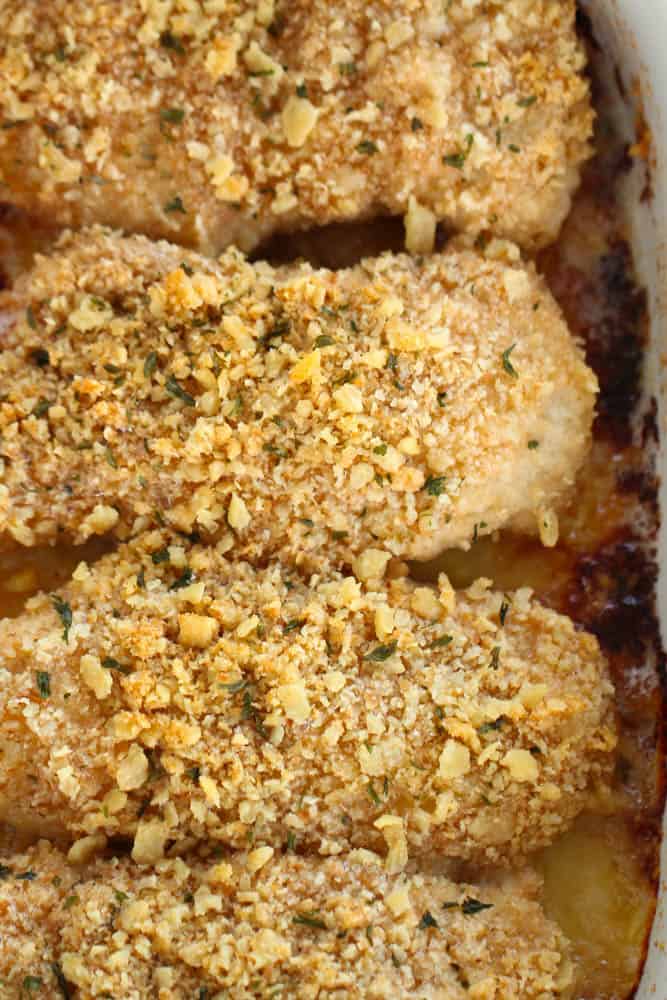 What are some saltine cracker substitutes?
I used saltine crackers in the coating for this chicken, but you could easily substitute your favorite cracker or even bread crumbs.
If you are looking for a gluten free option, you could use gluten free bread crumbs or crushed almonds or other tree nuts you have on hand.
Looking for more easy chicken dinners?! Make sure you try our Easy Club Chicken!
How to make your baked saltine cracker chicken juicy and not dry!
This chicken dish is perfectly crispy on the outside and juicy on the inside. There are many secrets to keep you chicken juicy and delicious.
Even thickness. Sometimes chicken breasts aren't always an even thickness. This leads to juicy chicken in one area of the breast, and dry chicken in the other.
You can ensure that all the chicken is cooked evenly when it is the same density in all places. To do this, I use a mallet or hammer to pound the chicken into thin and even pieces.I cover it with a zip lock bag or saran wrap to do this.
Cook low and slow. Whether it is in the slow cooker, oven, or grill, chicken does best when it is cooked on low for a longer amount of time. For this recipe, we recommend cooking it as directed.
Flip the breasts halfway through. When you are cooking chicken in the oven, this can be difficult because the crackers can get a little soggy.However, if you keep a little of the cracker mixture set aside, you can flip the chicken, and garnish with fresh crackers.Flipping the chicken will give both sides the same amount of temperature and cooking time to cook through evenly.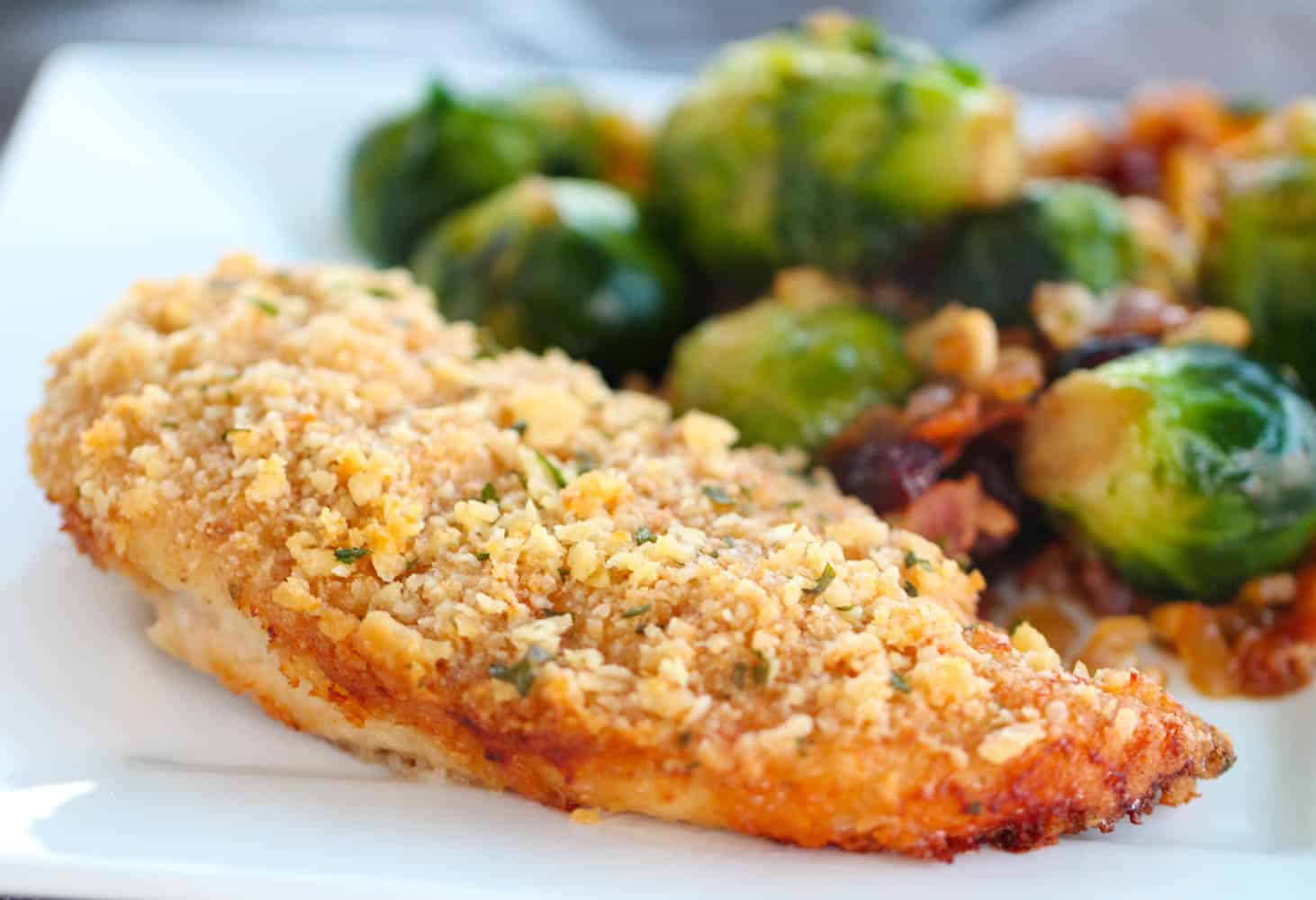 Serve this up with some fresh vegetables like our Honey Sriracha Brussels Sprouts or our Roasted Brussels Sprouts and Squash, and you've got the perfect dinner!
Related Recipe: Don't miss our delicious Easy Baked Crack Chicken!