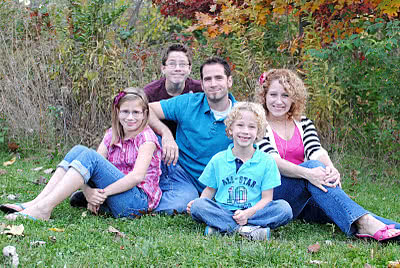 -12 Days of Christmas Traditions-
Day 11: Jocelyn from Inside BruCrew Life
We are so incredibly excited to have the talented Jocelyn from
Inside BruCrew Life
here with us today! If you have not checked out her blog, YOU HAVE TO DO THAT NOW! This gal is so incredibly talented in the kitchen . . . she will have you drooling in no time. Warning- don't look at her blog on an empty stomach! 🙂 Without further ado, here's Jocelyn!!
Hi, my name is Jocelyn  and I blog about
I am a  SAHM to three not so little kids.
My husband has a full time job and also works part time as a
worship pastor for our church.  This time of year we are
always busy with school programs, choir practices and programs,
sports, shopping, enjoying family, and of course baking more
cookies than we will ever eat:-)
One of our family traditions is to spend an entire day
baking together.  The kids each get to pick one kind from our list
and they get to help from start to finish on that cookie.
As they get older they are able to do most of the work by themselves.
Their favorite part is always licking the bowl
and eating the "broken" ones.
On Christmas Eve we put together a plate of cookies…always
on the same snowman plate.  (every year my husband tries to
convince our kids that "Santa" would like White Castle and
grape soda instead of cookies and milk, but they never go for it:-)
Here is the letter that we leave for Santa each year:
"Dear Santa,
Here are some cookies and milk, so that you can
celebrate Jesus' birthday with us."
                                Love, the Brubakers
Here is one of our favorite cookie recipes.
I hope you and "Santa" will enjoy them.
Reindeer Bites Cookies
1/2 c. butter flavored shortening
1/2 c. butter, softened
1/2 c. sugar
1 c. brown sugar
1/2 tsp. baking soda
1 tsp. salt
2 eggs
1/2 tsp. coconut extract
1/2 tsp. vanilla
2 c. flour
1 c. graham cracker crumbs
1 c. caramel bites
1 c. coconut
1 c. chocolate chunks
1/4 c. graham cracker chunks
Preheat oven to 375* Beat shortening, butter, and sugars until fluffy. Beat in baking soda, salt, coconut extract and vanilla. Add eggs one at a time, beating after each. Slowly add flour and graham cracker crumbs. Stir in caramel bites, coconut, choc chunks, and graham pieces. Drop by rounded teaspoon onto a cookie sheet. Bake 10-13 minutes. Let stand on the cookie sheet for a few minutes after removing from oven. The caramel on the bottom needs time to set up before you can remove them. Store in an airtight container.
If you like our recipes then you will LOVE our Cookbook!!!
Our cookbook makes a wonderful gift (and it's priced right at less than $18!) . . . you can check it out HERE.