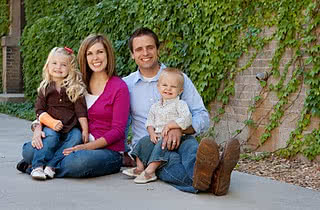 -12 Days of Christmas Traditions-
{For the next 12 days, we will be sharing with you some fun Christmas Traditions, both from our family and from some of our blogging friends' families. We have rounded up some incredible ideas and are so excited to share them with you!}
Day 1: Camille
"Christmas Book Advent"
Hi! I am Camille, the oldest of the 6 sisters. We thought that this would be a great way for you to get to know all of us a little bit better . . .
I am married to the love of my life, Jared,  and have two kids- Brynlee (age 4) and Mason (age 2). Jared recently graduated from Physical Therapy school and we purchased our first home about a year ago. I quit my job when Brynlee was born and have since been at home with our kids, which is an adventure! I graduated with a degree in Elementary Education, and although I am currently not using my degree in the teaching field, I feel like I use it everyday while raising my kids.
Now that our kids are getting a little but older, we have been trying to think of fun traditions that we can start with our family. One of the traditions we have chosen to do this year is a
Christmas Book Advent.
I have always loved advent calendars- growing up we always had one of those advent calendars with the nasty fake chocolates in them . . . and I LOVED it! It gave me something to look forward to each day and made Christmas come just a little bit quicker.
For my Book Advent, I headed to a local thrift store and dug through all their books- books can be so expensive and I didn't feel as guilty if I only paid 50 cents per book. I found lots of fun Christmas books (even ones that I had growing up!) and came home and wrapped them. I wrapped 23 books total and starting on December 1st, we will unwrap one book each night and read it together as a family, sitting around our Christmas tree. On December 24th, we are planning on reading the Christmas story from the Bible as our story for that night.
As I have been looking around the blog world, I have found lots of fun ideas to do with Christmas Book Advents, including fun activities that coincide with the book that you read each day. Feel free to check some of these ideas out:
I also loved this idea of making your Book advent part of your decor! Just line them up on your fireplace mantle!
Wishing you and yours a happy holiday season!
-Camille