These Zucchini Chocolate Chip Cookies are soft, chewy and so delicious! This homemade cookie recipe is the perfect way to use up extra zucchini in the summer, but so good that you'll want to make them all year long.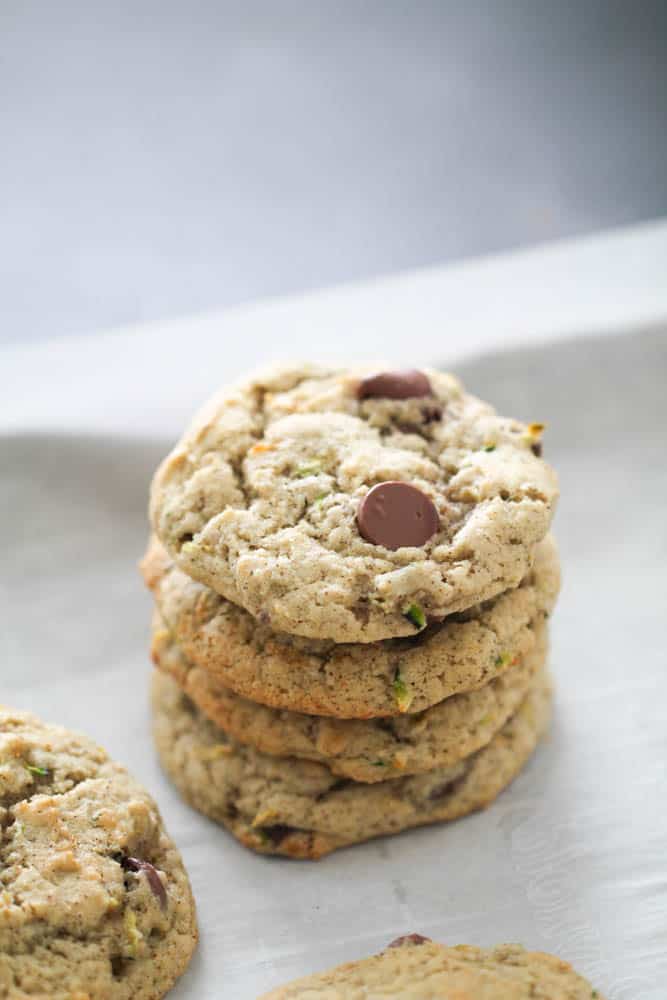 My sister, Camille, always has more zucchini than she knows what to do with. I took some off her hands and whipped up these Zucchini Chocolate Chip Cookies and they were a hit.
You would never be able to tell all the vegetables in the zucchini cookies, because they are so delicious. The zucchini really just makes them so soft and moist.
I am not one to use the word moist, but that is really the best way to describe these cookies. I am not a dry or crunchy cookie person, so these were perfect.
Even by looking at them, you wouldn't really be able to tell there is zucchini in them. They look delicious, and taste even better. I think I am going to start sneaking zucchini into all my cookies!
Our favorite cookie mix ins:
I love these cookies as is, but they are also delicious with a little extra something, something to them. My husband loves cookies with lots of different things in them, because he is a total texture eater. Here are a few recommendations that would be delicious in these cookies, to mix in with the chocolate chips:
Shredded coconut
Walnuts
Pecans
Cinnamon chips
Butterscotch chips
Peanut butter chips
White chocolate chips
Raisins
Pretzel pieces
Slivered almonds
How to finely shred your zucchini:
This recipe calls for finely shredded zucchini. You could easily do this by using a cheese grater, but I am all about mess free cooking and shortcuts, so I usually opt for my blender or food processor.
I simply cut my zucchini up into fourths, then place it into the machine. I give it a few quick pulses until the zucchini is finely shredded.
I don't usually just let it blend continuously, because the zucchini tends to get creamy, like a smoothie mixture, and we just want it finely shredded, so the pulse button is the best option.