We love this chocolate zucchini bread! This is a great combination of our two favorite things, and it's so easy to make!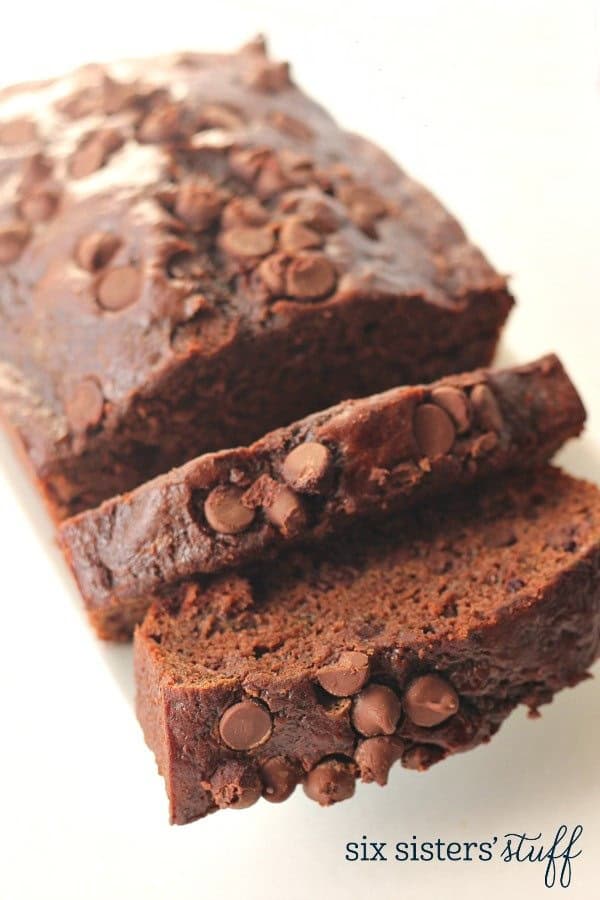 We recently made this Chocolate Zucchini Bread and it was delicious. My kids had no idea that it was chuck full of vegetables.
You might remember how last fall my garden produced an unreal amount of zucchini . . . in fact, that was really the only successful plant in our garden (it was our first year planting a garden . . . we were amateurs!).
I had so much zucchini that I really had to get creative with what I made so that my family would still eat it.
At the end of the fall, my kitchen counter still had a stack of zucchini on it.
I knew that it would go bad before we would eat all of it, so I shredded it and placed it into freezer bags in 2-cup quantities. All winter long, I would pull out bags of shredded zucchini and use it in recipes- it was so fun having fresh garden zucchini in the dead of winter!
It made the perfect after-school snack or would be a fun treat to put in a lunch box for school. Even if you don't have a freezer full of shredded zucchini as I do, you can just buy some zucchini at the store. If you're looking for more Zucchini Bread recipes, try our Classic Zucchini Bread Recipe!