These S'mores Cookies are soft, chewy and the perfect way to get your s'mores fix without a campfire! These cookies have a graham cracker base and are filled with chocolate chips and mini marshmallows for the ultimate s'more inspired dessert!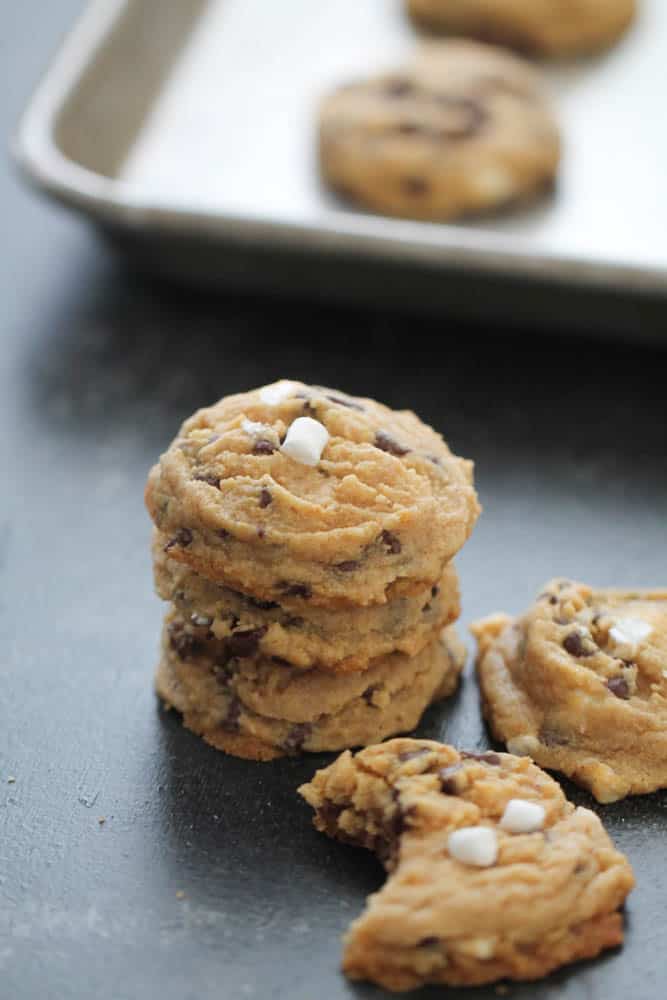 S'mores Cookies are one of my favorite dessert combinations is that of chocolate, marshmallows, and graham crackers. However, I hate how sticky and messy regular s'mores can be.
After Elyse shared her recipe for S'mores Bars, I started thinking of how good all the ingredients of s'mores would be in a cookie. I googled a couple of recipes and stumbled on this one.
The result: These are seriously one of the best cookies I have ever had.
I think that it is because of the crushed graham crackers in the dough. And the cookie dough (I don't care what people say, I still eat it, raw eggs and all) is simply, AMAZING.
These cookies will take care of my s'mores cravings year round and I know you are going to love them.
Could I use soft mini marshmallows?
This recipe calls for vanilla mallow bits, but sometimes they can be a little tricky to find. If you are having a hard time finding them, no stress. You could use the soft mini marshmallows, however your cookies will be just a little more gooey (which isn't necessarily a bad thing).
Make the recipe as you would and add the soft, regular marshmallows, just as you would the mallow bits.