A graham cracker cookie crust filled with gooey marshmallow and topped with chocolate! These S'mores Cookie Cups are a family favorite!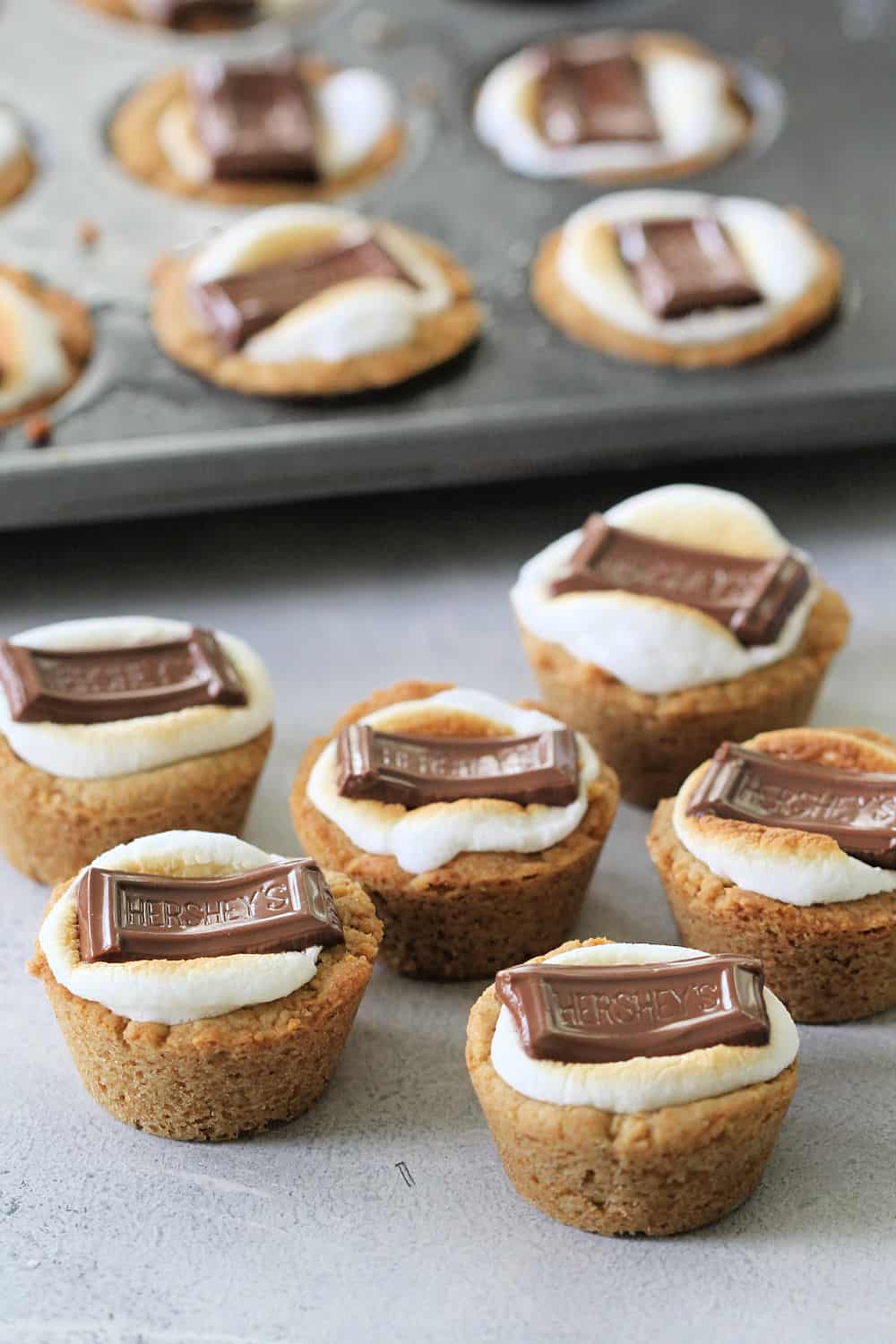 S'mores are my favorite summertime treat and I love that I can make these S'mores Cookie Cups year-round (no campfire required!).
The graham cracker cookie cup is filled with marshmallow and topped with chocolate.
They just might be better than actual s'mores!
Ingredients you will need for S'mores Cookie Cups Recipe:
1 cup graham cracker crumbs
1¼ cup all-purpose flour
½ teaspoon baking soda
½ teaspoon salt
½ cup unsalted butter at room temperature
½ cup light brown sugar
⅓ cup granulated sugar
1 large egg
1 teaspoon vanilla extract
12 large marshmallows cut in half
2 Hershey's chocolate bars (24 chocolate pieces)
How to make S'mores Cookie Cups:
Preheat the oven to 350 degrees F.
In a large bowl, combine graham cracker crumbs, flour, baking soda, and salt; set aside.
In another bowl, beat the butter and sugars together until creamy and smooth.
Add in the egg and vanilla extract and mix until combined.
Slowly add the dry ingredients and mix until just combined.
Drop rounded tablespoons of dough into a greased mini muffin tin.
Press dough down into the muffin tin using a spoon or something round so there is a small indent in the dough.
Bake for 6-8 minutes or until edges are just getting golden brown.
Remove from oven and gently press a half marshmallow, sticky side down, onto each cookie.
Let cool completely.
Once all cookies are cooled down, preheat broiler.
Place cookies back in the oven and broil for 1-2 minutes, keeping a close eye on them so they don't burn.
Once marshmallows are golden brown, remove from the broiler and place a piece of chocolate on top of each cookie.