This Chili Lime Rubbed Steak is so simple to throw together and will totally change the flavor of your steak. You will love this simple rub recipe that is full of flavor.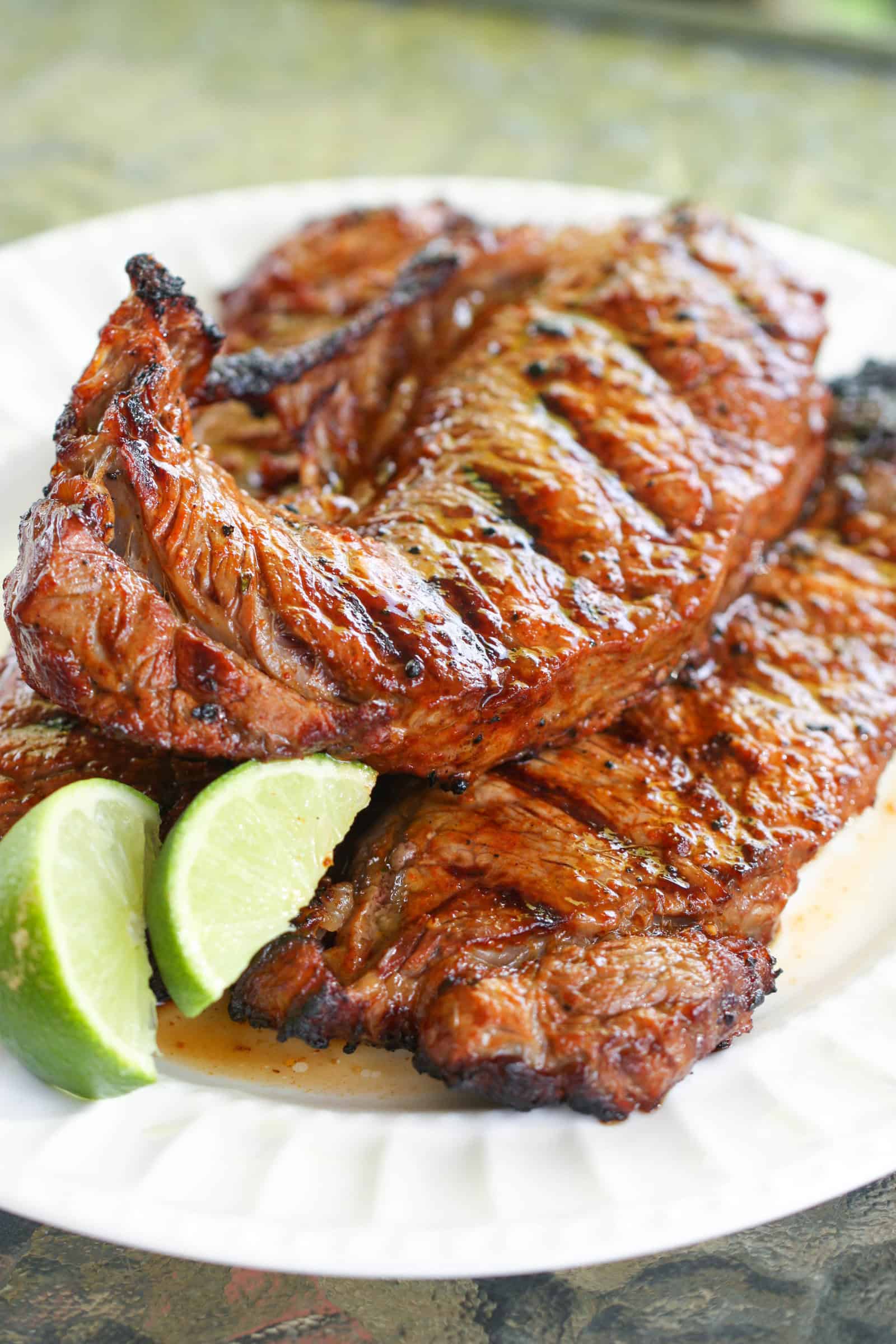 I can say for a fact that I love steak more than my husband loves steak. I would eat it everyday if I could. This is our go-to steak rub and it is divine.
I am usually a liquid marinade person, but this Chili Lime Rub, is not to be messed with. It is so flavorful and adds the most flavor to any steak I have ever tried.
It's easy to make and only requires a few simple ingredients. You are going to love this simple rub recipe, and your steak taste buds will never be the same.
how to cook a steak perfectly over the grill:
I love a good grilled steak, however it is a little intimidating to me. I usually have my husband grill the meats, because I get scared to burn or overcook meat on the grill.
However, I came across some tips and tricks to help you perfectly cook your meat, depending on how you like it.
Here are a few tips to remember as you grill your steak to your perfect preference of doneness.
Cutting into steaks while cooking them, should be illegal. It makes the steak dry out, cooks the steak longer than you want, and releases all those juices that have been cooking up in the steak, tenderizing it.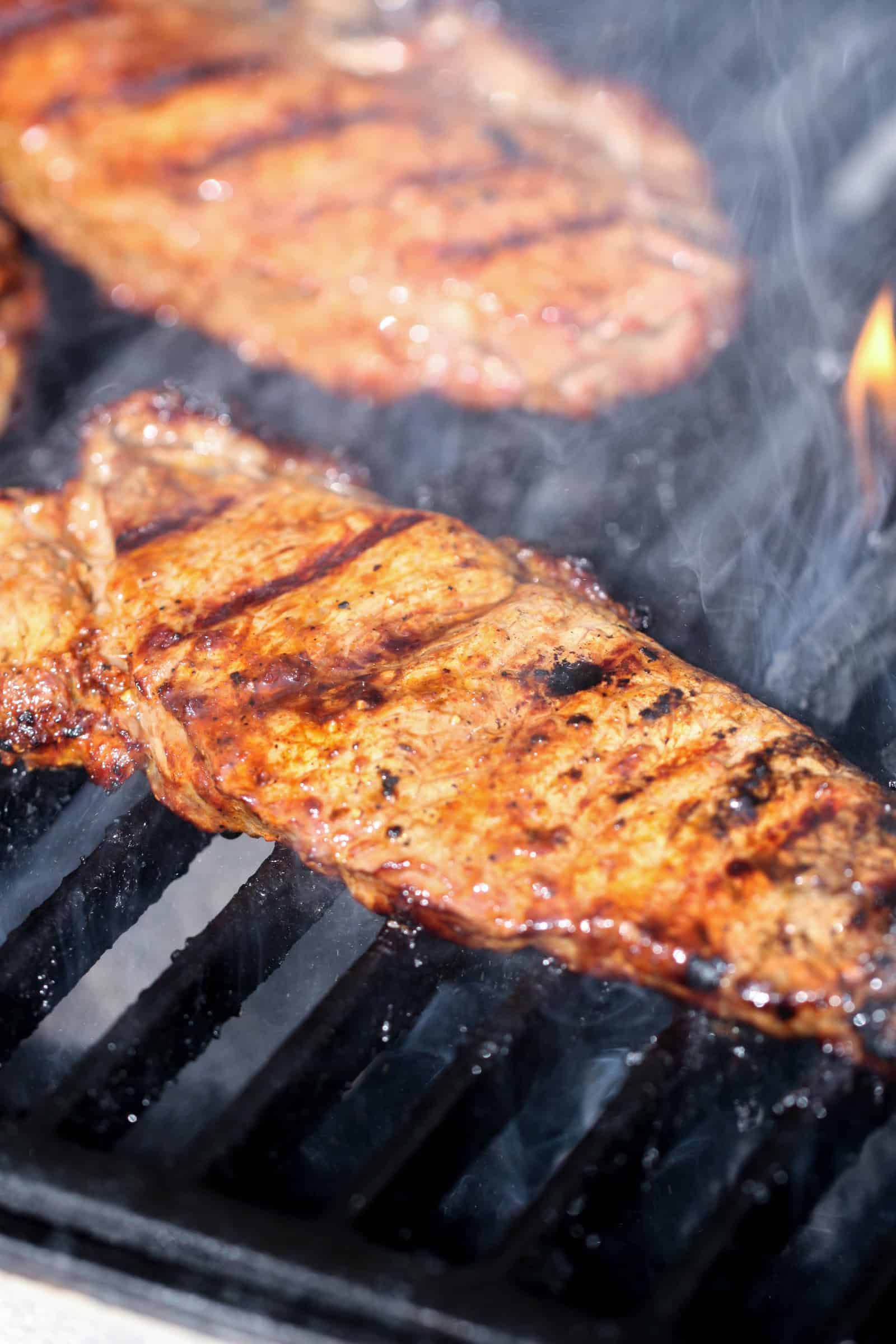 Here are a few ways to know when you steak is done cooking (from the outside), to know how it is on the inside.
I also cook all my steaks on medium low temperature. I am all about that low and slow method, to keep the juices inside, and cook it thoroughly, while keeping it tender and juicy.
Rare: Seared on the outside, with a slight pinkish red color in the middle of the steak, meaning the edges looked cooked, but the center of the steak isn't quite a full brown color. The internal temperature should also be about 125 degrees F.
Medium Rare: Seared on the outside, with a slightly reddish pink middle. It should be a little firm to the touch in the middle. The internal temperature should also be around 135 degrees F.
Medium: Cooked until slightly firm, and hardened outside, with no pink or red center. Takes about 3 minutes on each side to cook. The internal temperature should be around 145 degrees F.
Medium Well: Internal temperature should be at about 150 degrees F. The edges should be slightly black, and the steak should be pretty firm to the touch. It shouldn't squish or wiggle in the middle at all.
Well: Crisp edges with an internal temperature of 160+ degrees F.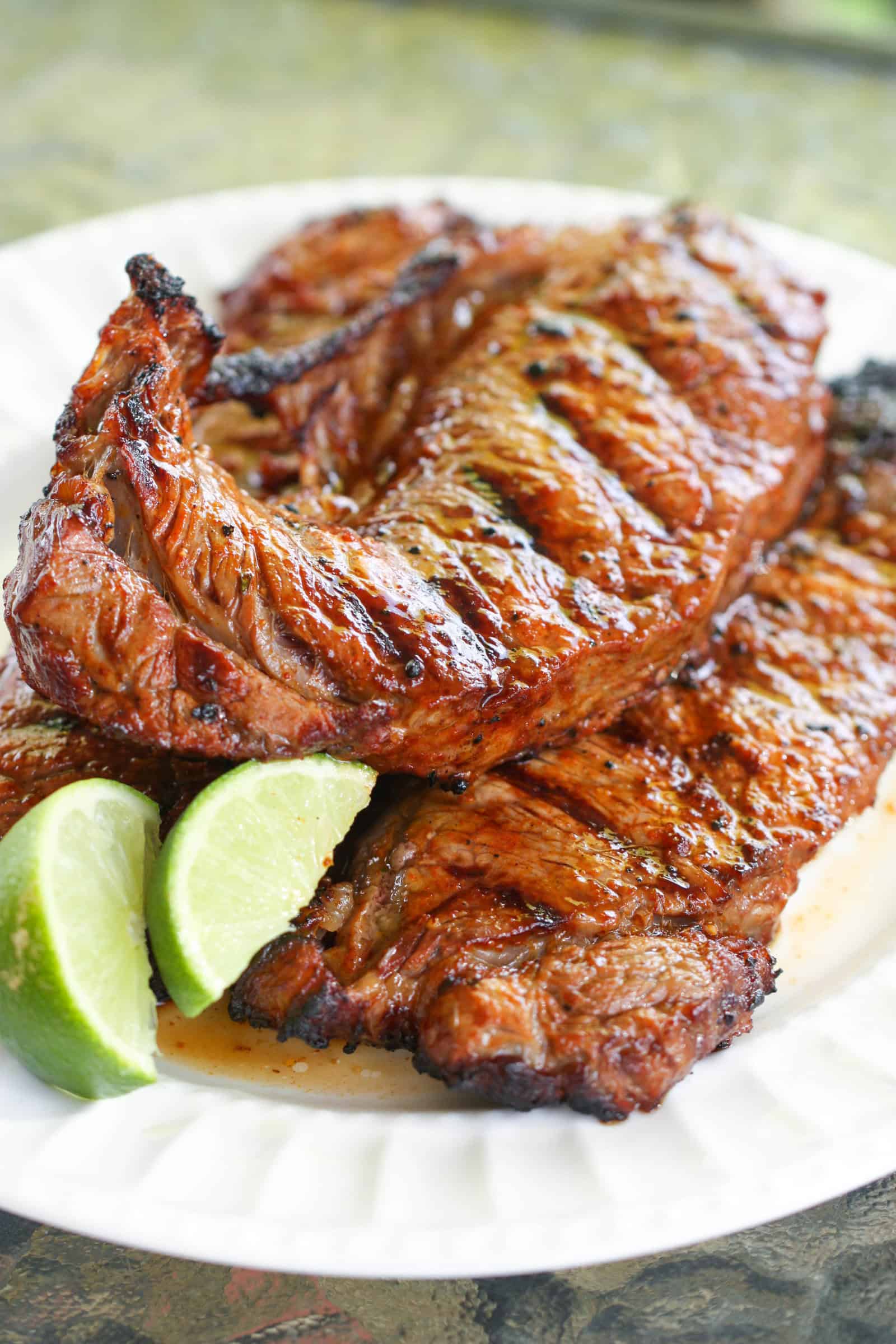 could i use this rub on other meats?
I love this rub for steaks, however you could easily use this recipe for other meats. It would be delicious with:
Steak Fajitas
Chicken
Pork
Turkey
looking for more grilled dinner ideas? here are a few of our favorite:
Serves: 6
Chili Lime Rubbed Steak Recipe
15 minPrep Time
10 minCook Time
25 minTotal Time
Ingredients
1 teaspoon chili powder
1 teaspoon garlic powder
1/2 teaspoon cumin
1/2 teaspoon coriander
1/2 teaspoon oregano
1/2 teaspoon salt
1/2 teaspoon pepper
2 Tablespoons lime juice
1 Tablespoon olive oil
2 pounds flank steak
Instructions
In a small mixing bowl, combine chili powder, garlic powder, cumin, coriander, oregano, salt, pepper, lime juice, and olive oil. 
Rub mixture deep into both sides of the steak. 
Set seasoned steaks on a plate and let rest for 10 minutes. 
Meanwhile, preheat your grill or pan to medium-high heat. 
Place steaks on hot grill or pan. 
Cook for 5-7 minutes on each side, or until they reach desired wellness.
7.8.1.2
2198
https://www.sixsistersstuff.com/recipe/chili-lime-rubbed-steak-recipe/