This super easy Slow Cooker Cheesy Tortellini takes just a few minutes to throw together. With crushed tomatoes, slow cooked chicken, tortellini and mozzarella cheese, it's a hearty meal that's perfect for colder weather.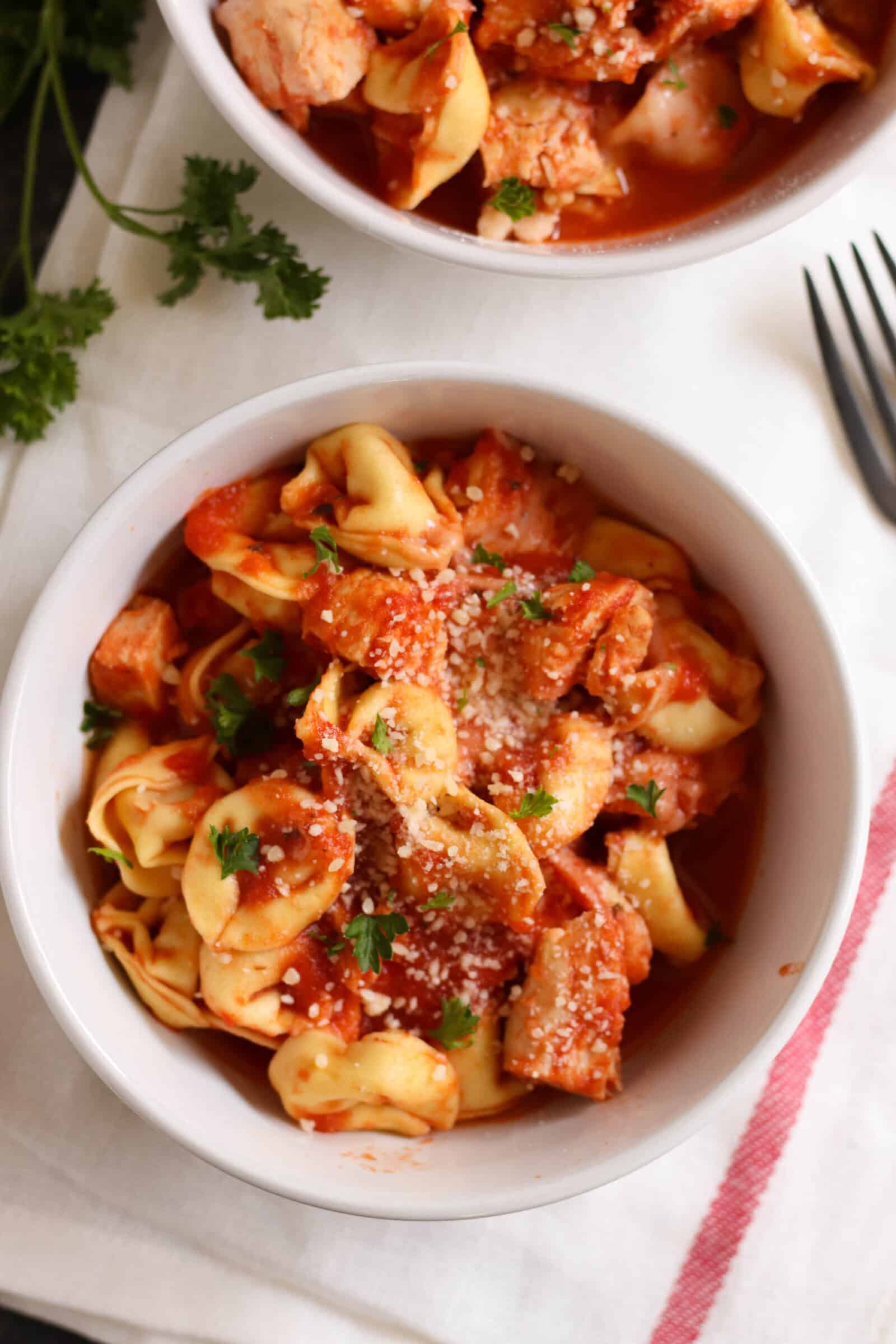 If you're looking for a quick, weeknight meal that's hearty and filling this Slow Cooker Cheesy Chicken Tortellini is just the ticket.
The chicken cooks IN your slow cooker in the sauce so you can take care of what you need to during the day, and then you add in cheese and tortellini right before you're ready to serve.
It's simple, but comforting and a little bit goes a really long way.
Related Recipe: Looking for more Tortellini Recipes?! Try our Instant Pot Chicken Tortellini and Vegetable Soup!
Ingredients in Slow Cooker Cheesy Chicken Tortellini:
We love how quickly we can throw together this dinner because we keep most of the ingredients on hand. To make this recipe, you'll need: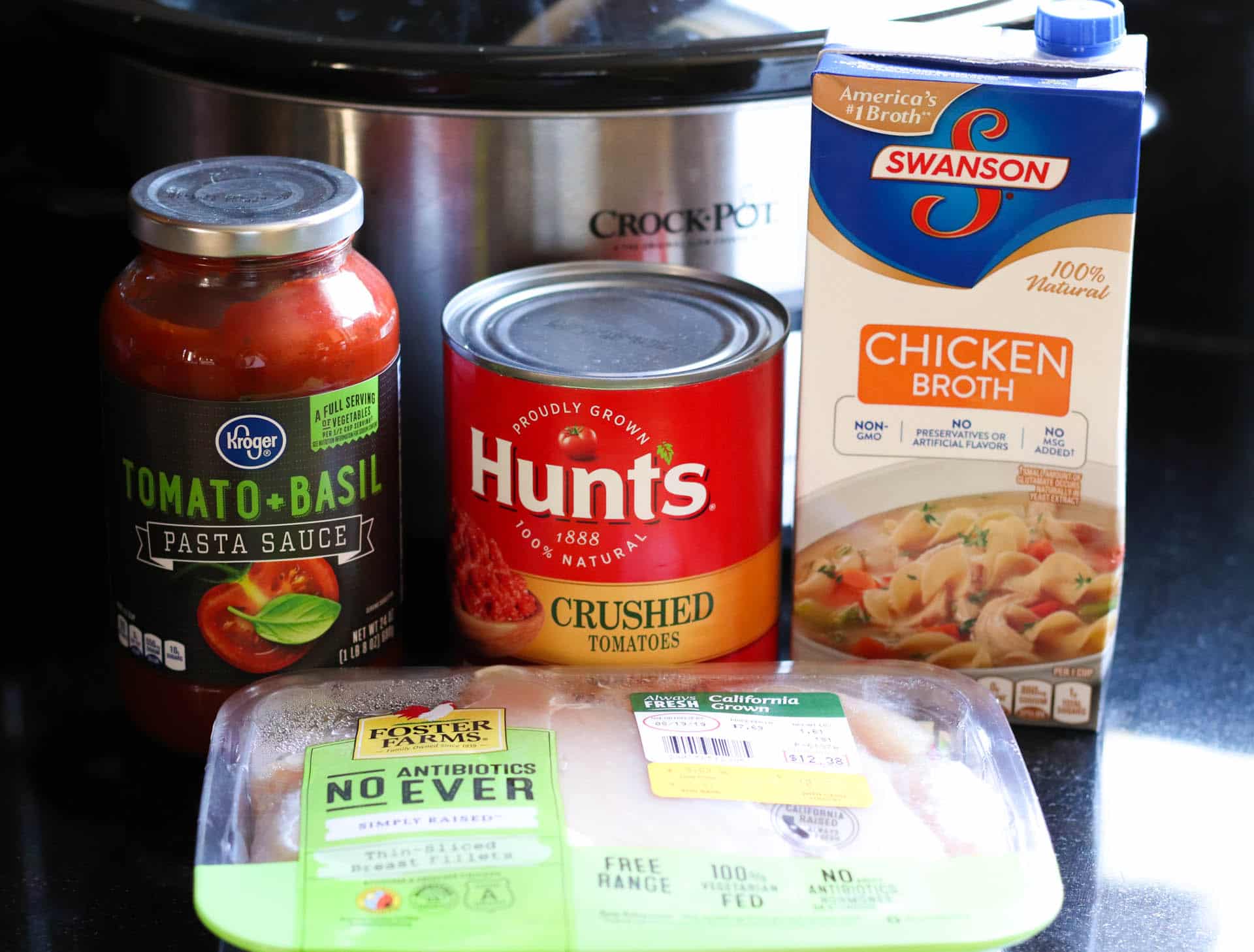 1 cup pasta sauce. I used a tomato basil pasta sauce, but I love using a mushroom pasta sauce, too.
1 cup crushed tomatoes. You could also use crushed tomatoes with green chiles or fire-roasted tomatoes, too.
2 cups chicken broth
2 teaspoons Italian seasoning
1 pound boneless, skinless chicken breasts. We used fresh chicken breasts, but you could use frozen – they would just need to cook for a little bit longer, probably around 4-5 hours on low.
1 (20 ounce) package refrigerated tortellini. You can see our favorite type to use below. You could also substitute another type of tortellini (like spinach or a mixture of spinach and regular). We haven't tried using frozen tortellini because of the difference in cook time, but if you try it, leave us a comment and let us know below.
1 cup shredded mozzarella cheese
Fresh parsley and grated parmesan for topping. Totally optional, but we love the little boost of flavor and the finished look it gives the dish.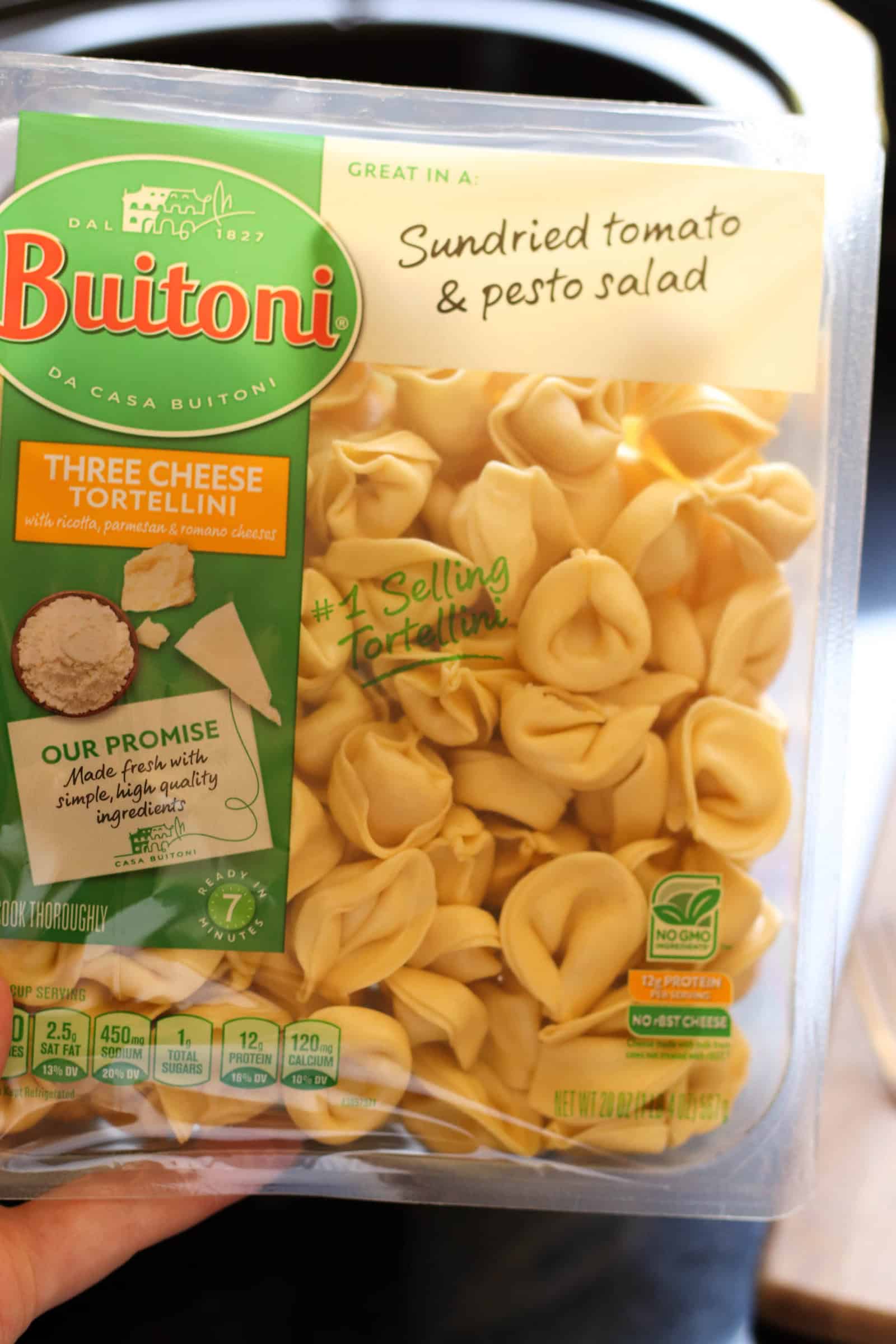 How to make Slow Cooker Cheesy Tortellini:
Step 1: In a slow cooker, mix together pasta sauce, crushed tomatoes, chicken broth, and Italian seasoning. Add in chicken breasts, then cook on low for 3-4 hours or until chicken is completely cooked all the way through.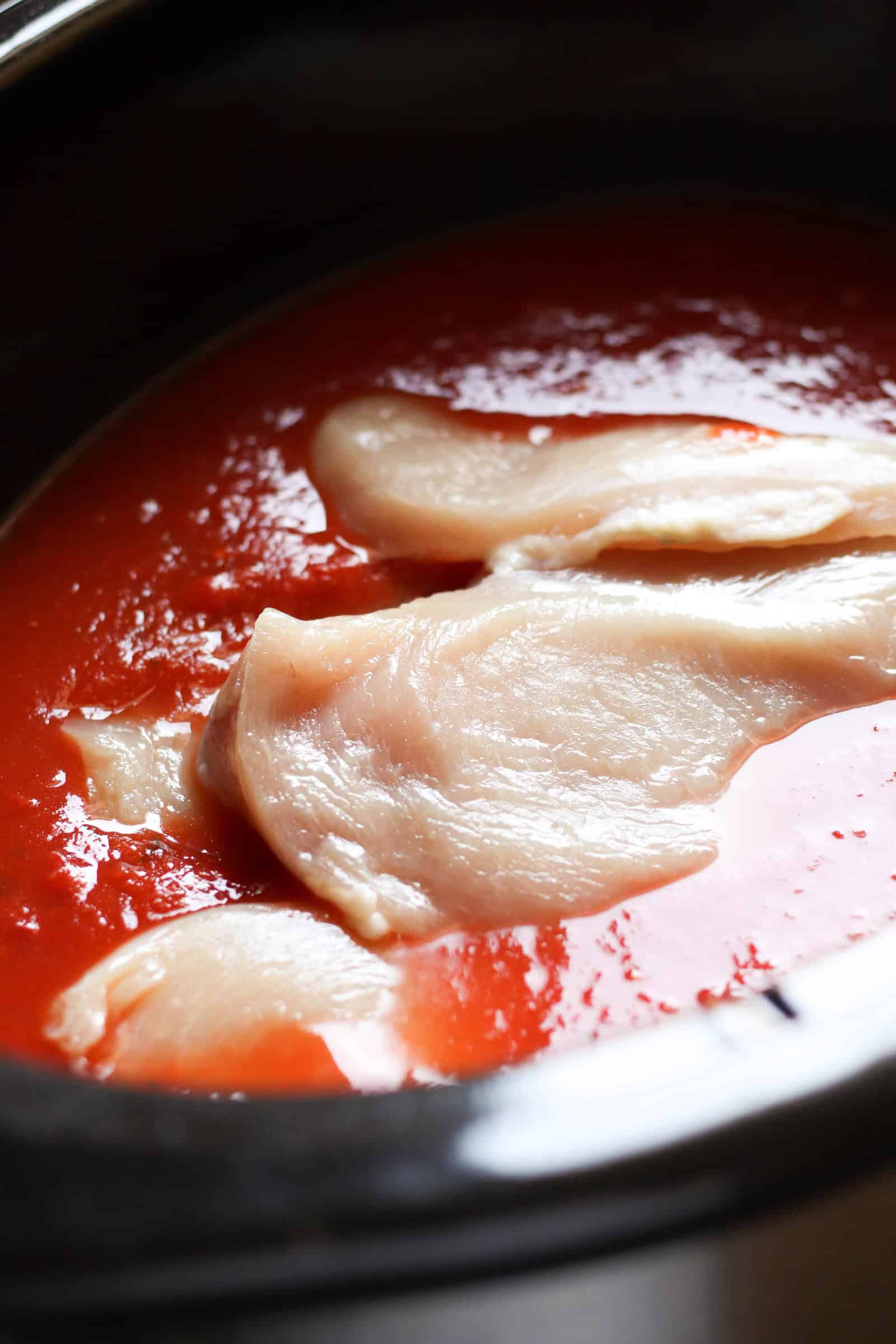 Step 2: Remove chicken from slow cooker and dice (or shred).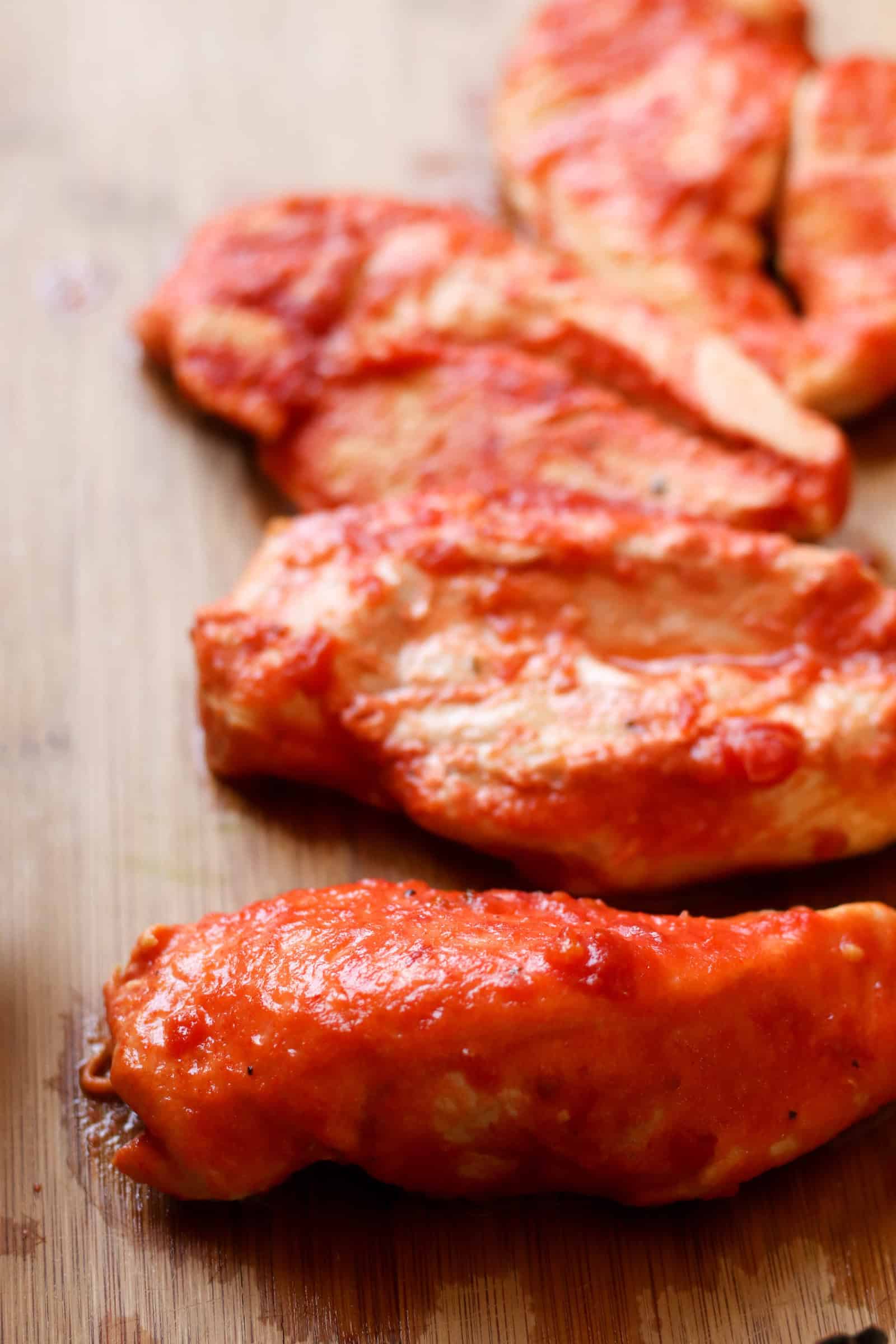 Step 3: Add chicken back to the slow cooker. Add in tortellini and top with shredded cheese. Cook on low for another 15 minutes (until the tortellini is tender and cheese is melted).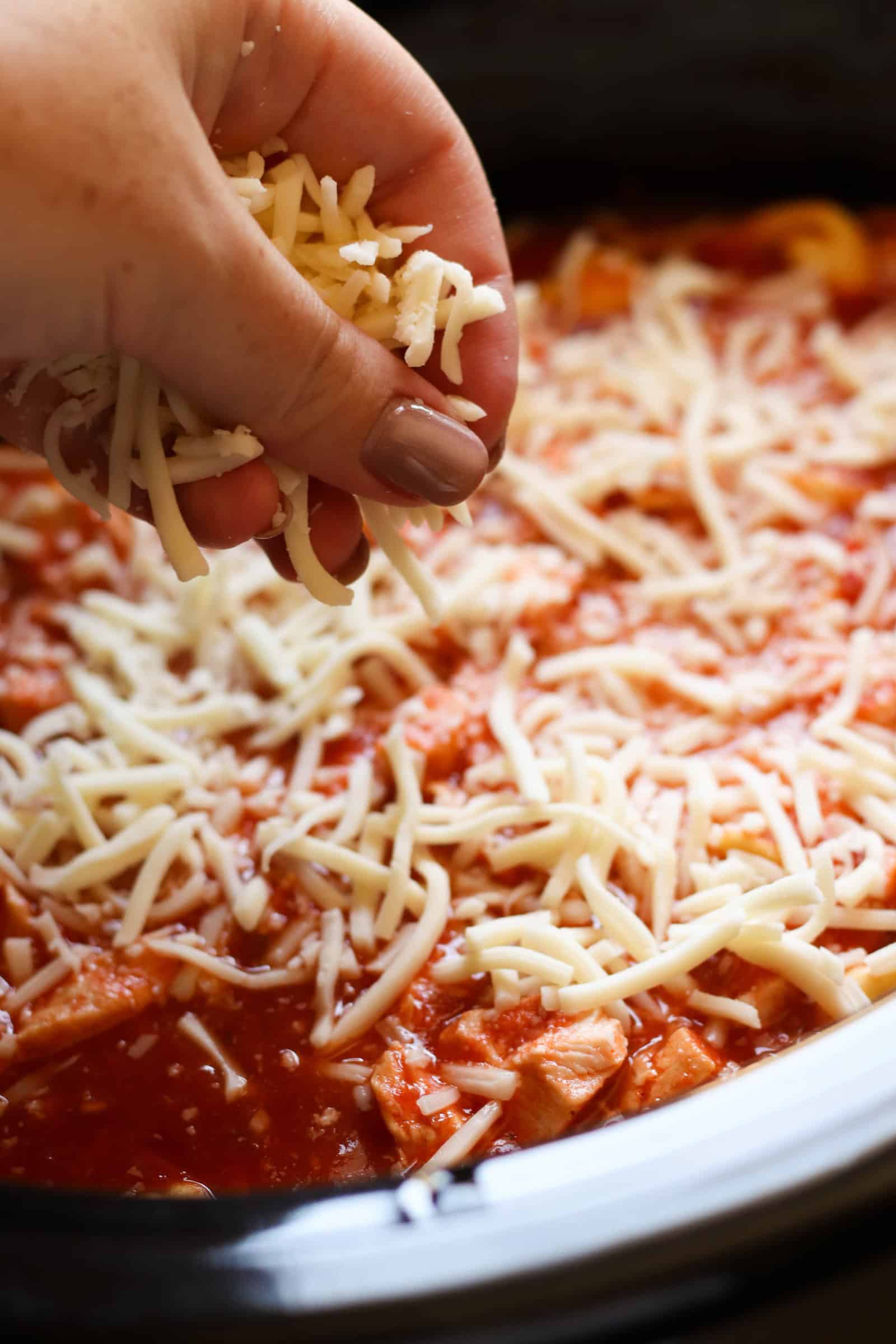 Step 4: Serve topped with grated Parmesan cheese and fresh parsley.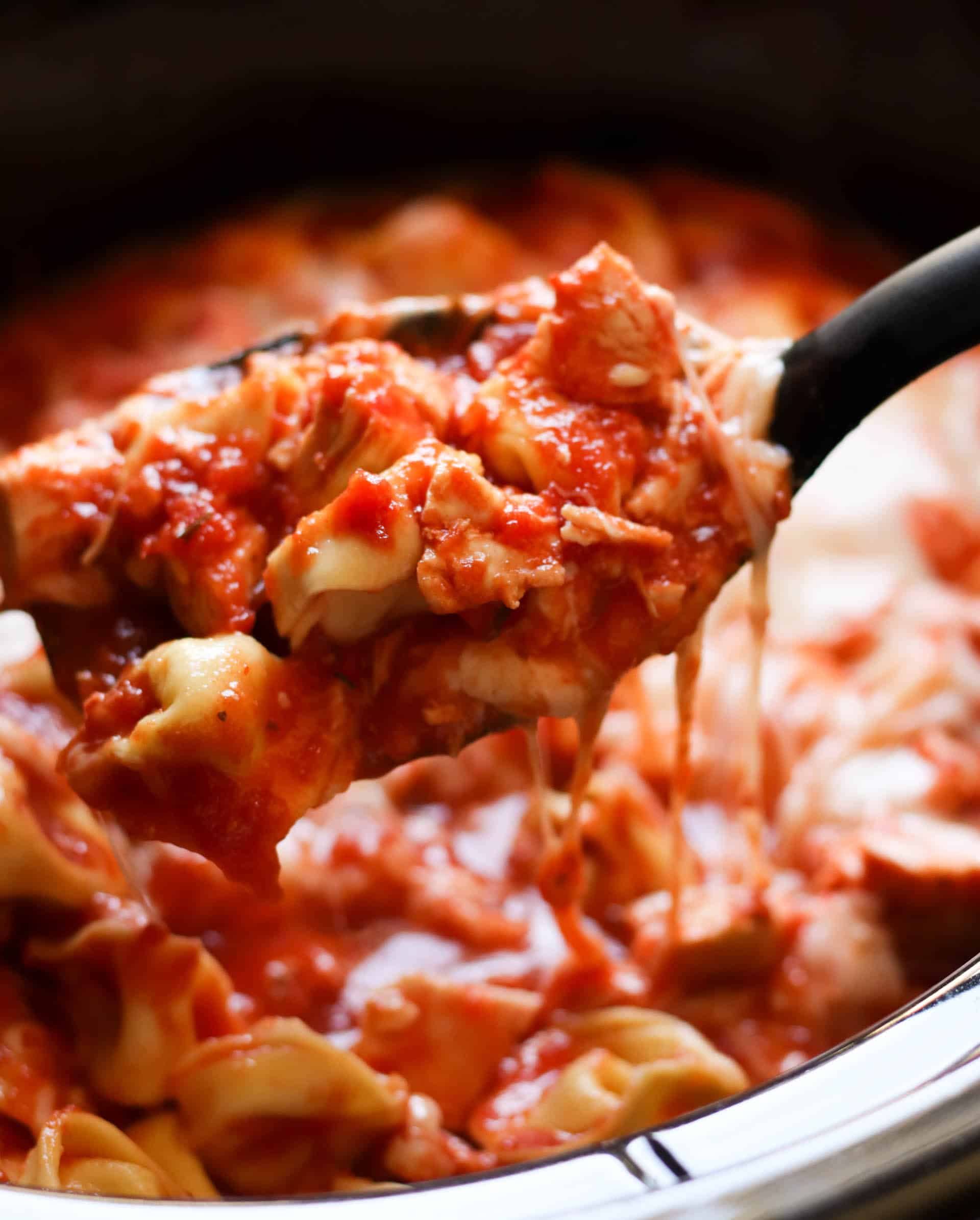 What slow cooker should I use?
We made this recipe using a 6-quart slow cooker. With how much stirring and mixing you do in the crockpot itself, we wouldn't recommend using a smaller size unless you're halving the recipe.
Our favorite (and one that we ALL own) is this simple programmable Crock-Pot brand slow cooker. It's not sponsored, just our personal recommendation. It lasts FOREVER and we've never had any problems with it.
If you're looking for an even easier cleanup, we'd recommend using a slow cooker liner, too.