I love this Sheet Pan Pork Chops and Potatoes because dishes are a breeze. This one pan healthy vegetable and protein dinner will easily become a family favorite. It's easy to make and is a hit every time.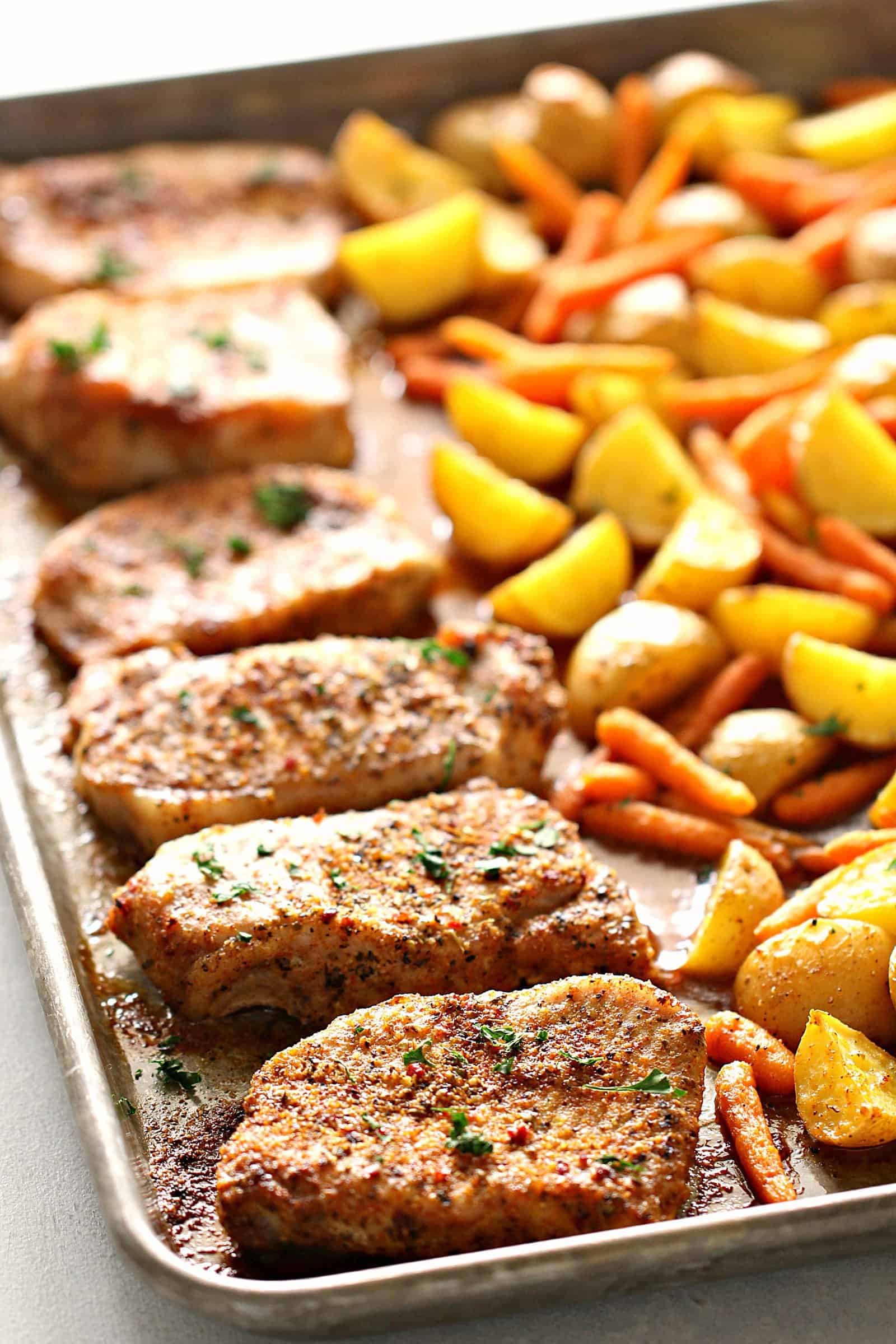 I love this Sheet Pan Italian Pork Chops meal, it can all be prepped and cooked in one pan. It makes dishes SO easy.
For sheet pan recipes like this, I recommend using a large sheet pan with an edge. THIS ONE is one of my favorites. For even easier clean up, line your pan with aluminum foil.
How to make sheet pan Italian pork chops with potatoes and carrots:
Step 1: Preheat oven to 400 degrees.
Step 2: Spray a large sheet pan with non-stick cooking spray. You could also lay down a sheet of aluminum foil for easier cleanup.
This dish can get a little messy when the juices and seasonings mix. You could also spray the aluminum foil with non stick cooking spray, to avoid pulling up or cutting through the aluminum foil when getting the pork chops off the pan.
Step 3: In a medium bowl, mix together olive oil, dressing mix packet, paprika, oregano, Parmesan cheese, salt and pepper.
Step 4: Dip each pork chop in the oil mixture, making sure to coat both sides, and place on the prepared pan. Repeat with remaining pork chops. This step is best done with your hands.
I tried using forks but it is difficult to flip and control without making a mess.
Step 5: Add the potatoes and carrots to the sheet pan and drizzle any remaining olive oil mixture on top.
Step 6: Toss lightly to mix together. I also did this step with my hands, but you could easily use a spatula or a spoon to spread and flip the potatoes in the mixture.
Step 7: Bake for 35-40 minutes or until pork chops are full cooked.
Step 8: Garnish with parsley and serve.