Ramen noodle oriental chicken salad is a fun and flavorful salad recipe. This salad is the perfect summer dinner for the family. Tasty, crunchy, and an easy healthy meal.
Ramen noodle oriental chicken salad is a favorite dinner salad recipe of mine. I like that it is not a bland salad. It has a lot of those great oriental flavors.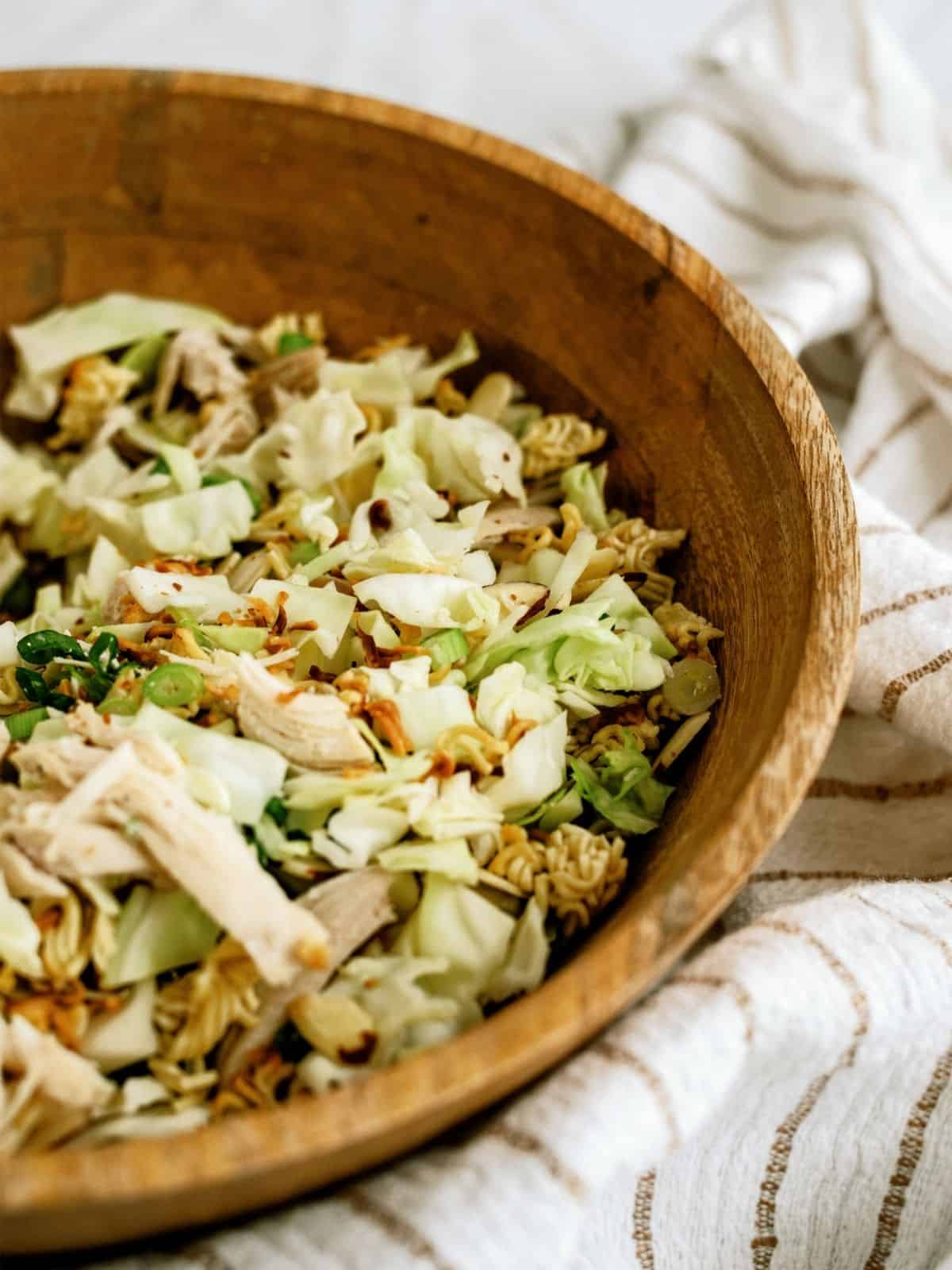 We even give you the perfect dressing for this chicken salad recipe. You can make this potluck recipe in no time, and it will not disappoint!
I love bringing this salad with me to many of the summer get-togethers since it is so easy to make and super delicious. Make sure to try it out for your next party or family gathering, the kids even love it since it has the fun ramen noodles in it!
Salads are delicious on their own but they are even better when you have the best things to pair it with! Try our fantastic Sheet Pan Garlic Breadsticks (give yourself a Olive Garden salad and breadsticks type of feel). This salad would also go great with our 10 Minute Healthy Chicken Caesar Salad Wraps, and a refreshing cup of Chick-Fil-A Copycat Watermelon Mint Lemonade!
Ingredients Needed For Our Ramen Noodle Oriental Chicken Salad Recipe:
Vegetable oil
Seasoned rice vinegar (You can get it HERE or at any local grocery store)
Sugar
Salt
Pepper
Boneless skinnless chicken breast (cooked and shredded)
Cabbage (chopped)
Green onions (finely chopped)
Sunflower seeds
Slivered almonds
Top Ramen noodles (crushed into small pieces)
How To Make Our Ramen Noodle Oriental Chicken Salad Recipe:
To start making this amazing salad, grab a small mixing bowl and pour in the vegetable oil, rice vinegar, sugar, salt, and pepper.
Whisk everything together until it is well combined.
Then, cover the mixing bowl with saran wrap or press and seal wrap, and place it in the fridge until you are ready to serve the oriental salad.
Now, in a large mixing bowl, combine together the shredded chicken, chopped cabbage, and the sunflower seed. Once that is done, set it aside for a few minutes.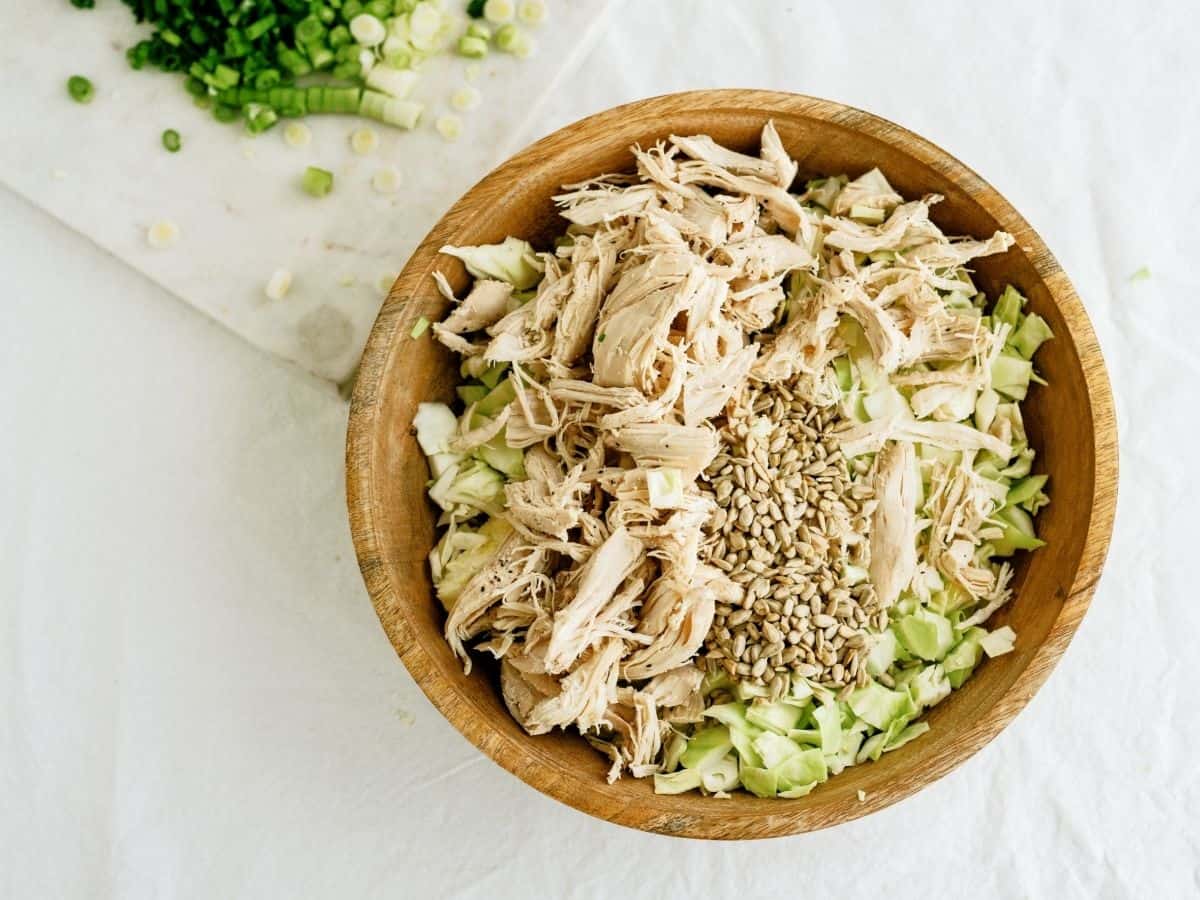 Next, in a medium size pan heat the vegetable oil over medium heat.
When the oil is hot, add in the Top Ramen noodles without the flavoring packet, and cook the noodles until they are slightly brown.
Then, add in the packet of slivered almonds to the cooked ramen noodles and continue stiring everything together until the almonds become golden brown.
Remove the noodles and almonds from heat and let it cool down.
Once the noodle mixture is cooled down, add it to the chicken and cabbage minxute, stirring everything together until they are well combined.
Then, when you are ready to serve the salad, toss the chicken salad together with the dressing in the fridge and serve it immediately.
TIP: Dress the salad last minute to avoid the salad from getting soggy.
Related Recipe: Love Chicken Salad?! Then you won't want to miss this BBQ Chicken Salad Sandwich Recipe!
To Make This Chicken Salad Recipe You Will Need:
Small mixing bowl
Medium mixing bowl
Medium pan
Whisk
Serving tongs