Gooey mozzarella paired with pesto aioli, carved rotisserie chicken and sun-dried tomatoes make for one of our best sandwiches yet. This easy lunch or dinner is ready in just a few minutes and it tastes like it came straight from a restaurant.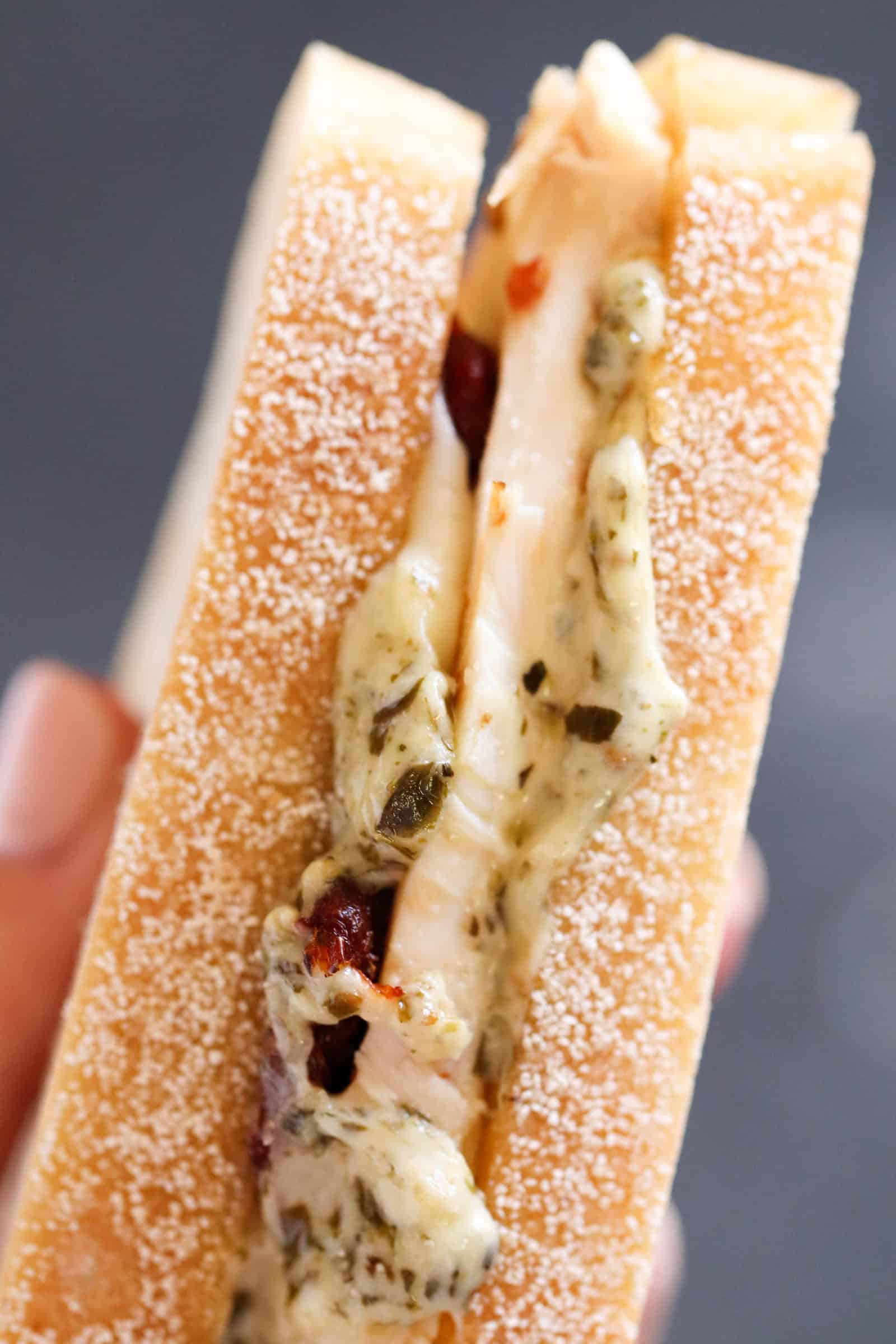 I'm not sure there's a savory flavor combination I love more than pesto, sun-dried tomatoes, and mozzarella cheese. Especially when you pair it with fresh ciabatta bread.
I know I'm not the only one who thinks so, especially when restaurants and fast-food places like Panera, Starbucks, Zupas, Subway, or Urbane all carry some form of this sandwich.
This is my personal take on it – with carved rotisserie chicken and a fantastic pesto aioli, broiled to perfection. It takes less than 10 minutes to make and is easy to double if you're feeding more people.
The secret ingredient to these Pesto Chicken Sandwiches:
The secret to this delicious sandwich is the pesto aioli.
If you want to make your pesto from scratch, you can use the pesto from this recipe. We just used store-bought, but it would be even tastier with homemade.
To two Tablespoons pesto, add mayonnaise, a squeeze of lemon juice, a little salt and pepper and mix it all together. It makes the perfect spread for the sandwich to bring it all together.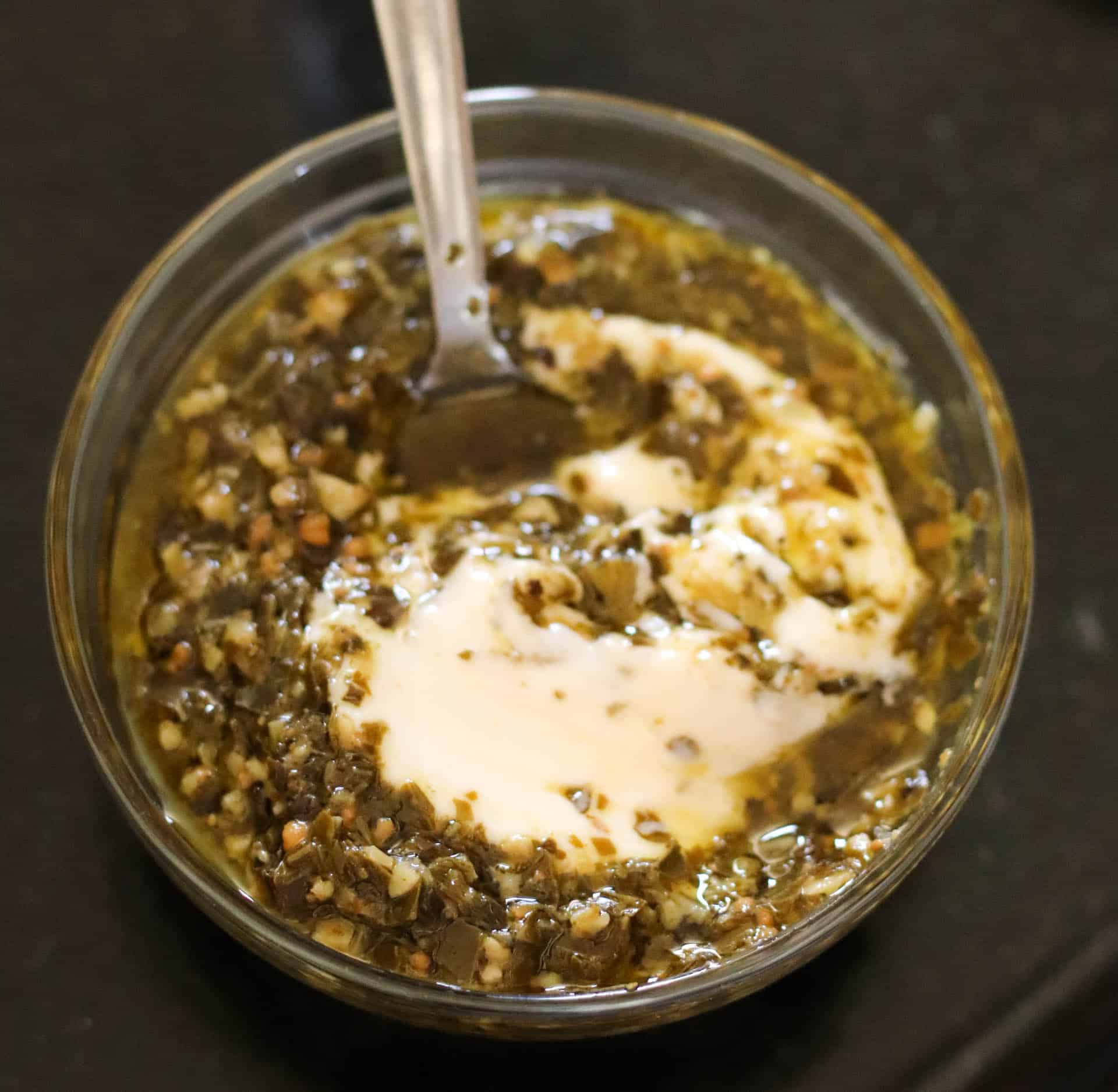 How to make this Pesto Chicken Sandwich:
On a foil-lined baking sheet, place the 8 slices of bread.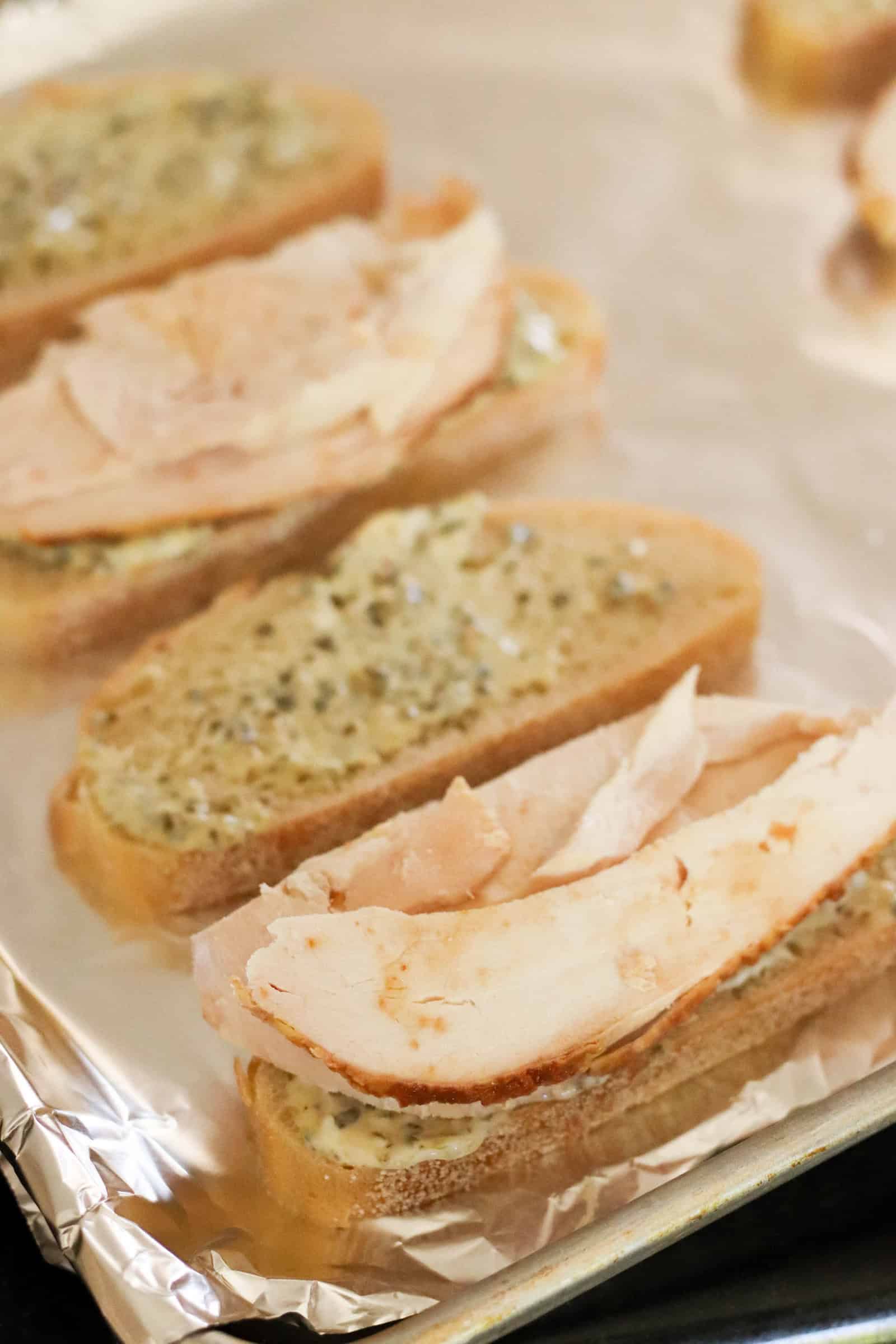 Spread an even amount of pesto aioli on each slice. Top 4 of the slices of bread with chicken and sun dried tomatoes, and the other 4 slices with mozzarella cheese.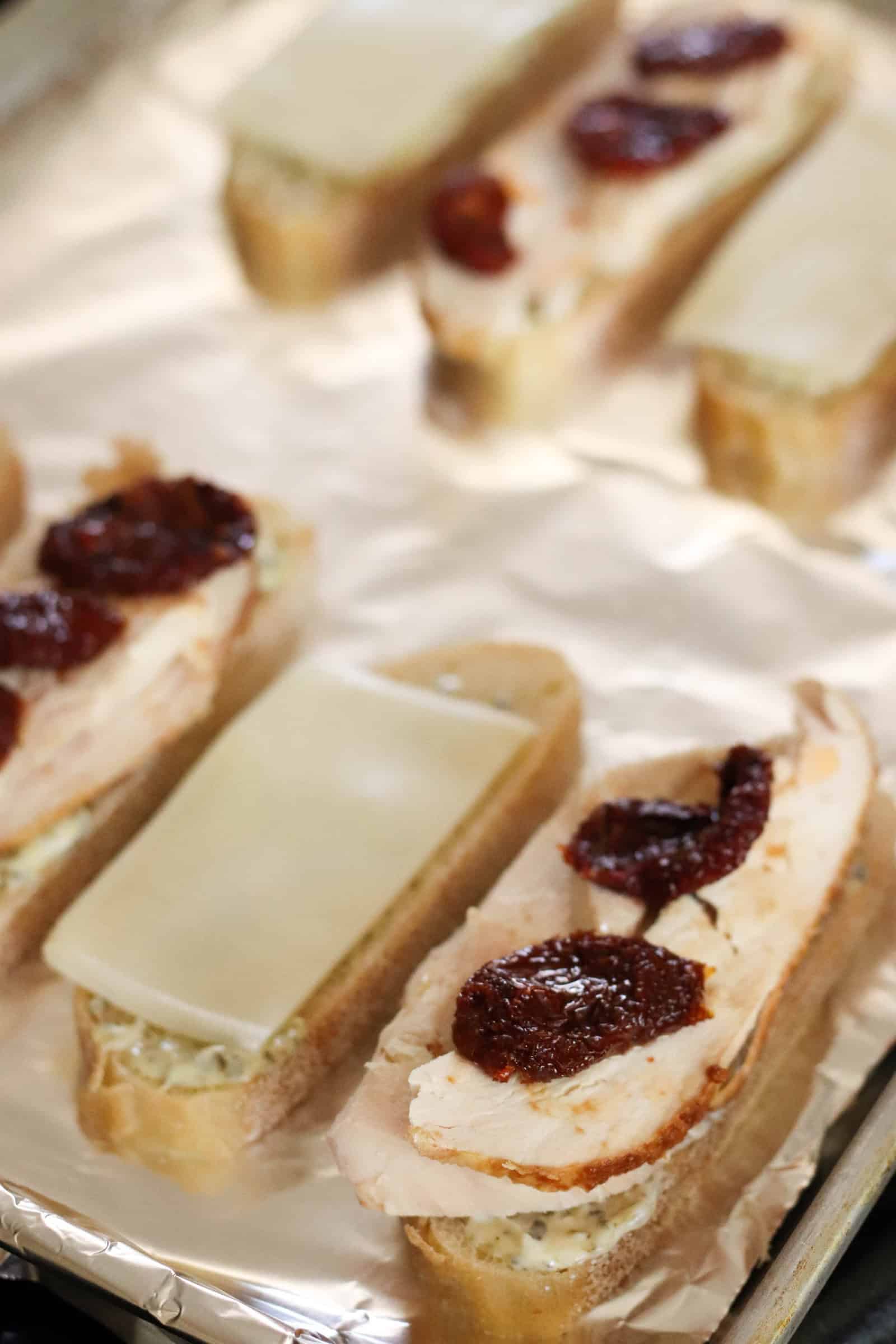 Broil for 3-5 minutes until the cheese is melted and the chicken is warm.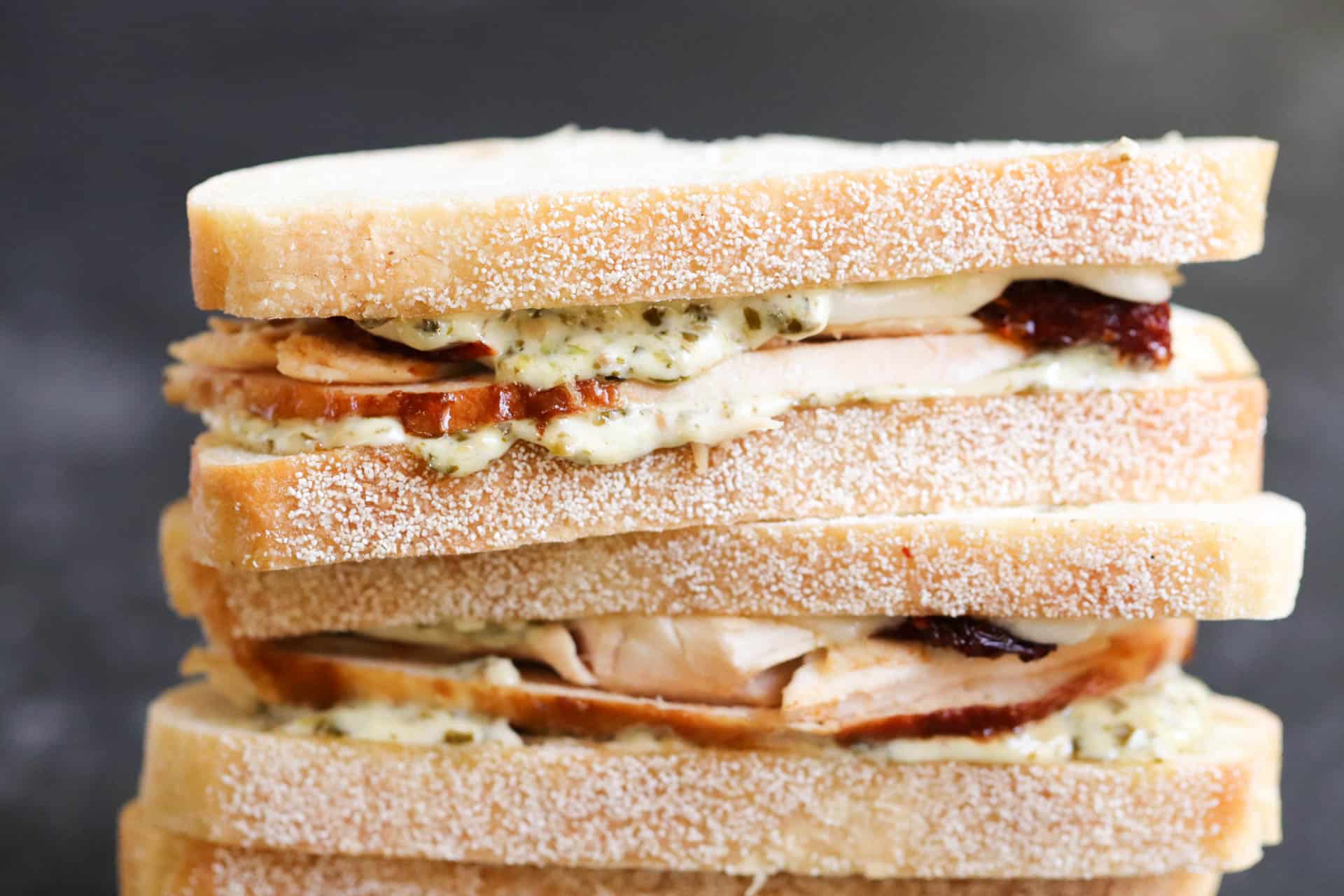 Assemble sandwiches by placing one slice of bread with cheese one top of a slice of bread with chicken and serve warm.