These No Bake Peanut Butter Balls are a new favorite at our house. With only 4 simple ingredients, they are an easy snack that you can throw together in no time!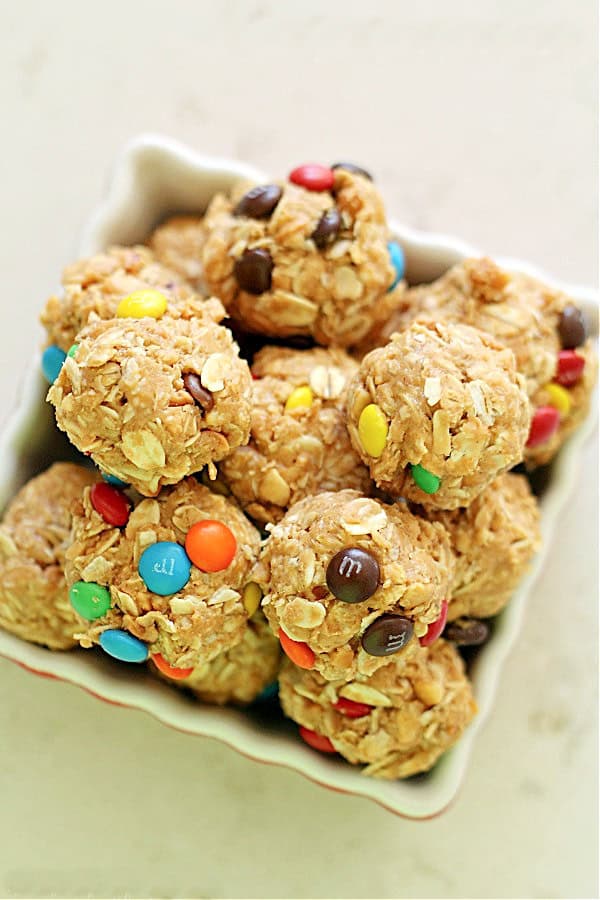 Our kids are back in the kitchen sharing this fun and easy snack idea: No-Bake Oatmeal Peanut Butter Balls.
To our kids, taking pictures of your food and talking about each step as you make it is normal to them because that's how life is when your moms are bloggers.
They are pretty hilarious and way cuter than we are, so we hope you enjoy.
So if you have little ones of your own, this is a great recipe to get them involved with.
Be sure to subscribe to our YouTube channel so that you don't miss a single recipe these cute kids put together.
Watch how to make Peanut Butter Balls:
What could I replace the peanut butter with?
This recipe calls for peanut butter, but if you have an allergy, or don't particularly love it, you could easily swap it out for something else.
We highly recommend using almond or cashew butter in place of peanut butter.
What could I use in place of M&M's?
If you are looking for a healthier alternative, try one of these:
Raisins

Craisins

Dark chocolate chips

Peanuts

Almonds

Coconut shreds

Dried apple pieces