These classic Buttermilk Brownies are rich and fudgy and topped with a creamy peanut butter frosting (my favorite combination!). This recipe is perfect for a party because it makes an entire sheet pan of brownies.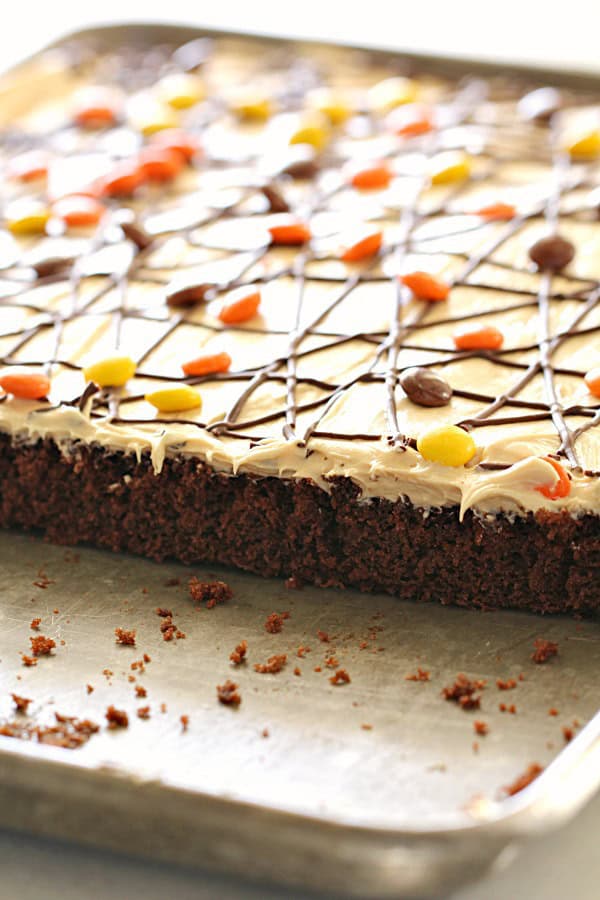 Say hello to our new favorite recipe Buttermilk Brownies with Peanut Butter Frosting!
I decided to make a pan of my Grandma's Famous Texas Sheet Cake brownies but instead of topping it with her usual chocolate frosting, I added my favorite thing to compliment the brownies: peanut butter!
This creamy peanut butter frosting is lick-the-spoon good. I drizzled some melted chocolate on top and sprinkled Reese's Peanut Butter Pieces all over . . . this is pretty much all my chocolate peanut butter dreams coming true!
Why is it called Texas Sheet Cake?
I have always wondered why they call it Texas Sheet Cake – I've heard that the recipe originated in Texas in the 1950's and I have also heard that it's called that because the cake is so huge and perfect for feeding a crowd the size of Texas.
Regardless of the name, it's delicious!