Oreo Pudding Pie is a delicious, no-bake chocolate dessert with just five ingredients. Creamy, chocolatey, Oreo pie heaven is literally just minutes away!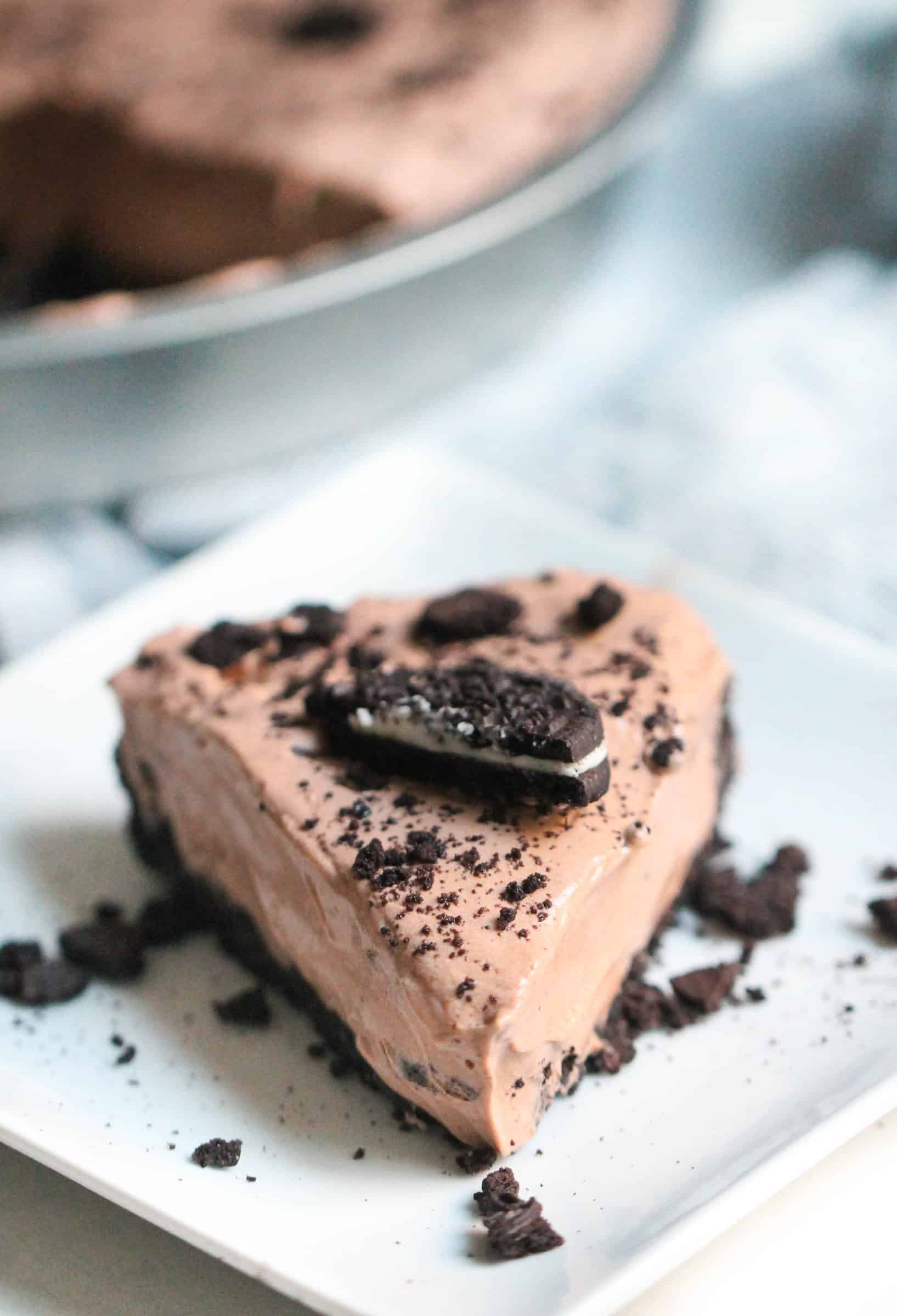 Ever panicked right before company comes over because you have no dessert, no-ingredients, and no time? Have no fear!
Our Oreo Pudding Pie takes less than 10 minutes to throw together and there's a good chance you already have all the ingredients sitting in your fridge or pantry.

How to make Oreo Pudding Pie:
Make pudding according to directions in a large mixing bowl (you'll need room to mix in everything else).
Gently fold in the cool whip. You'll want to stir it until it's just combined. Avoid over mixing for a fuller pie.
Mix in the crushed Oreo's. Make sure your Oreo chunks aren't too small.
Pour the mixture into the pie crust. Spread it evenly, so each piece will be roughly the same size when cut.
Garnish with large Oreo cookie chunks. We think it also tastes great with a little extra cool-whip spread over the top. Serve immediately.

Homemade Oreo Crust:
We think this recipe tastes just fine with a pre-made Oreo pie crust, but if you have more time and you're looking to take it to the next level, we'd recommend using this recipe to make a homemade Oreo crust:
In a food processor or high powered blender, mix together 28 Oreo cookies and 1/3 cup melted butter.
Press mixture into the bottom and up the sides of a pie pan.
Refrigerate for 30 minutes (letting it set up) before filling with pudding mixture. If you want a firmer crust, bake in an oven at 350 degrees for 10 minutes, then let it cool completely before filling it with the pudding mixture.

OREO PIE Variations:
While we love the classic taste of Oreos with chocolate pudding, you could also make these tasty substitutes or add-ins:
Golden Oreos with vanilla pudding
Red Velvet Oreos with cheesecake pudding
Lemon Oreos with white chocolate pudding
Birthday Cake Oreos with chocolate or vanilla pudding
Mint Oreos with chocolate pudding
Chocolate Oreos with Oreo Pudding