This One Pan Stuffed Pepper Casserole is the all around perfect meal for a busy night. It comes together so easy and quick. It makes enough to feed a hungry army. And BEST part of all - ONE PAN. Making cleanup a breeze!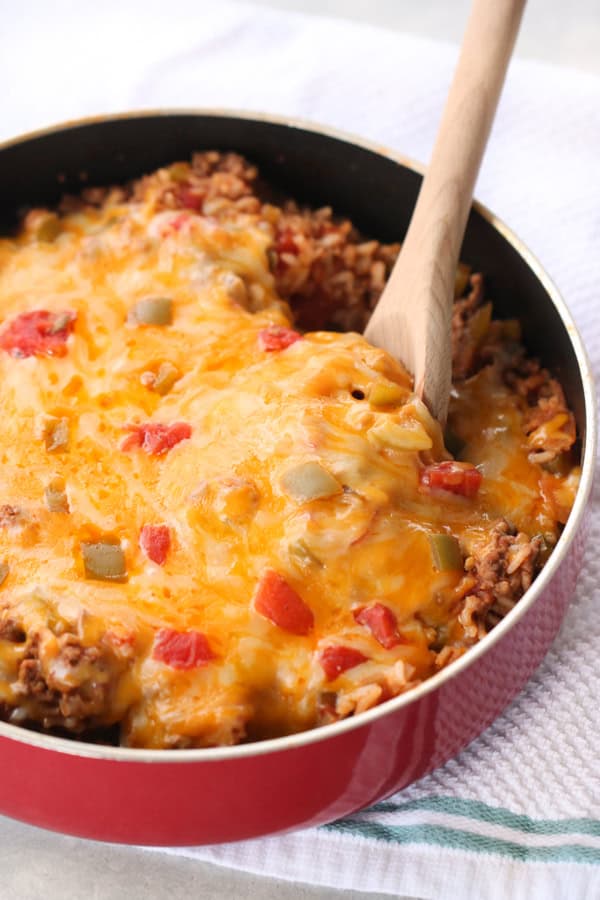 Some of our kids don't like stuffed peppers, but they loved this One Pan Stuffed Pepper Casserole. It's everything you would get in a stuffed pepper, without the strong green pepper taste overpowering.
Stuffed Peppers were always a favorite growing up. But they were a labor of love cleaning out each green pepper, making the filling, and then stuffing them full to bake. Now you have all of that same delicious flavor in an easy casserole.
But if you love Stuffed Green Peppers, this recipe is so much easier than filling each green pepper. And you can easily add in more diced green pepper to this recipe. It's easy to adjust to your liking and taste.
One Pan Stuffed Pepper Casserole is also the best way to sneak in some veggies for your kids. You can cover up a lot of the veggies with cheese. They'll never know that there are tomatoes and green peppers waiting for them under the cheese.
What are some easy change ups for this recipe?
One Pan Stuffed Pepper Casserole is the perfect dish to adapt to your own personal taste. Here are a few ways you can adjust it to accommodate your family.
Using a Mexican blend cheese for added flavor.
Use chicken chunks instead of ground beef.
Add in Quinoa with the rice.
Use chicken broth in place of beef broth when using chicken.
Add enchilada sauce on top and use as filling for tortillas.
Add in extra tomato sauce if desired.