These delicious no bake chocolate bird's nest egg cookies are downright delicious. With all of the chocolate and salty flavors melding together, they are irresistible!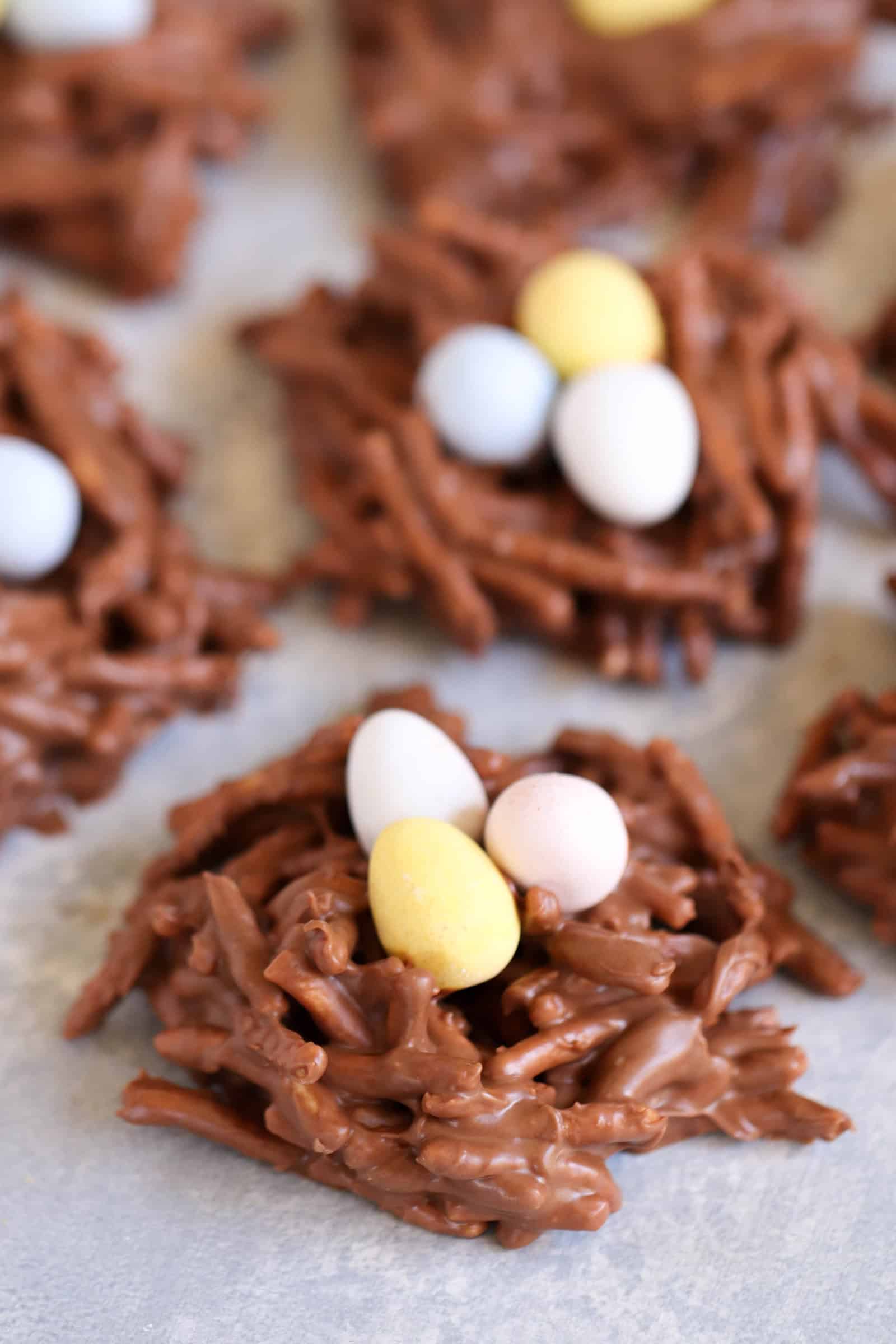 These No Bake Chocolate Bird Egg Nest Cookies are so fun for Easter and the PERFECT kid friendly recipe!
They are one of our favorite Easter treats and show up to our yearly Easter dinner.
Ingredients needed for No Bake Chocolate Bird Egg Nest Cookies:
12 ounces  milk chocolate chips
12 ounces butterscotch chips*
12 ounces Chow Mein noodles
1 cup M&M's, Jellybeans, Chocolate eggs, or any other kind of "egg-shaped" candy
How to make No Bake Chocolate Bird Egg Nest Cookies:
Dump your two bags of chips into a microwave-safe bowl.
Melt in the microwave on 50% power for 60 seconds. Stir and repeat until all chips are smoothly melted.
Add bag of chow mein noodles to the melted chocolate and stir until all noodles are coated.
Lay out wax paper and drop a large tablespoonful of chocolate noodles onto wax paper. Mold into a "bird nest" shape. Warning- your hands will get messy.
Place a couple of "egg" candies on top of the chocolate nest. Let harden (if you can resist eating it! They are good when they are warm and gooey too!) and place in the fridge if you want them to set-up faster.
**Don't like butterscotch chips? You can switch them out for a second bag of chocolate chips, white chocolate chips, or peanut butter chips. I have tried all of those combos and think that they are delicious!