The easiest way to cook corn on the cob is in your Instant Pot! It cooks at a high pressure for only 2 minutes and turns out perfect every time.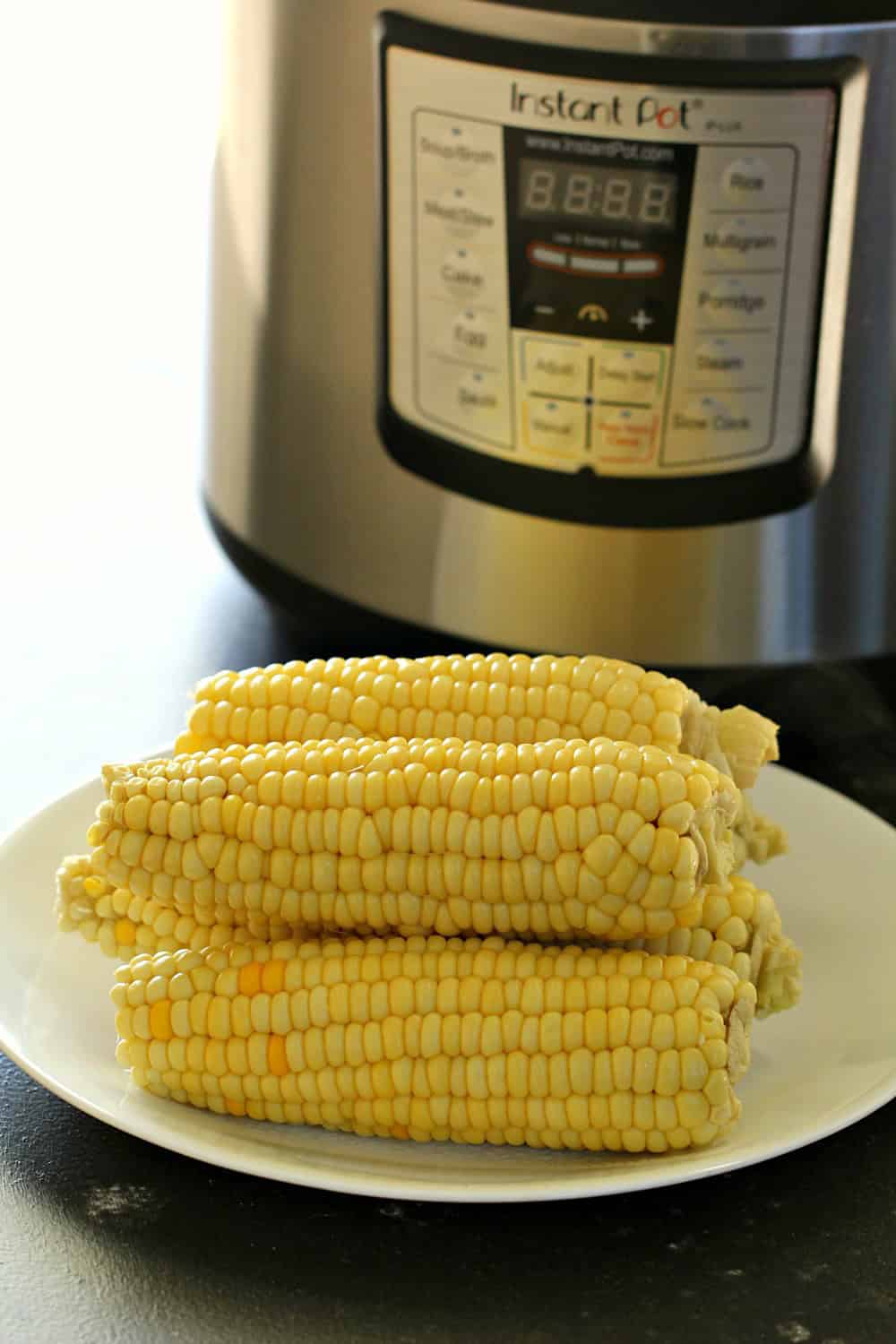 I love corn on the cob!
We make our corn on the cob in our slow cookers, on the grill, and we even turn it into salad!
However, when it comes to cooking it perfectly, I have struggled with knowing how long to boil it for and how high of heat to cook it in . . . which sometimes leads to mushy corn.
Most people will boil their corn on the cob. I use a large stock pot full of water and bring it to a boil, then add my corn and let it cook for 3-4 minutes (don't go any longer if you want it crisp! Most people over-boil their corn).
Today I discovered that you can cook corn on the cob in your Instant Pot and I will never go back to cooking it any other way ever again!
How to make corn on the cob in the Instant Pot
The only things that you need to make corn on the cob is water, corn on the cob, and a trivet to put in the bottom of your pot.
Most Instant Pot's come with a trivet, but if you don't have one, you can find one here.
In a pinch, you can substitute a metal lid of a large jar in place of the trivet. A stainless steel cookie cutter or small bowl will also do the trick. Whatever you use, you want to be sure that it's made of food-grade heat resistant materials.
You can cook this without a trivet, but it may leak some of the flavor from the corn into the water. The cooking time will remain the same though.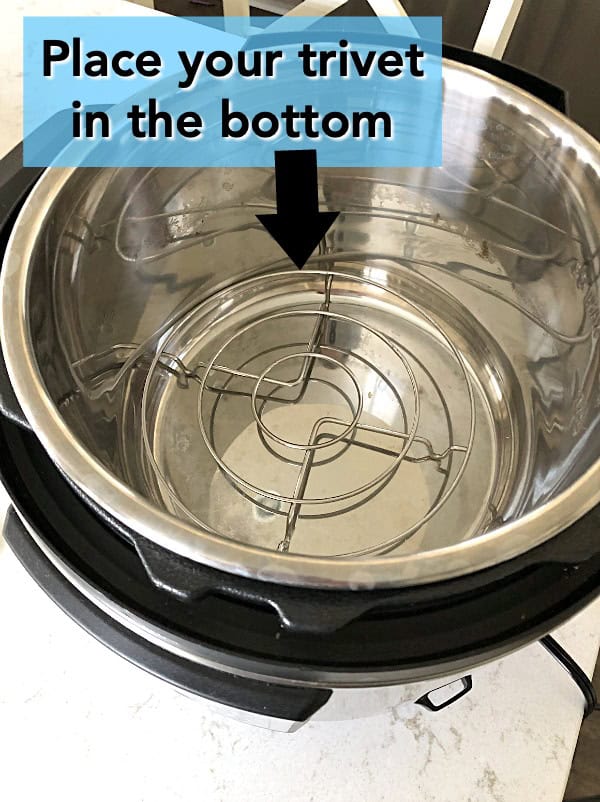 Now you are going to add 1 cup of water to the bottom of the pot.
Some people will say to add milk or even butter at this point, but it's completely unnecessary. Water does the job and then you can add all that good stuff after it's done cooking.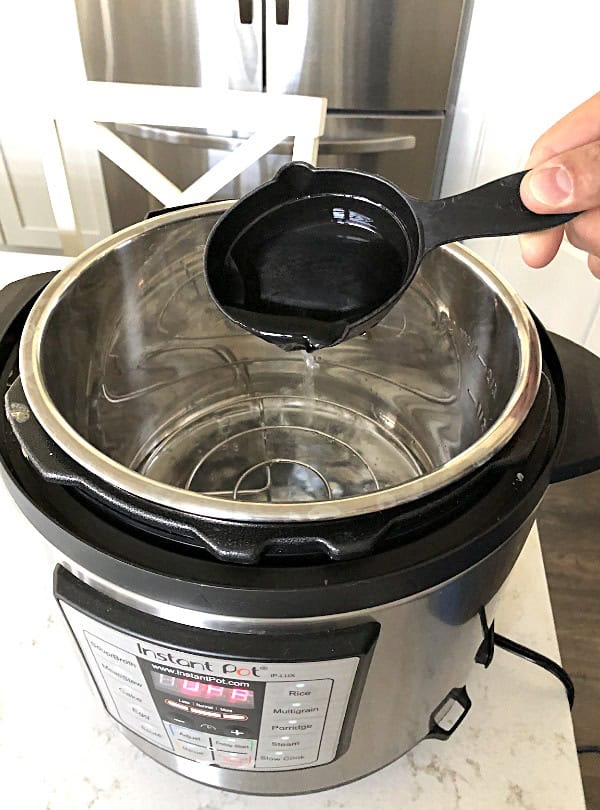 Remove the husks and silk from the corn and and place 2-3 ears of corn on top of the trivet. Stack 2-3 more ears of corn on top of those, turned the opposite direction. I have done as few as 2 ears of corn and as many as 8 ears of corn at a time.
Some people prefer to cook their corn in the husks. If you do this, just add 1 more minute to the cook time.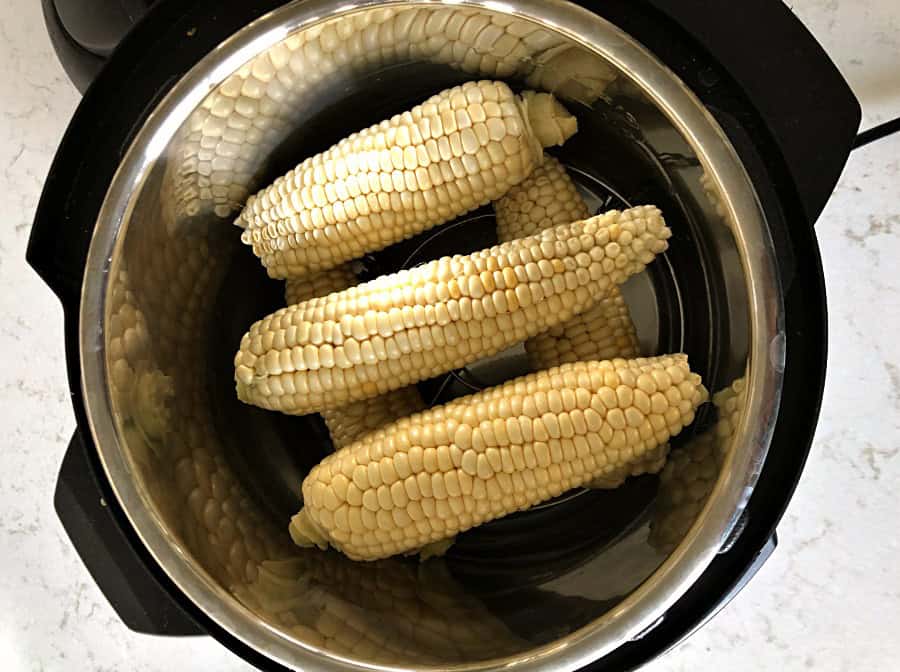 Place the lid on the instant pot and turn the valve to "sealing".
Press the "manual" button and set timer for 2 minutes. Then walk away and let the Instant Pot do it's magic!
As soon as it is finished cooking, press the cancel button to turn off the heat and do a "quick release" on the pressure. Remove the lid after all the pressure has been released.
For this recipe, you don't want to let the corn stay in the Instant Pot – you want to get it out as soon as possible to keep it from getting soggy, squishy, or shriveled.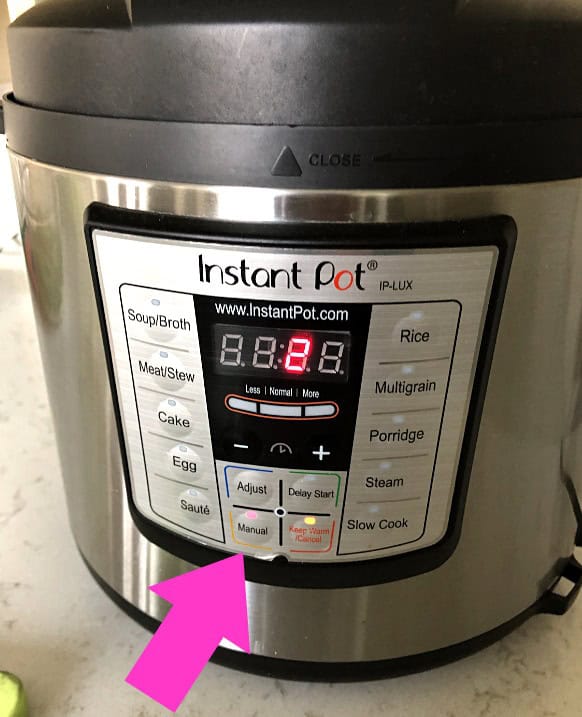 When it's done, slather butter, salt and pepper over that crisp and tender corn . . . it's delicious!
Looking for more Corn on the Cob recipes?! Try our Copycat Disneyland Chile Lime Corn on the Cob!