Enjoy this easy chopped cheese sandwich recipe for a quick yet delicious weeknight dinner. If you enjoy a good New York style chopped cheese sandwich, then you are going to LOVE our budget-friendly recipe version of it.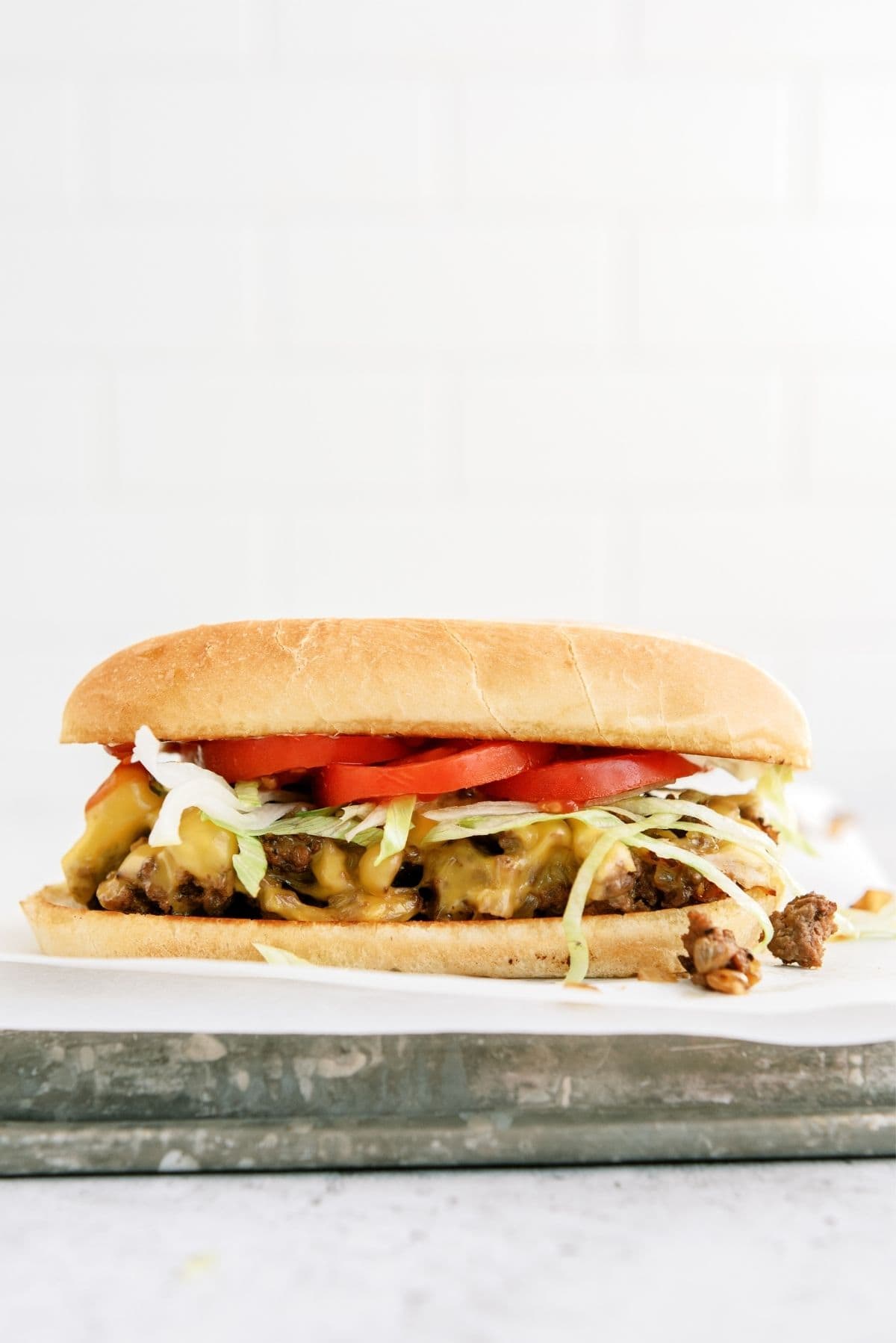 This easy chopped cheese sandwich recipe is one of our favorite meals to make on our busy evenings. Since there is not a lot of prepwork that goes into this authentic chopped cheese sandwich you can make it when you have limited time.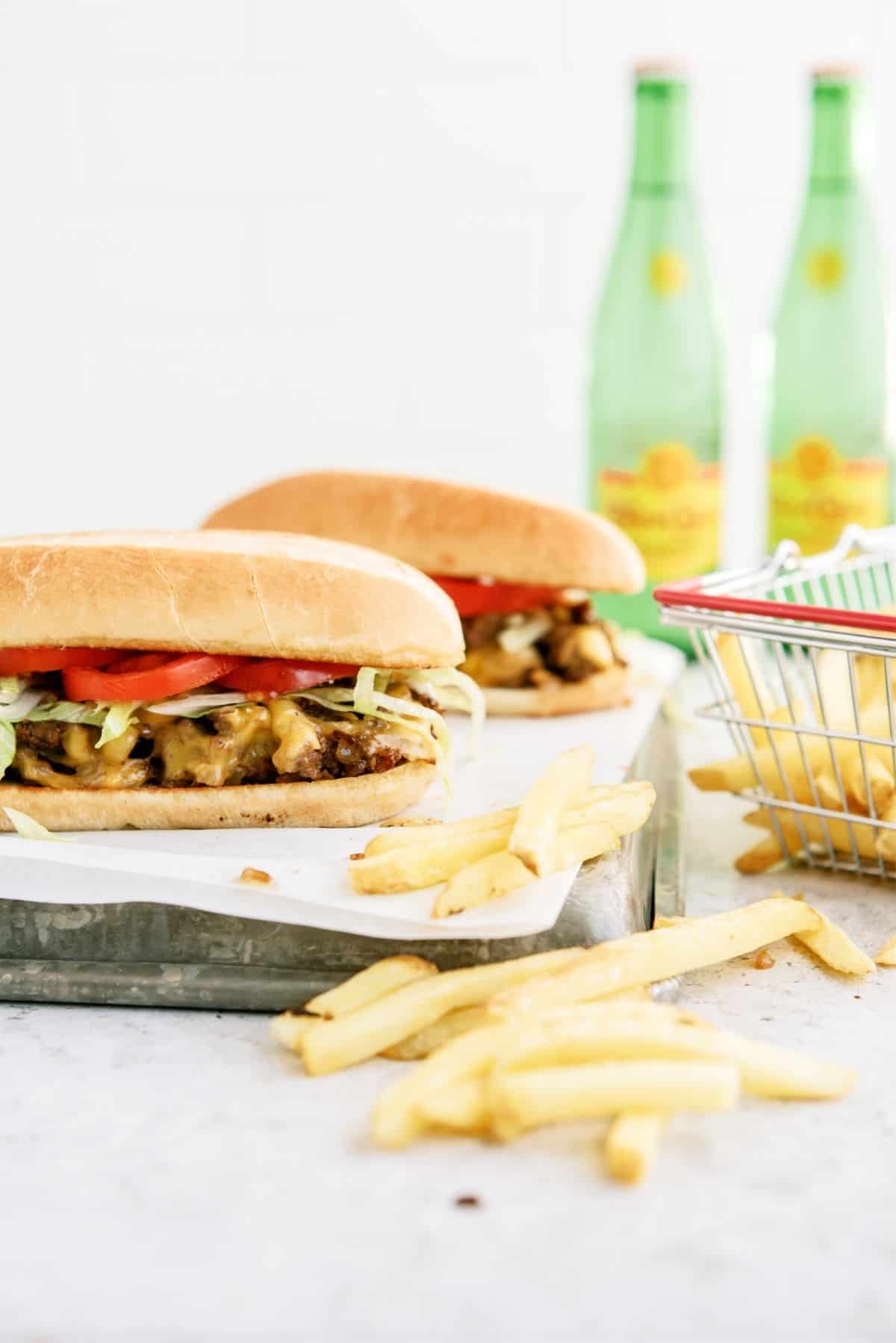 If you are not sure exactly what a chopped cheese sandwhich is, it is essentially like a hamburger that is turned into a sandwich. You will have the ground beef on the grill, instead of forming a true burger patty, the meat will be chopped up and then slices of cheese added to the grill. So it's basically a fancy hamburger sandwich that you're going to love.
It is also a great recipe to use to get your kids that like sandwiches, but not burgers to eat it and enjoy it! Plus with such simple ingredients, you can doctor it up however you want with all the toppings, or no toppings at all.
These delicious chopped cheese sandwiches also go wonderfully with our oven baked seasoned steak fries, baked zucchini fries, or some tasty air fryer potato wedges! Basically anything you would eat with your favorite burger, would go great with this chopped cheese recipe.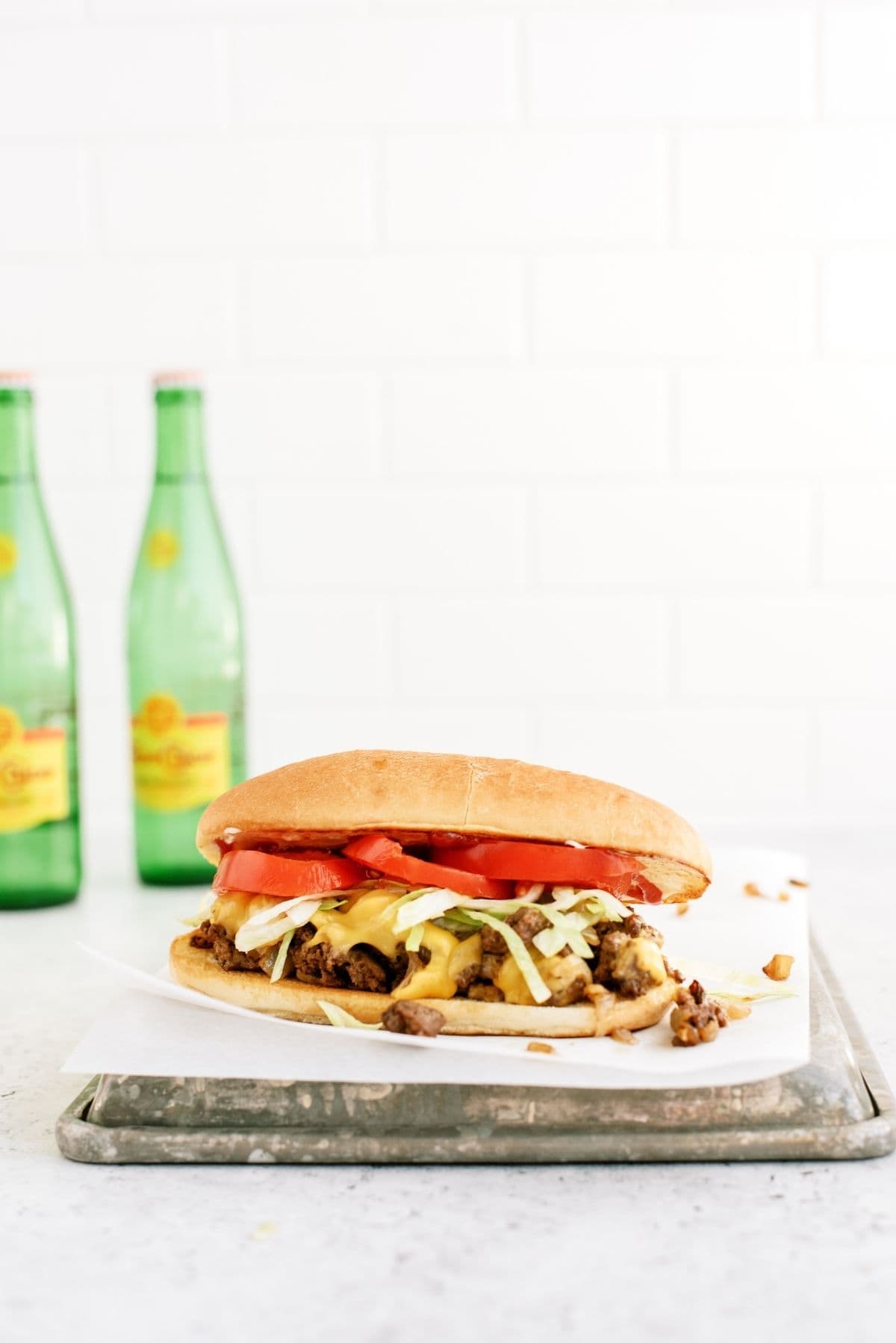 Ingredients You Need to For Our Easy Chopped Cheese Sandwich Recipe:
Butter
Hoagie buns
Diced onion
Ground beef
Salt
Ground black pepper
Garlic powder
American cheese
Mayonnaise
Ketchup
Shredded lettuce
Tomatoes
How To Make Our Easy Chopped Cheese Sandwich Recipe:
To start these delicious sandwiches, slice open all of the hoagie rolls.
Then in a large skillet, heat up 1 tablespoon of butter over medium high heat.
Once the butter is melted, place the hoagies on the skillet to toast the inside surface of the hoagie. This should take about 2-3 minutes to become slightly golden brown, then set them aside.
Now, add the rest of the butter to the pan and saute the diced onions until they are translucent, just about 3 minutes or so.
Then move the onions to the side in the pan and add the ground beef in the pan like one big patty.
Allow the meat to brown for 3-4 minutes without breaking it up.
Then season the meat with salt, pepper, and garlic powder and then flip the large patty over to sear the other side of the meat and allow it to continue to keep cooking for another 2-3 mintues.
After 2-3 minutes, begin breaking up the meat with a spatula and start to include the onions back in with the meat.
Continue to chop and cook the meat until the meat is no longer pink.
Then divide the meat into 4 different portions in the pan and then top each portion with 2 slices of cheese.
Allow the cheese to melt while it sits in the skillet.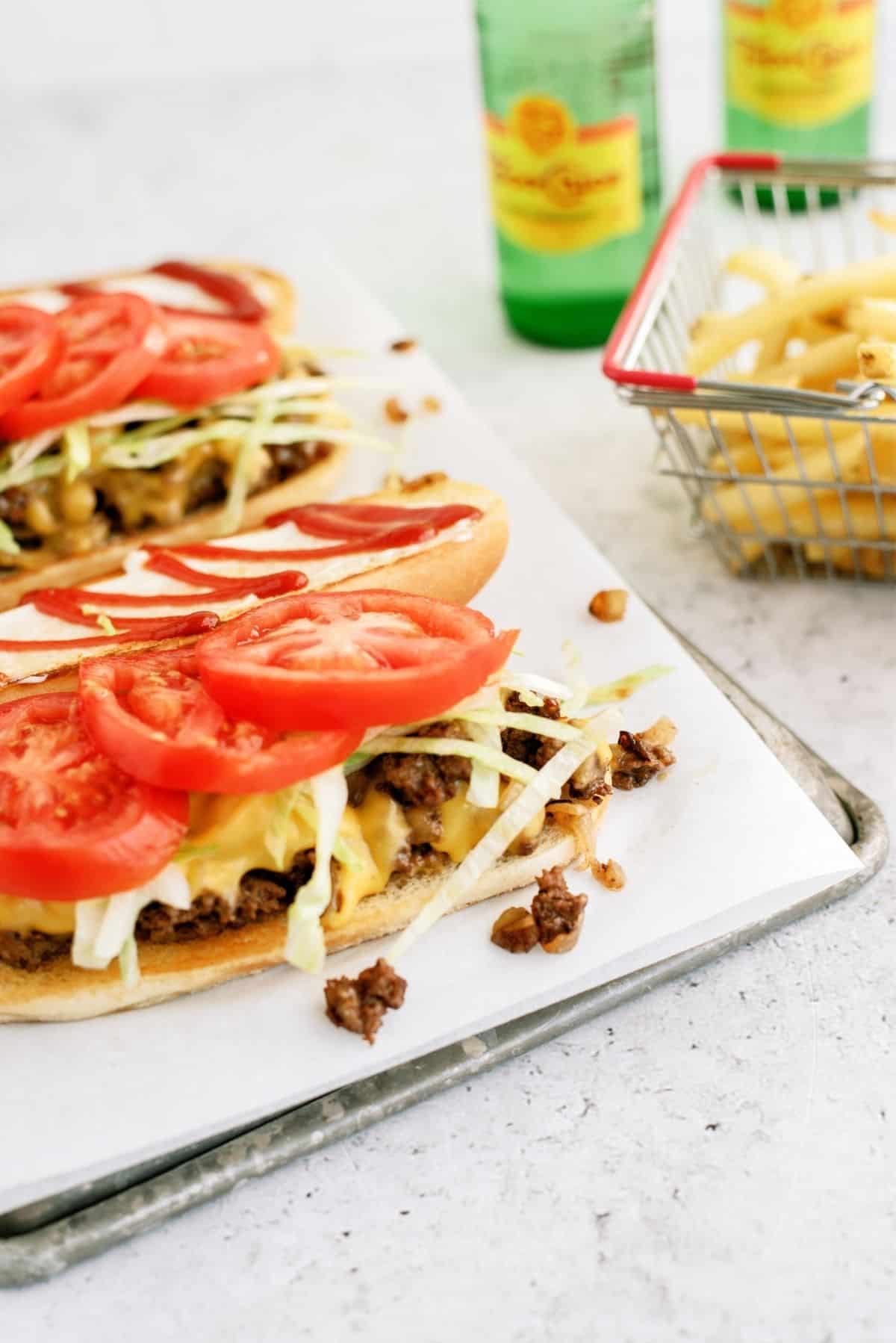 Now get your hoagie rolls and spread the mayonnaise and ketchup on the inside of the bus, and then top it off with the beef and cheese mixture.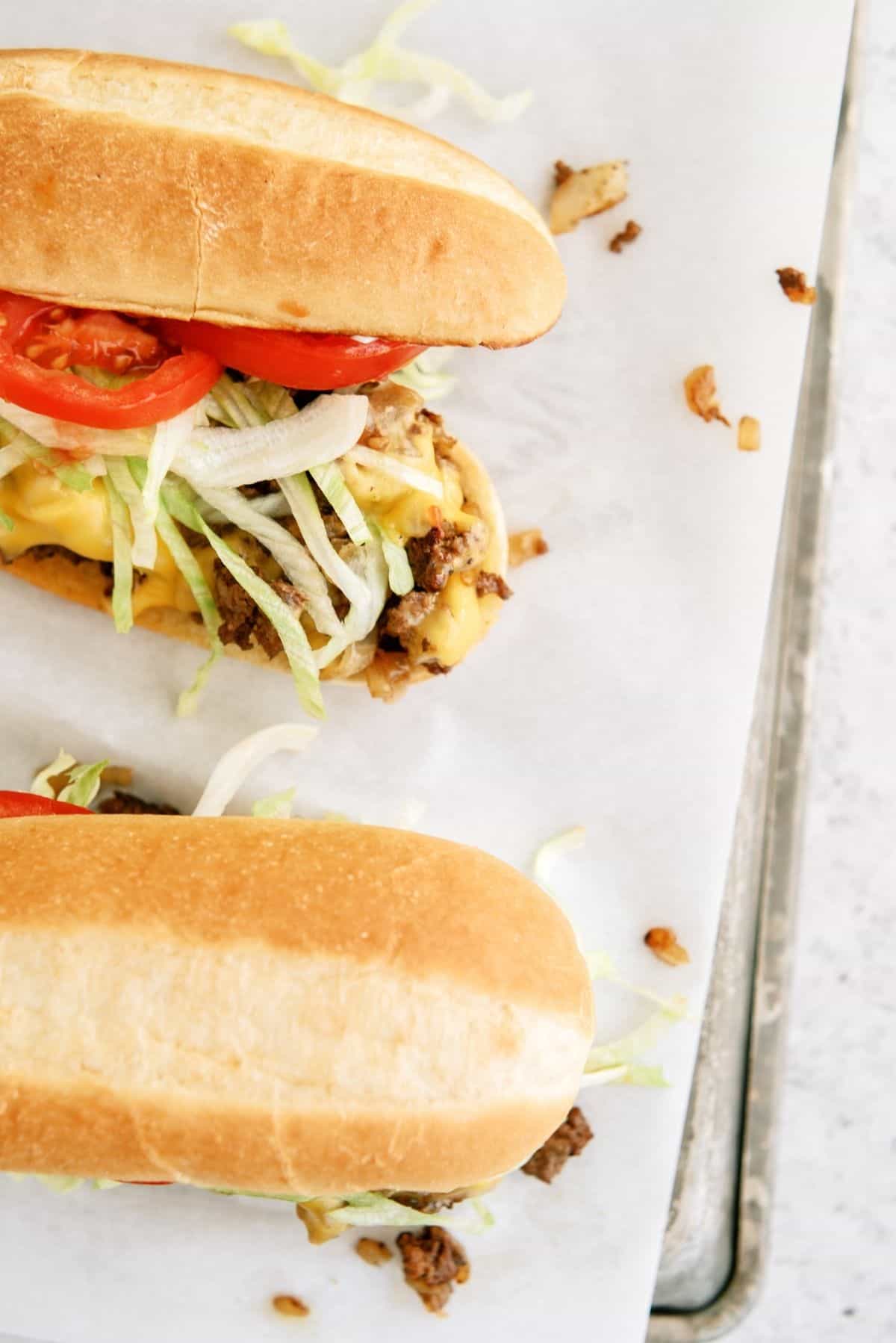 Then finish off your sandwich with your favorite toppings and then serve!
To Make This Authentic Chopped Cheese Sandwich Recipe You Will Need:
Large skillet (THIS one will work great!)
Spatula
Serrated knife