Switch up your dinner menu by adding these delicious Slow Cooker Chipotle Pulled Pork Sandwiches to the rotation. Easy pantry ingredients and full of flavor!
You are going to love this delicious Chipotle Pulled Pork. It's perfect to shred and serve on top of sandwiches.
We LOVE slow cooker recipes, especially when they only have a few ingredients, and they taste great.
The only part we don't like?
Transferring the meat to the plate and then shredding it!
I've bent and broken one too many forks trying to do just that! That is – until we met these Bear Paws!
Related Recipe: Try our Instant Pot Chipotle Beef Barbacoa HERE and our Slow Cooker Chipotle Barbacoa HERE!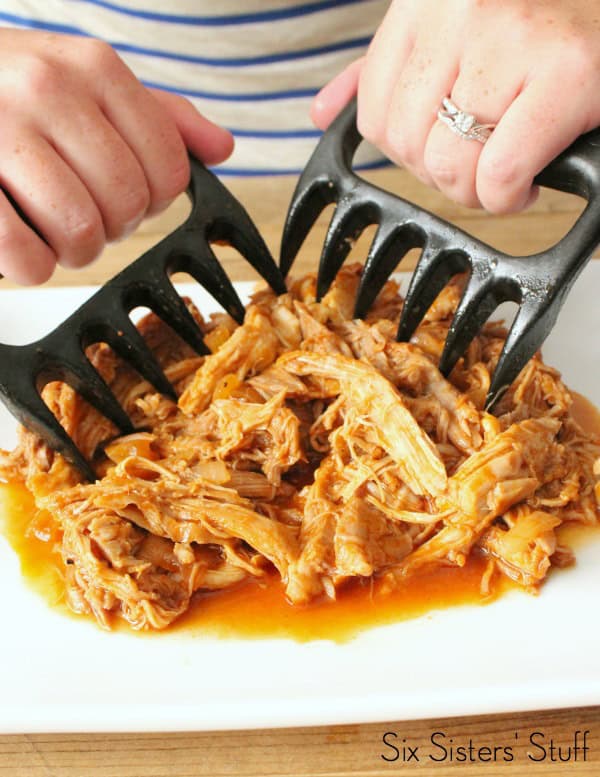 They are heat resistant (up to 475 degrees) and they are perfect for grabbing and handling meat straight off the grill or out of the pan. They shred with ease – with no bending or breaking or heating up.
Ingredients needed for this Chipotle Pulled Pork recipe:
2 pound pork shoulder roast
½ cup ketchup
½ cup brown sugar
½ yellow onion
8 ounces Chipotle sauce
How to make Slow Cooker Chipotle Pulled Pork Sandwiches:
Spray a slow cooker with cooking spray.
Place the roast in the slow cooker and pour the ketchup, brown sugar, onion, and Chipotle sauce over top.
Cook for 4-6 hours on high, or 8-10 on low.
Remove meat from slow cooker, and shred.
Return to the slow cooker, stir, and cook on low until ready to serve on buns.