Our Easy Baked Salmon Recipe is a complete meal in one pan. Full of protein, omega-3s and two vegetable sides, it's a healthy dinner you'll make over and over again.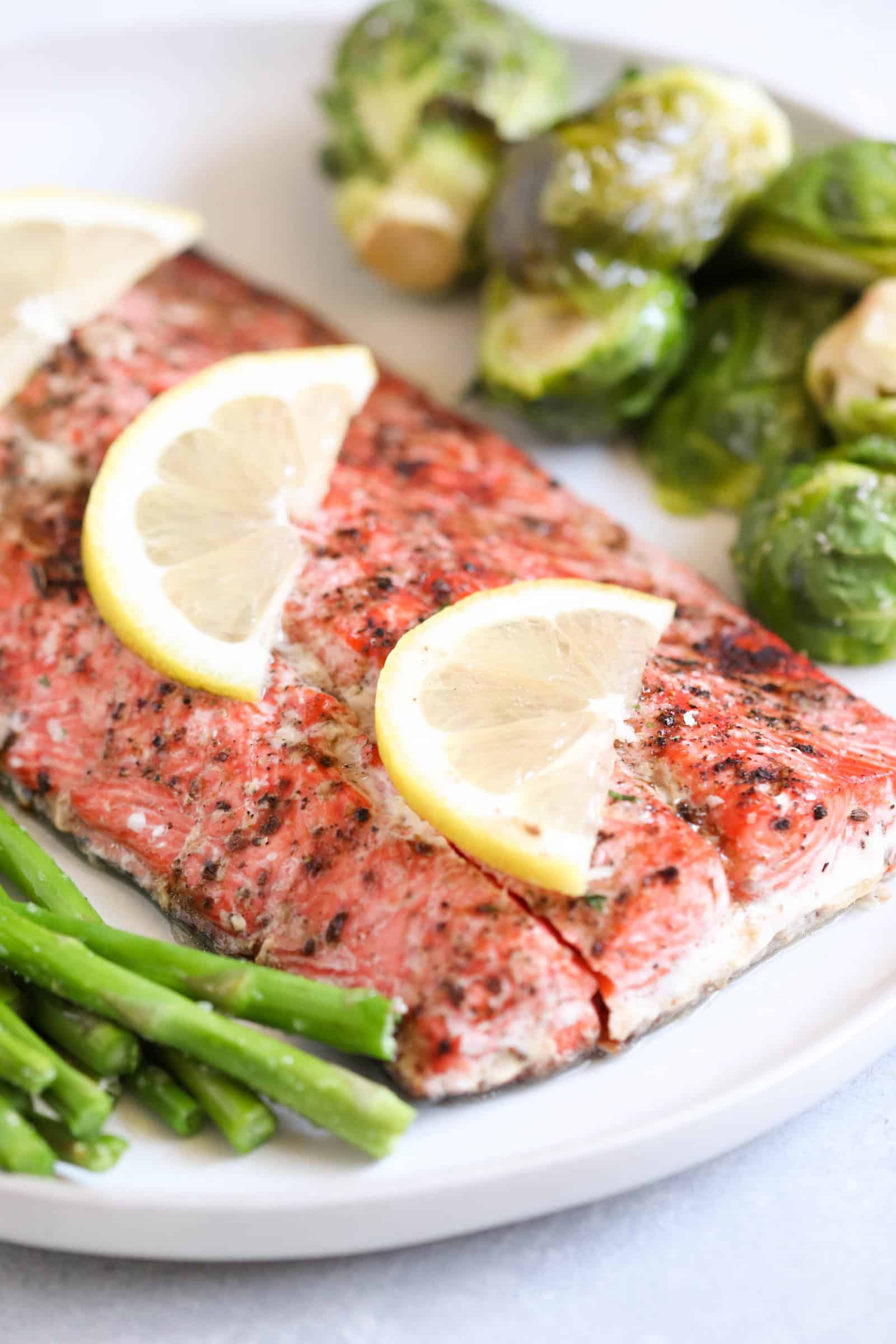 We love this easy baked salmon recipe for a few reasons:
It's one of the easiest recipes to make (it's practically fail-proof) AND it's a main dish and side dish in one pan, which means less dishes to clean up.
Plus, with good-for-you foods like salmon, Brussels sprouts, and asparagus – it is a very healthy meal.
If you're afraid of the idea of baking salmon, don't worry – we have some awesome tips for before you get started.
Tips For Baking Salmon
It only takes about 20 minutes to bake salmon. If it is thicker, it will need to cook it a little longer, or just leave it on the pan after you take it out of the oven and it will continue to cook on the pan.
If you aren't sure if it is done, just cut it open a little bit. You want it to be a light colored pink. If it is dark pink in the middle, you will want to cook it for a few more minutes. It should flake easily with a fork when it's done.
If the salmon has skin, you can leave the skin on. If you leave it on, I would HIGHLY suggest putting down some foil on your pan first, then putting your salmon right on top of it. It makes clean-up so much easier.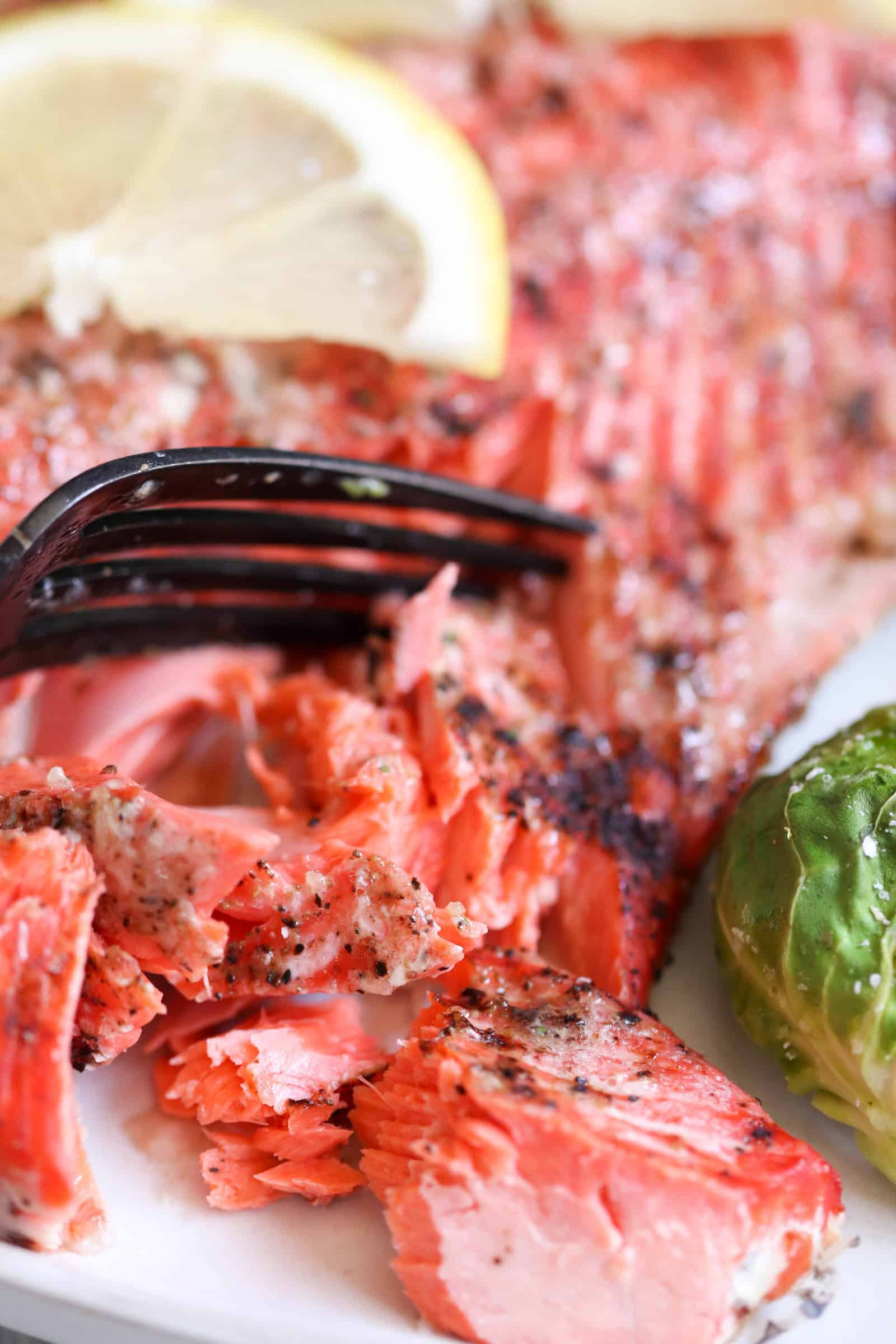 Common Temperatures to cook salmon
The internal temperature of salmon continues to rise after you take it out of the oven.
Depending on how you like your salmon cooked, you might want to think about this. Some of the most common times are:
10-15 minutes at 425 degrees
15-20 minutes at 400 degrees
20-25 minutes at 375 degrees (let rest on pan for 10 minutes so it will continue to cook on the pan)
25-30 minutes at 350 degrees
My favorite way to cook salmon for 20 minutes at 400 degrees.
Many people like to cook it at 350 degrees for 25-30 minutes, but I like mine a little crispier on the outside and really soft of the inside.
Keep in mind that the thickness of your salmon will effect which end of the range you want to cook your salmon.
You can cook your salmon any of these temperatures.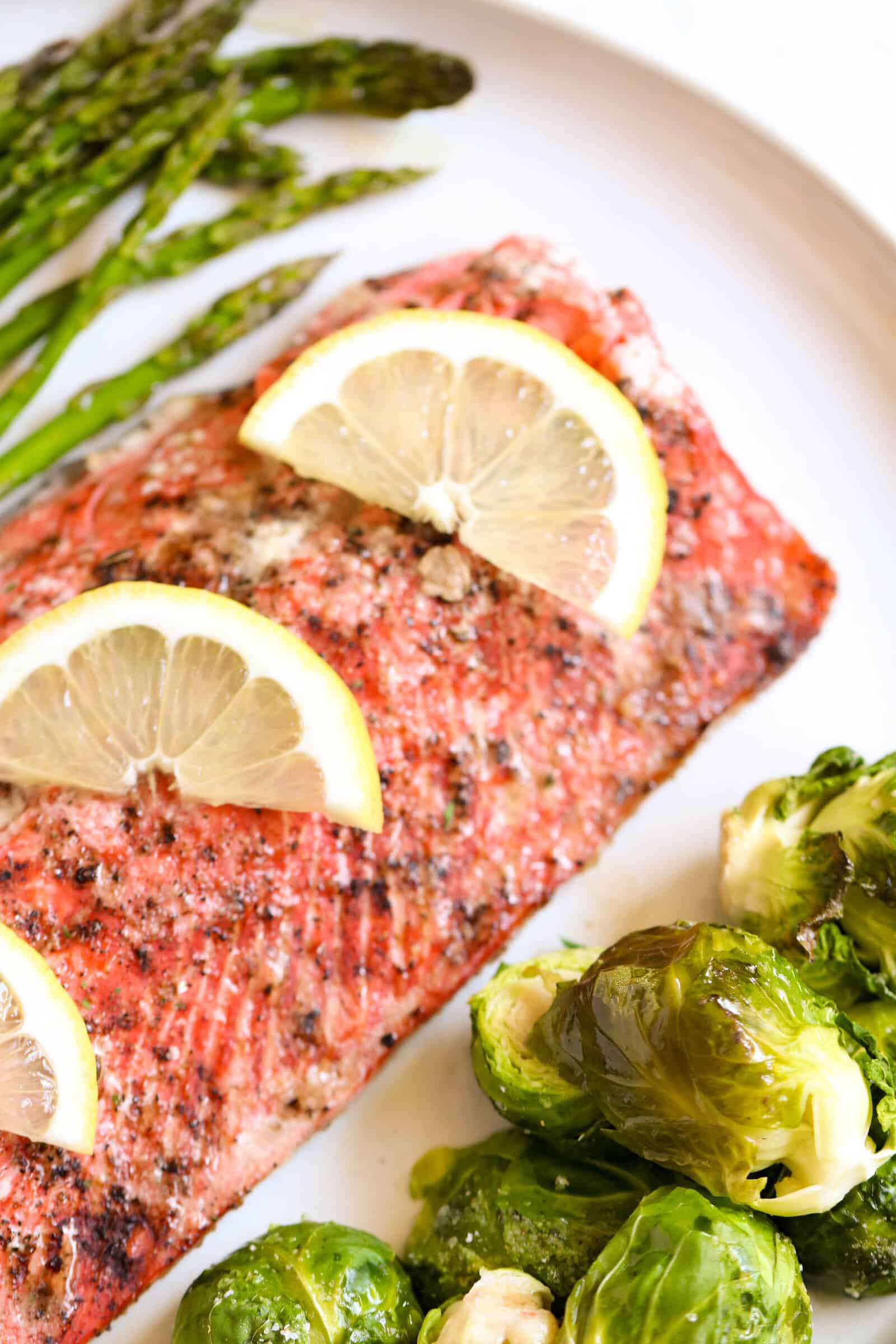 How To make Baked salmon:
Place fish in the bottom of a 9×13-inch pan.
If you're using a salmon with the skin still on, that's fine, but you'll probably want to line your pan with foil for easier clean up.
For this recipe, we use steamed Brussels sprouts.
If you haven't tried steaming Brussels sprouts before you roast them, we'd HIGHLY recommend it.
They taste so much better when cooked like this – we bet you'll never go back to your old way of making Brussels sprouts!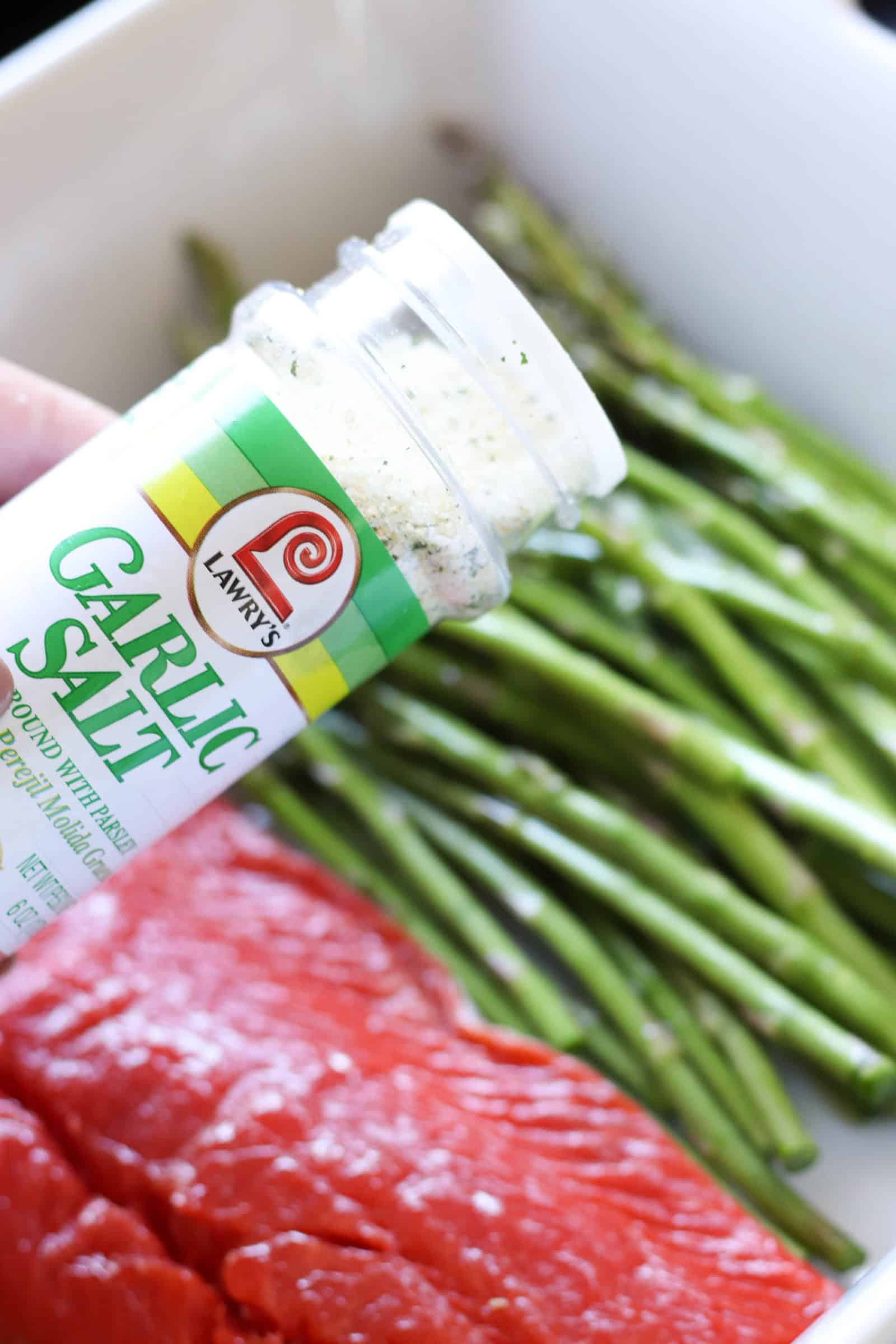 Steam the Brussels sprouts according to package directions, then place them on one side of the salmon and place asparagus on the opposite side.
Drizzle olive oil over just the vegetables and sprinkle with garlic salt.
Don't worry – we have never had our vegetables turn out "fishy" when baking them along side the salmon.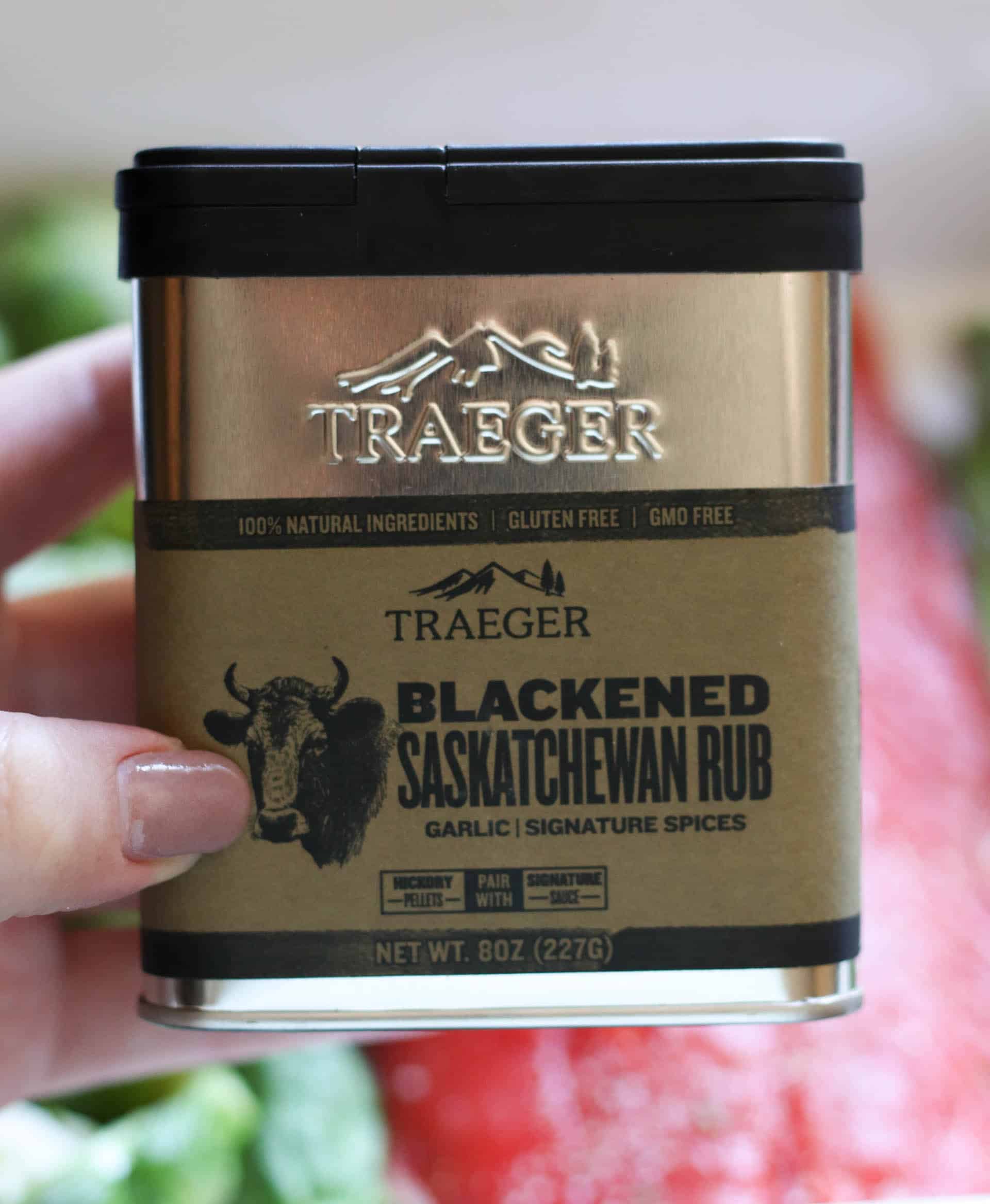 Sprinkle the salmon with salt, pepper, garlic salt, and fish seasoning. We always have Old Bay Seasoning on hand, and that's what we have used a lot when making this recipe.
We also love Traeger's Seasonings, too. We've used this one a lot lately and it's delicious.
Top it with small pieces of butter. Bake uncovered for 20 minutes at 400 degrees (or see the other cook time variations you can use above).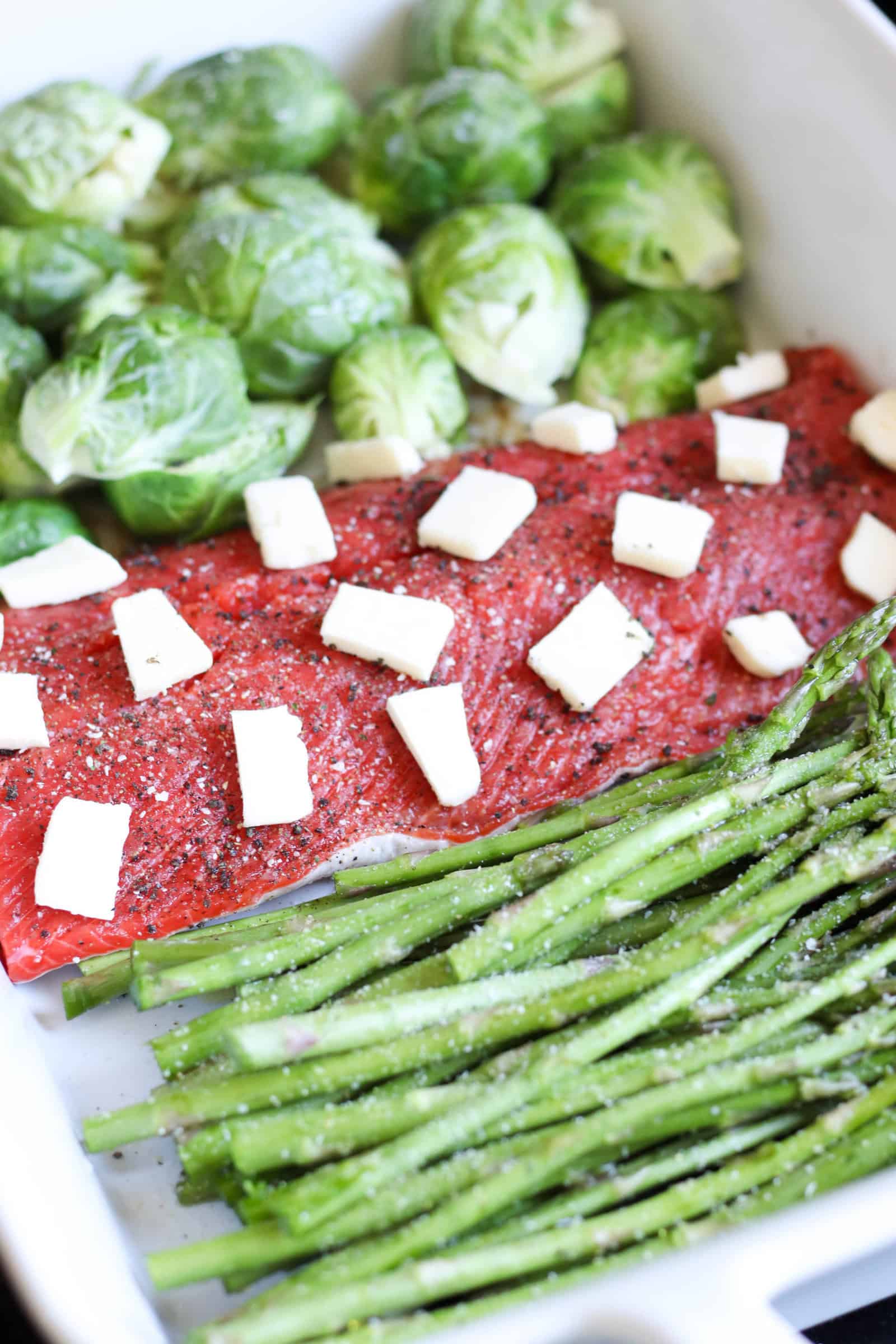 Salmon is cooked when it flakes easily with a fork and is a light pink (if it's dark pink in the middle, it probably needs to cook few minutes longer).
If cooking longer, check it every 1-2 minutes to avoid drying it out.