This Baked Mac & Cheese has creamy cheesy taste topped off with buttery breadcrumbs. It is true "comfort food." My mouth is watering just thinking about it.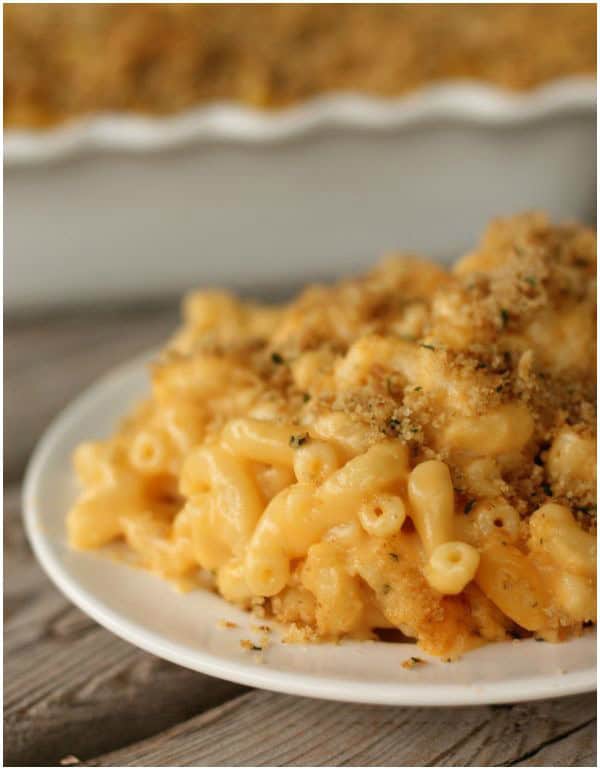 This Baked Mac and Cheese is "comfort food" to the MAX. With creamy cheesy insides and topped with buttery breadcrumbs, it's the perfect warm meal as temperatures cool.
Is homemade Mac and Cheese hard to make?
A lot of our readers are deterred from making homemade mac and cheese because it seems so tough to make.
The good news is it takes almost the same amount of time to make it from a box as it does to make it from scratch! If you're still worried, we have a few tips for you.
Related Recipe: Try our NEW Instant Pot Loaded Mac and Cheese!
Tips for making homemade mac and cheese:
Stick with elbow macaroni or small shells for your pasta.
Do not overcook your pasta or you'll end up with a sticky blob.
Use plenty of real cheese, don't skimp. Cheese is part of the recipe name, so it must be important. Cheddar cheese is what we like to add to our baked mac and cheese.
Related recipe: Love homemade mac and cheese? Try our Slow Cooker Creamy Mac and Cheese. Or if you have an Instant Pot, try our Instant Pot Creamy Mac and Cheese!

How to make homemade mac and cheese:
1. Cook pasta according to package directions. Drain and rinse the pasta and then set aside while you make the cheesy goodness that will hold it all together.
2. In a large sauce pan, melt butter, then add in the flour and milk, stirring constantly. Then add the cheese and seasonings and continue stirring until cheese is completely melted and everything is combined.
3. Add the pasta to the cheese mixture and stir until all is coated. Pour into a prepared 9 x 13-inch pan. Sprinkle with buttered bread crumbs and stick it in the oven. It's that easy and SO delicious.
You can stop at the step before baking, and just serve it directly from the sauce pan. However, we think adding the buttery bread crumbs and baking it until crisp adds an extra touch of comfort.
If you're taking this meal to someone else, it's much easier to take it in a casserole pan (and the presentation looks better, too!).