I love putting all my apples to use from my apple tree. These Apple Hand Pies are the perfect fall dessert. They are easy to make and the perfect after school snack, dessert, or for hosting guests this season. Don't let those apples go to waste, make them delicious.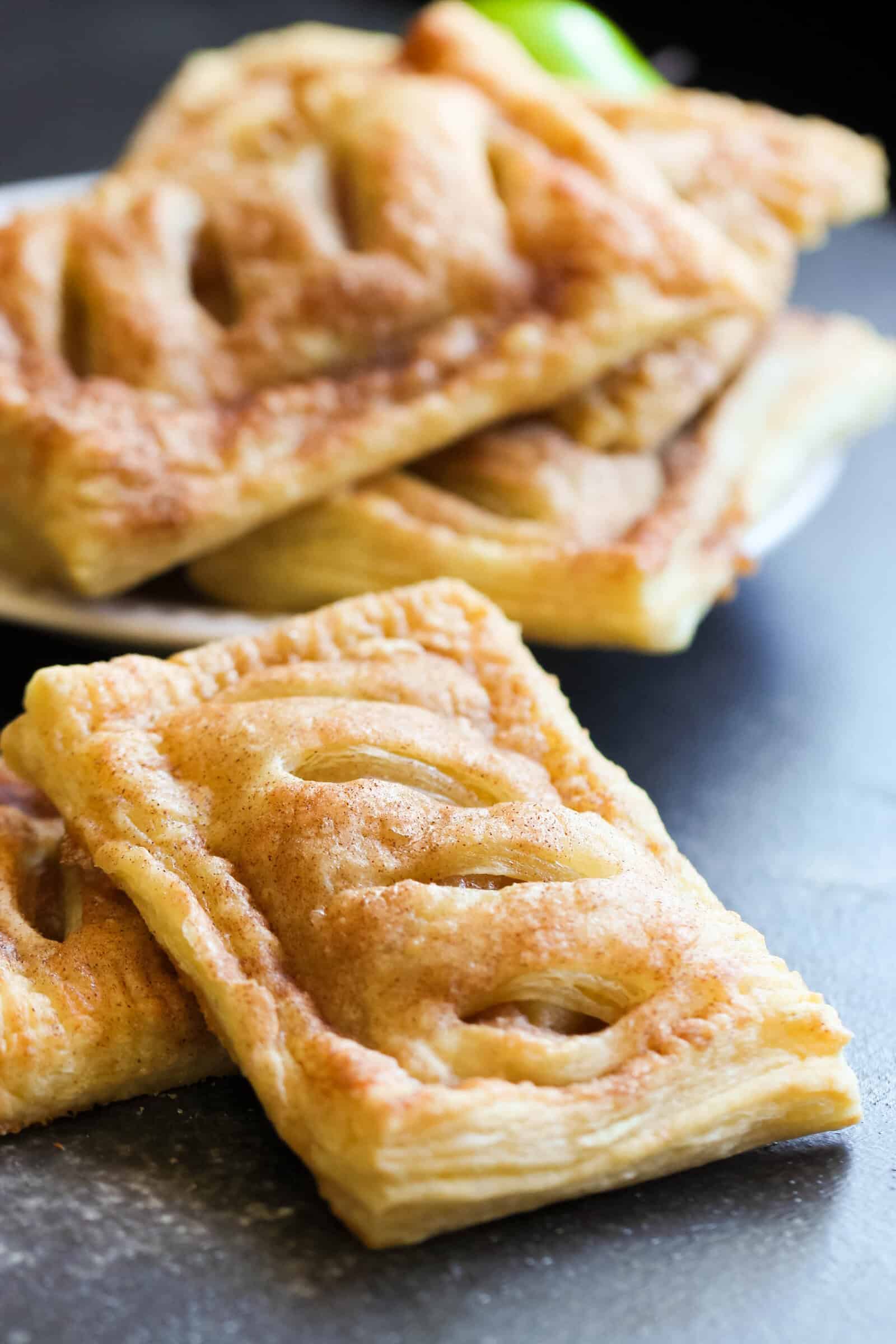 My husband absolutely loves those little apple hand pies you can get from McDonalds. I always thought he was crazy until I tried a warm one in the middle of a snowstorm, and now I'm HOOKED.
I decided to make my own version at home, and we ate all of them within 2 days! Not the best for us, but MAN, they were TASTY and SO, so easy to make.
They only require a few ingredients. I am all about shortcuts so I used apple filling, but you could easily make your own.
We also use a pre-made pastry crust for this recipe. You could easily make your own, but if you are in a time crunch, this is the perfect way to whip up a fast pastry or dessert.
Ingredients for Apple Hand Pies:
1 lb Granny Smith Apples
1/4 cup sugar
2 Tablespoons butter
1/4 teaspoon cinnamon
4 Tablespoons water, divided
1 Tablespoon cornstarch
2 puff pastry sheets, thawed
1 egg white
1 Tablespoon cold water
2 Tablespoons sugar
1/2 teaspoon cinnamon
How to make homemade apple pie filling:
Step 1: Peel and core 4-6 apples. I use Gala because they are the cheapest, but you can use any apples for this recipe.
To peel my apples, I usually use a potato peeler. You could also use a knife but it can be tricky and take some time.
Step 2: Cut your apples into slices or chunks. I usually cut mine into bite size chunks because they are easier to eat. Canned apples usually comes in slices, which works, but then you sometimes get bites without apples.
Step 3: Place the apple chunks in a medium sized bowl and toss them with about two tablespoons of lemon juice.
Step 4: In a pot, pour 3 cups water, 1 1/2 cups sugar, 1/2 cup cornstarch, 1 teaspoon cinnamon, 1/4 cup brown sugar, 1/2 teaspoon salt, and 1/2 teaspoon nutmeg.
Step 5: With a whisk, stir until the contents are fully combined. Bring the mixture to a boil, and let it boil for 2-3 minutes. Add the apples to the sauce and let it come back to a boil. Turn to simmer and cover the pot with a lid.
Stir every minutes to rotate the apples. It will take between 6-9 minutes for the apples to soften.
Step 6: Let the apples cool and place the mixture into glass jars or containers. Let it refrigerate overnight. It will thicken as it refrigerates.
Related Recipe: Try our Tasty Baked Peach Hand Pies