This is truly the ultimate dessert bar. When chocolate chip cookies, Oreo cookies, and brownies all come together for one amazing dessert. These Ultimate Chocolate Chip and Oreo Fudge Brownie bars are so easy to make. All 3 layers cook at the same time. Then top it with some vanilla ice cream and hot fudge to take these over the top.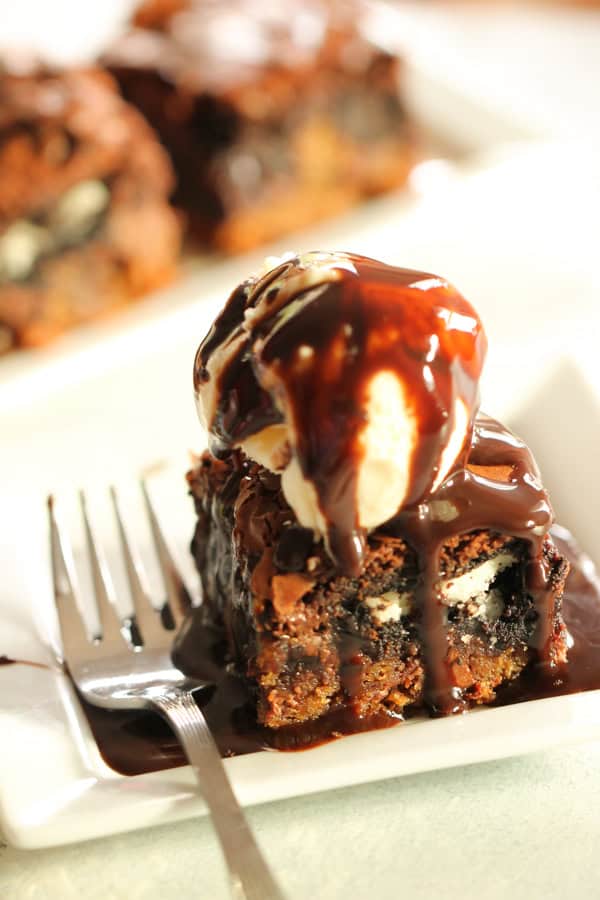 We love a good fudgy and chewy dessert. Everyone in the family has their favorite, whether it be cookies or brownies. But now you can make everyone happy with one dessert.
After we made these amazing chocolate chip cookies and Oreo fudge brownie bars, my husband took them to work. Some of the guys he works with called them "brownies on steroids." They were really good, especially with ice cream and chocolate on top!
Can you use store bought cookie dough?
We love this recipe the way it is written because there is nothing better than homemade chocolate chip cookies. And we may sneak a little of the cookie dough while we are making them.
But for convenience you could definitely use store bought cookie dough in place of the homemade cookie dough in this recipe.
How to store the leftovers:
First of all, if you have any leftovers we are amazed. These went so fast at our house. But it is so easy to store the leftovers. They are fine to put on a plate covered with plastic wrap for a few hours.
If you are saving some for the next day, place them in an airtight container and keep them in the fridge. You can eat them cold, or let them set out for an hour before serving. Or the yummiest way is to microwave them until a little warm. YUM!
Do you have to top them off with ice cream?
These Ultimate Chocolate Chip Cookie and Oreo Fudge Brownie Bars can stand on their own just fine. It is the ultimate brownie and it's amazing.
If you want to kick them up a bit, top them off with a scoop of vanilla ice cream and some chocolate syrup or hot fudge. You will want to sit back in a nice comfy chair and enjoy every bite.