Let's talk about the perfect Valentine's Day cookies, our red velvet white chocolate chip cookies. They are wonderfully soft and chewy, with that delicious white chocolate in every bite.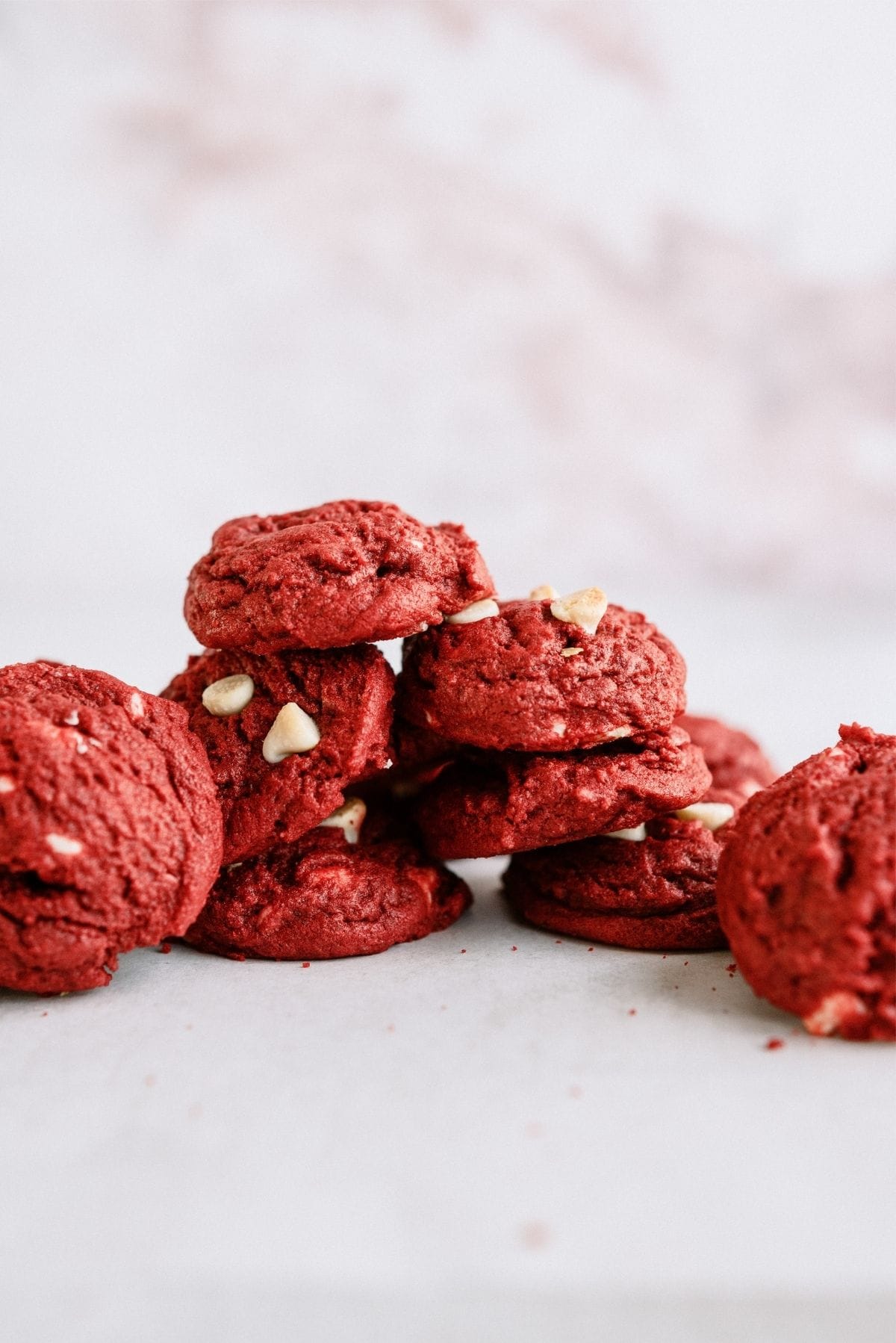 Red velvet white chocolate chip cookies just scream Valentine's Day to me. The red velvet is a great choice as it displays that beautiful red color, which is a Valentine's Day staple!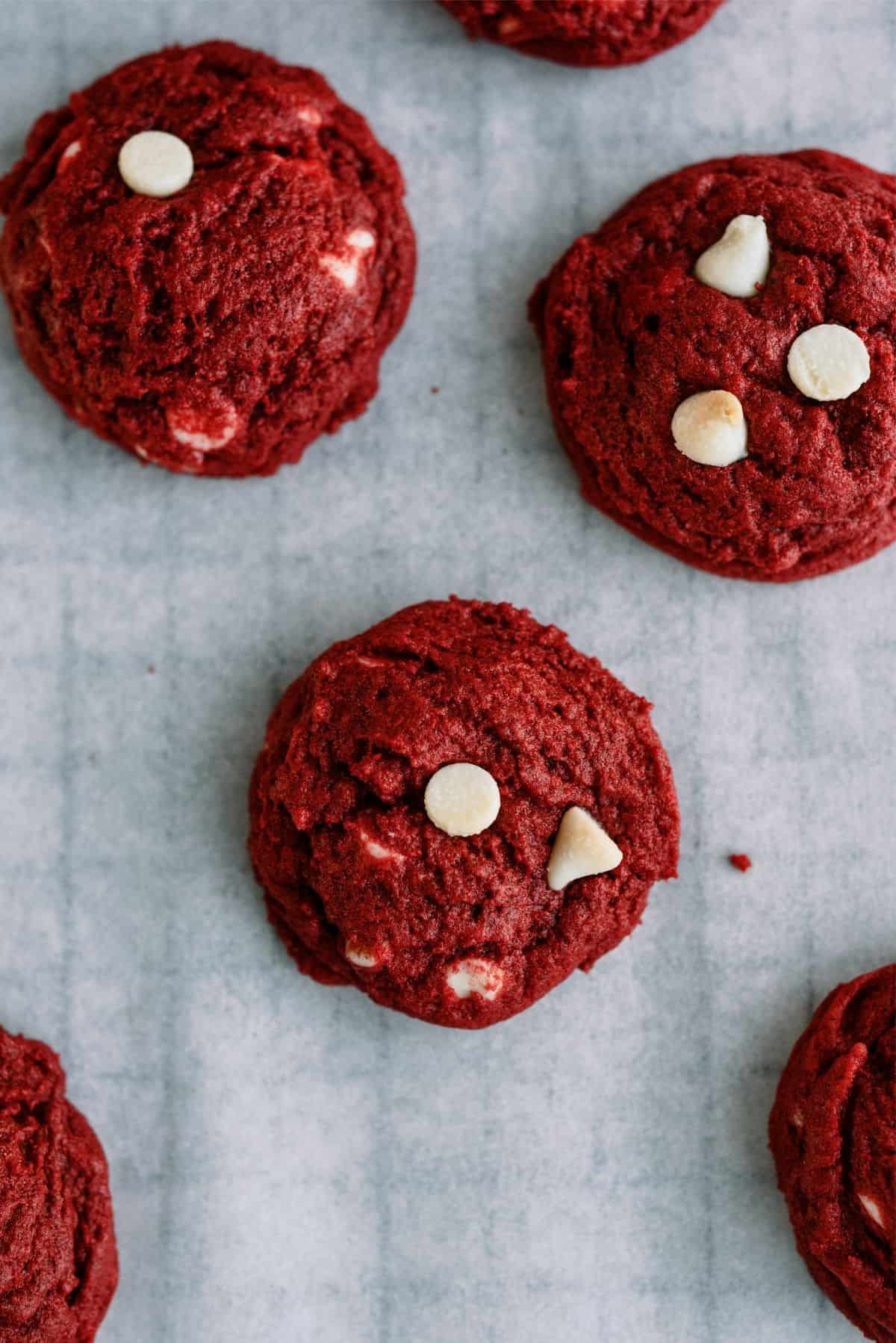 Since these red velvet cookies are paired with white chocolate chips you also get a nice soft chocolate to complement the soft cookie. White chocolate seems to melt the best in cookies. I don't know what it is, but I love almost anything that has white chocolate in it.
These would be a fun recipe to make for your next get-together, or if your kids are having a Valentine's Day party in their class at school. Send them with these red velvet cookies and they will get to impress all of their friends.
We have other great red velvet recipes that are great for all of the Valentine's Day festivities.
Other perfect recipes to try would be our red velvet kiss cookies, red velvet cake bites, and you can never go wrong with red velvet brownies with white chocolate buttercream frosting!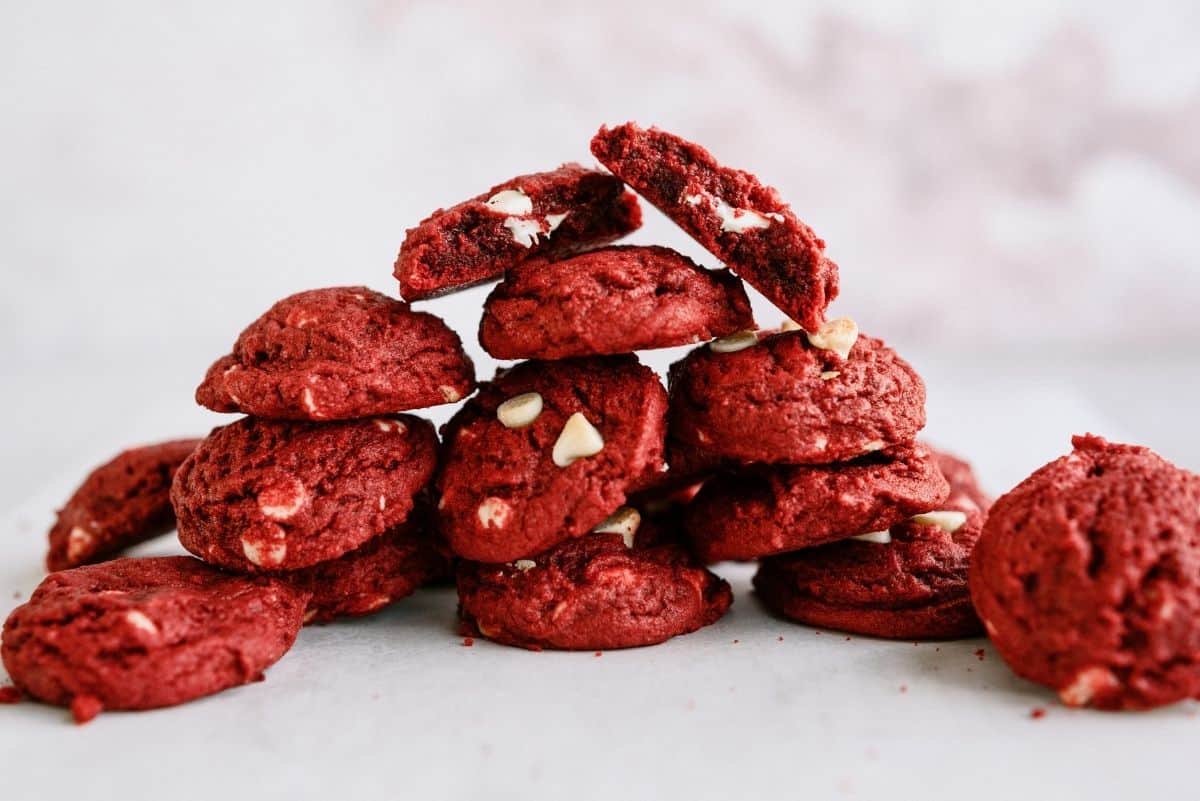 Ingredients You'll Need For Our Red Velvet Chocolate Chip Cookies Recipe:
Unsalted butter
Sugar
White vinegar
Egg
Vanilla extract
Red food coloring
All-purpose flour
Cocoa
Cornstarch
Baking powder
Salt
White chocolate chips
How To Make Our Red Velvet Chocolate Chip Cookies Recipe:
Start by preheating the oven to 375 degrees.
Then in a large mixing bowl, combine the butter and sugar with a hand or stand mixer until it is pale and fluffy. This generally takes about 3-4 minutes.
Once that is done, add in the vinegar and continue mixing everything together.
Next, add in the egg and mix again for another minute or so.
Turn the mixer off, scrape down the sides of the bowl, and then add in the vanilla extract and red food coloring, then continue mixing until everything is combined.
Now that all of that is combined, add half of the flour, and the cocoa, cornstarch, baking powder, salt, and continue to mix the dough together.
After it is all combined, scrape the bowl down again and then add in the other half of the flour and turn the mixer back on until the flour is fully incorporated.
Once the dough is done, pour in the white chocolate chips and mix them in with a wooden spoon.
Now get out your cookie sheets and line them with either parchment paper or a silicone mat.
Then roll the dough into a ball the size of a ping pong ball or about 2 tablespoons, and then place the cookie dough balls on the cookie sheet about 2 inches apart.
When the cookie sheet is full, place it in the oven and bake the cookies for 9-11 minutes, or until the sides are slightly set up.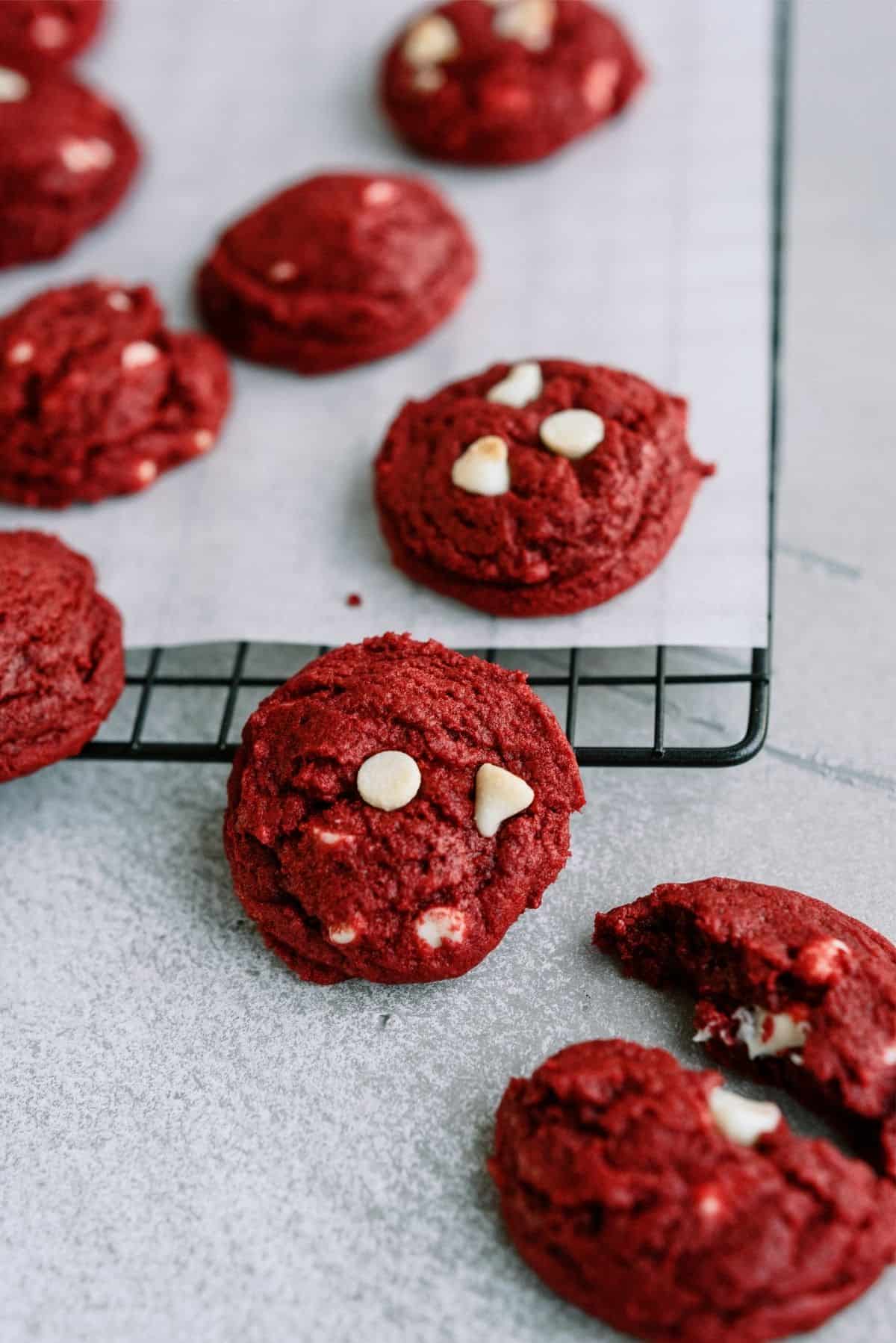 Now remove the cookie sheet from the oven, let the cookies sit for 1-2 minutes, and then move them to a cooling rack and let them cool completely (if you can wait).
To Make This Easy Cookie Recipe You Will Need:
Large mixing bowl
Hand or stand mixer (I LOVE this one!)
Parchment paper or silicone mat
Rubber spatula
Wooden spoon
Cookie sheet