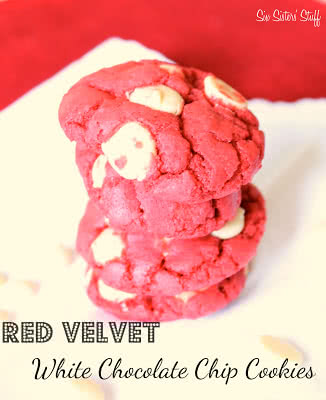 This is the perfect treat to help you celebrate Valentine's Day! These cookies are soft and chewy and your whole family will love them.
Red Velvet White Chocolate Chip Cookies
Ingredients:
1/2 cup unsalted butter, at room temperature
1 cup sugar
1 teaspoon distilled white vinegar
1 large egg
1 teaspoon vanilla extract
1 1/2 teaspoons red food coloring
1 1/2 cups all purpose flour
2 1/2  Tablespoons cocoa
1 teaspoon cornstarch
3/4 teaspoon baking powder
1/4 teaspoon salt
3/4 cup white chocolate chips
Directions:
Preheat oven to 375 degrees
In a large mixing bowl, combine butter and sugar. Mix for 3-4 minutes or until it's pale and fluffy.
Add vinegar and mix until combined. Add the egg until combined. Scrape down the sides of the mixing bowl. Add vanilla and red food coloring and combine.
Then add half the flour, cocoa, cornstarch, baking powder and salt. Scrape down the sides and the bottom of the mixing bowl. Once fully combined, add the rest of the flour and mix until everything is incorporated. Mix in the white chocolate chips.
Line cookie sheet with parchment paper or silpat mats.
Roll dough into ping pong sized balls and place on cookie sheet 2 inches apart.
Bake for 9-11 minutes.
Looking for more delicious cookie recipes?