I love potatoes. Any form of potato, and any type, I am a huge fan of. These Twice Baked Bacon and Chive Sweet Potatoes are the best potatoes I have ever eaten, and that is coming from a true potato lover. You need to try these.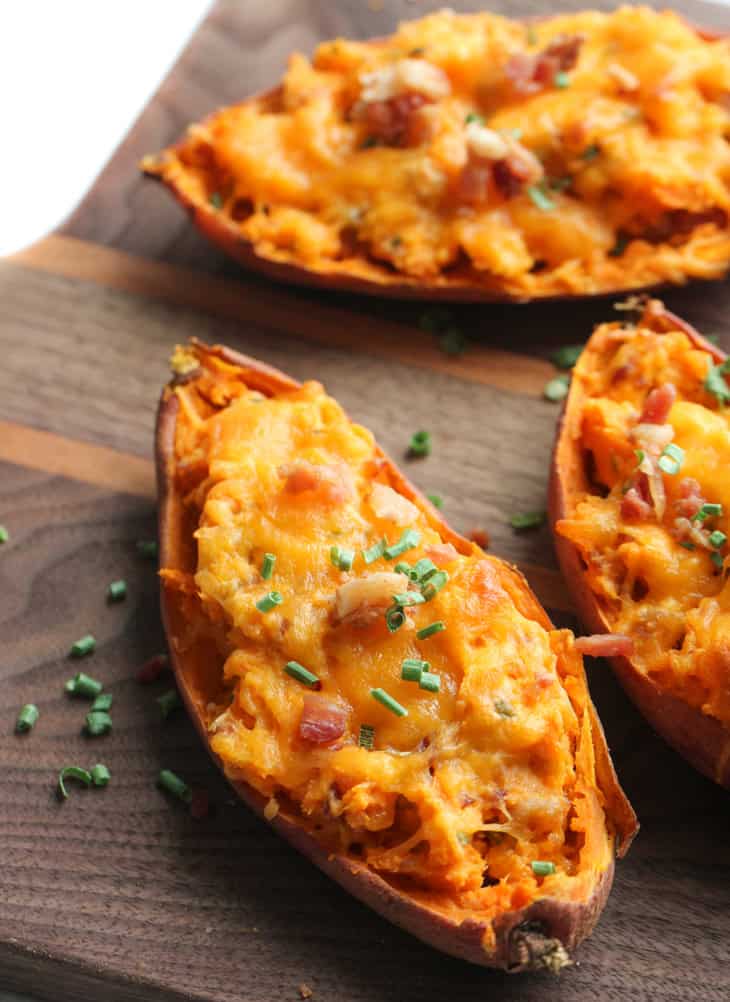 Twice Baked Bacon and Chive Sweet Potatoes, pure comfort food! Do you know the difference between a sweet potato and a yam?
It wasn't until I married my potato allergic husband that I realized there even was a difference.
Luckily, sweet potatoes and yams are both on his "safe" list so we've been baking up a storm with both.
I've been converting my favorite potato recipes into sweet potato recipes so he can understand what he's missing out on, and these definitely have become his favorite.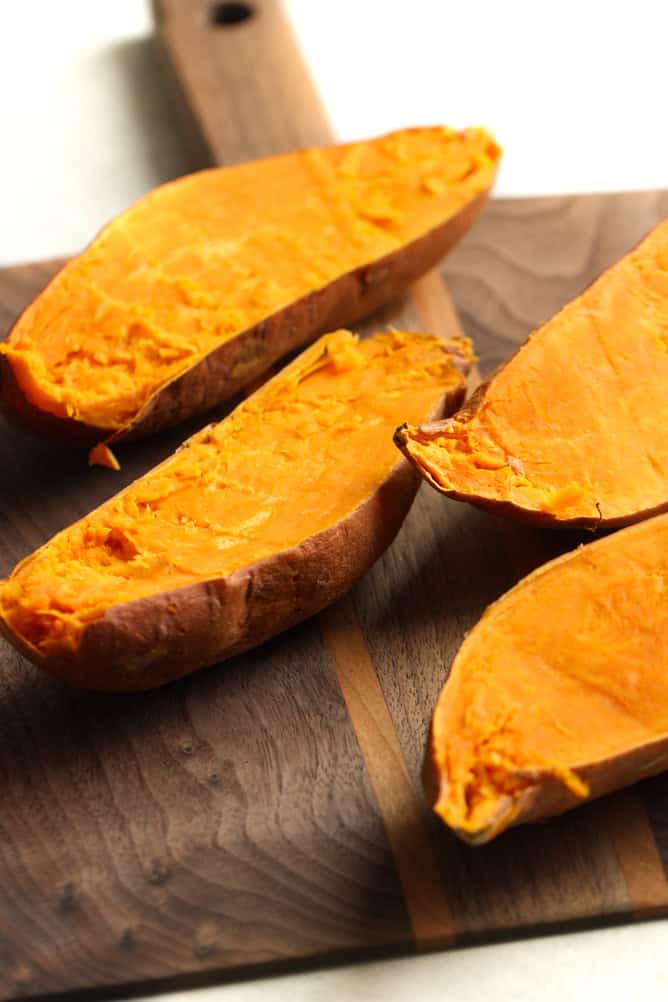 Even if you don't have a potato allergy (because really I am still convinced it's not a real thing) sweet potatoes are a great healthy alternative to regular potatoes.
They are full of vitamin C and other infection beating nutrients. They also add the most amazing sweet flavor to every recipe.
Microwave Sweet Potatoes:
We've listed how to cook these sweet potatoes in the oven, but have you heard our trick to cooking them in just 7 minutes?
Yes that's right, perfectly "baked" potatoes cooked all the way through in just 7 minutes.
What's our trick? The microwave! All you need are some paper towels and a little bit of water.
Stab your potato with a fork a few times on each side. Dampen your paper towel, squeezing out all excess water.
Wrap your sweet potatoes in a damp paper towel and place in the microwave for 7 minutes.
You'll want to let it cool for about 10 minutes before cutting it open, but it turns out perfect every time.
*If you are using a thick/wide sweet potato, you may want to up your time from 7 to 9-10 minutes.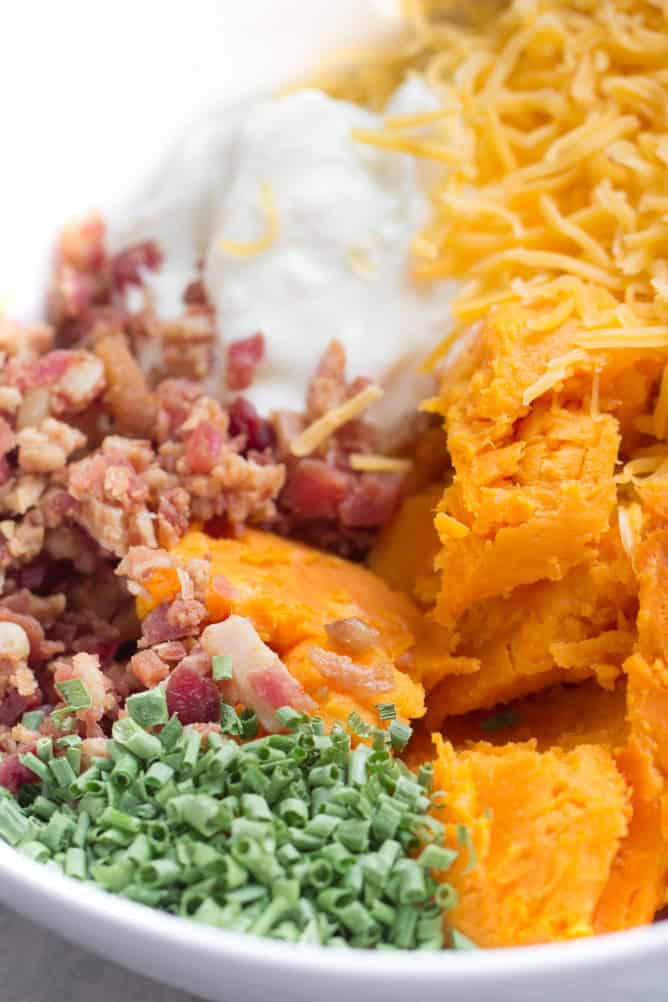 I was a little hesitant to add the savory flavors with my sweet potatoes, but of course you can't go wrong with bacon.
I mixed sour cream, bacon, chives, and some cheese into the sweet potato flesh and it turned out so creamy and perfect.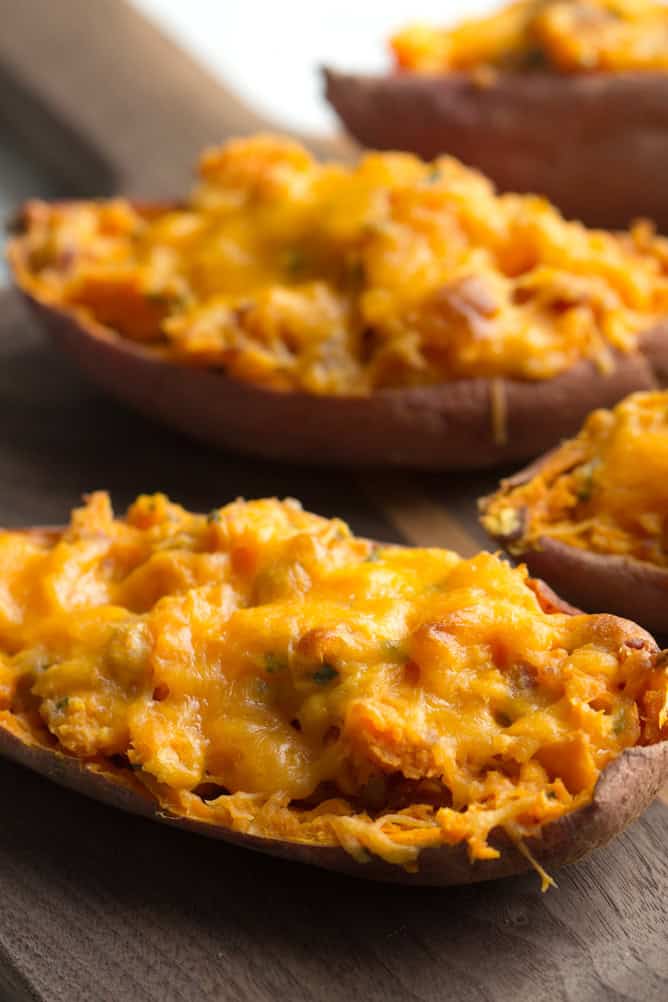 Stuff your potatoes and throw them back in the oven for 15 minutes to melt the cheese and heat through. Top with more bacon and chives.
We like to eat ours with sour cream, or my husband eats them with a little bit of ranch.