We've been in a dinner rut the last few weeks. My husband is starting a new job and finishing up school at the same time, so I haven't had much motivation to cook for just myself (does anyone else feel this way when their husbands are gone haha?). I knew he'd be working from home for a few days this week and I wanted to make something delicious!
Stuffing chicken can always be a little intimidating, but we have a few tips to make it come together effortlessly!
Perfect stuffed chicken
The key to getting perfectly stuffed chicken is to choose breasts that are thick. Butterflying your chicken is much easier when you have more chicken to work with. It also prevents it from drying out when split into thinner pieces. You'll want to make sure your chicken is completely thawed when preparing to stuff it as well.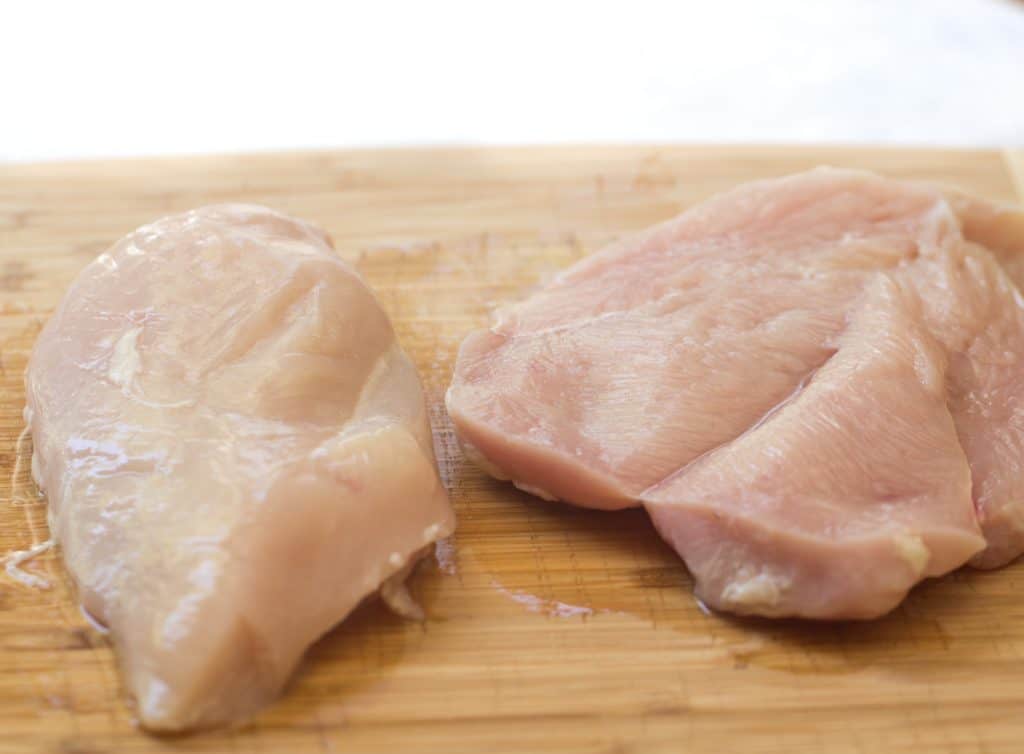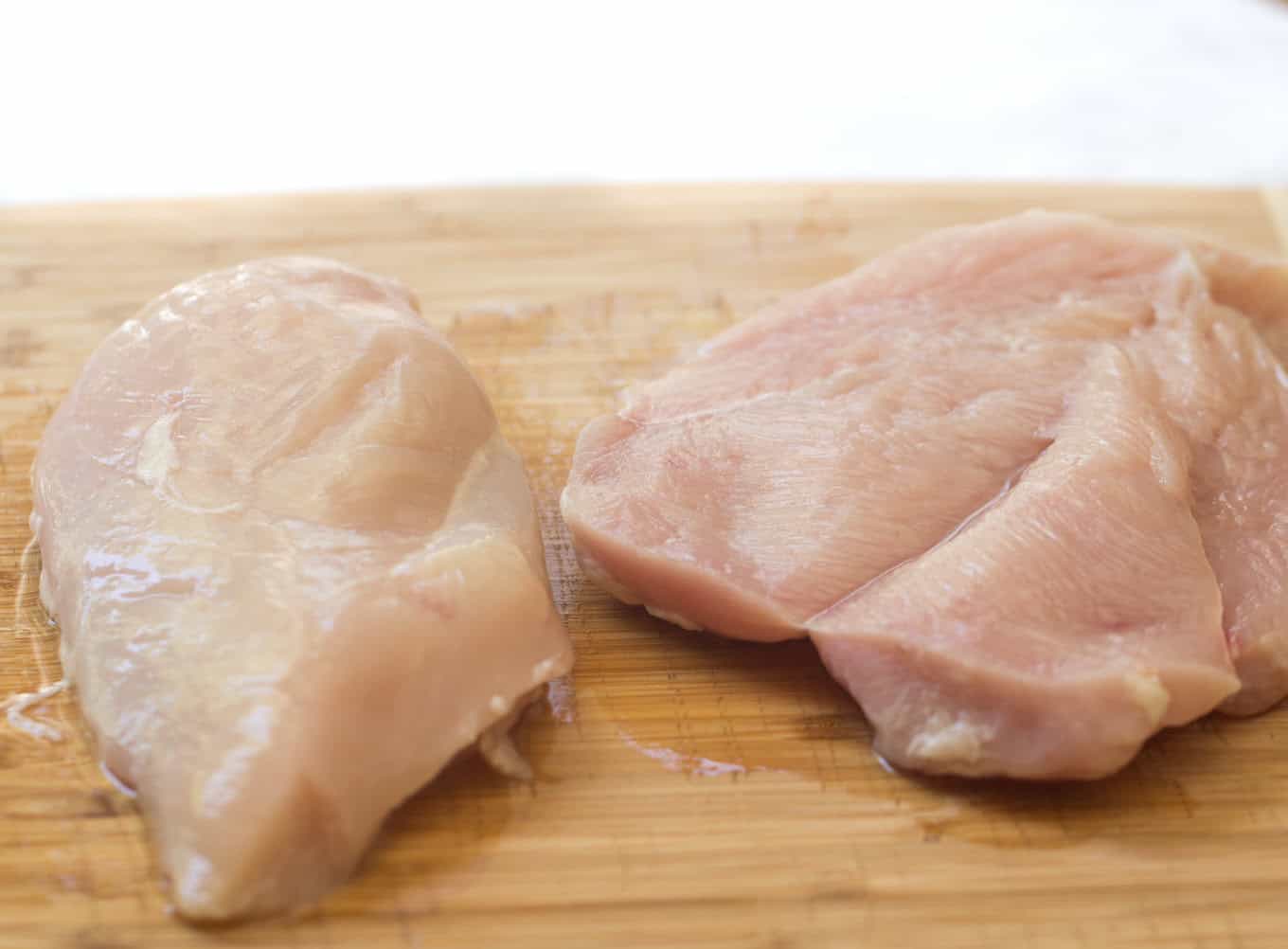 We've found the easiest way to thaw frozen chicken is in a bowl (or plugged sink) filled with cold water for 45 minutes to an hour.
Spinach artichoke filling
For this recipe we tweaked our famous Spinach Artichoke Dip for the filling. We kept it a light with greek yogurt and fat free mayonnaise, but sour cream and mayonnaise will work just as great. You can add any vegetables as substitute for artichokes or variety of cheeses that you'd like. Make sure to secure your edges with toothpicks so you don't lose the filling while searing.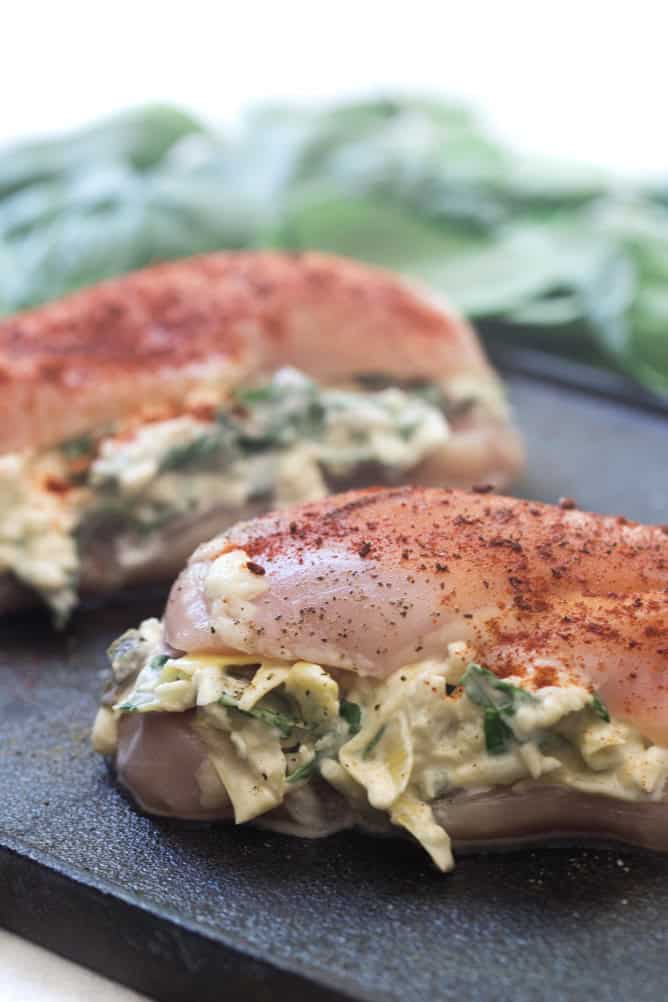 How to sear chicken
Searing this chicken takes the flavor to the next level! Seared chicken is a lot easier than it looks, and we'll tell you exactly how we did it!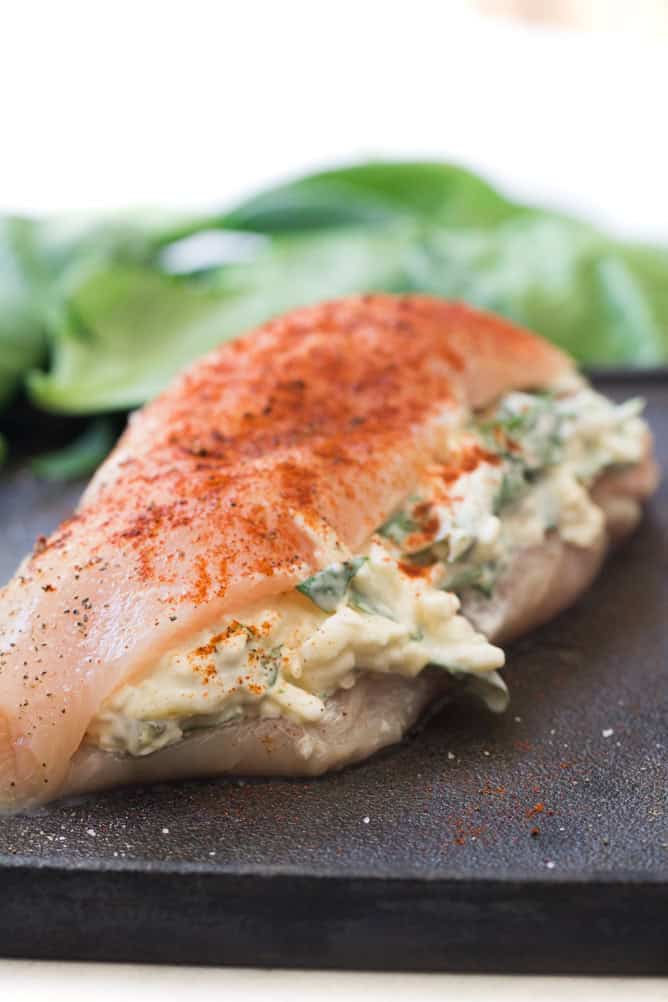 While I mixed together the ingredients for our spinach artichoke filling, I heated two tablespoons of olive oil over medium heat. Fill your chicken and secure with toothpicks (I did two toothpicks per breast). Add desired seasonings, this recipe calls for salt, pepper, and paprika. Place in pan and sear for 3-4 minutes on each side or until browned. If using an oven safe skillet, transfer directly to the oven from there, or carefully transfer chicken to baking dish to finish cooking all the way through.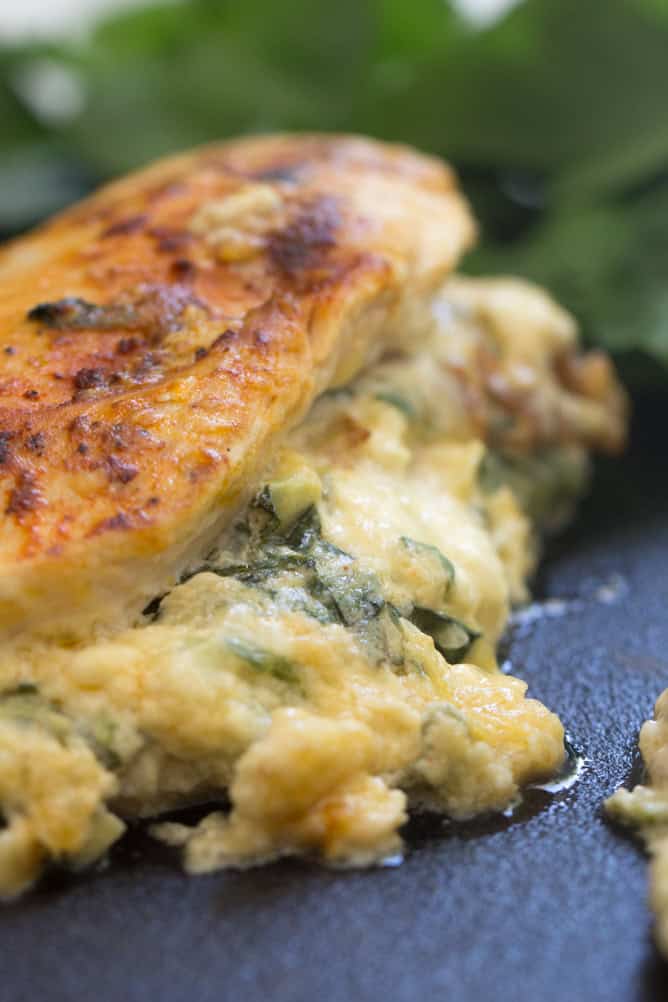 Check out our other stuffed chicken recipes!
Malibu Stuffed Chicken
Cream Cheese and Pesto Stuffed Chicken
Bacon and Asparagus Stuffed Chicken
Serves: 4

Spinach and Artichoke Stuffed Chicken

15 minPrep Time

30 minCook Time

45 minTotal Time

Ingredients

1/2 cup plain greek yogurt
1/2 cup light mayonnaise
1/8 cup chopped onion
1/2 clove garlic (minced)
1 teaspoon garlic salt
1 cup chopped spinach
1/2 cup chopped artichoke hearts
1/2 cup mozzarella cheese
1/4 cup grated Parmesan cheese
4 boneless skinless chicken breasts
1 teaspoon salt
1 teaspoon pepper
1 teaspoon paprika
2 tablespoons olive oil

Instructions

Preheat oven to 350 degrees.
In a bowl, combine greek yogurt, mayonnaise, onion, garlic, garlic salt, spinach, artichoke hearts, and cheese. Combine well and set aside.
Butterfly chicken breasts, leaving them attached on one side.
Open chicken breasts and spoon 1/4 cup cheese mixture into middle. Secure closed with toothpicks.
Top chicken breasts with salt, pepper, and paprika.
Heat oil in skillet over medium heat.
Once heated, place chicken breasts on skillet and sear 3-4 minutes on each side.
If using an oven safe skillet, transfer directly to the oven from there, or carefully transfer chicken to greased baking dish and bake for 25-30 minutes, or until chicken reaches internal temperature of 165 degrees.

7.8.1.2

3225

https://www.sixsistersstuff.com/recipe/spinach-and-artichoke-stuffed-chicken/