We love amazing recipes that you can throw in the slow cooker and have a delicious dinner a few hours later. This would be one of those amazing recipes. Slow Cooker Pork Stroganoff is so easy and full of flavor.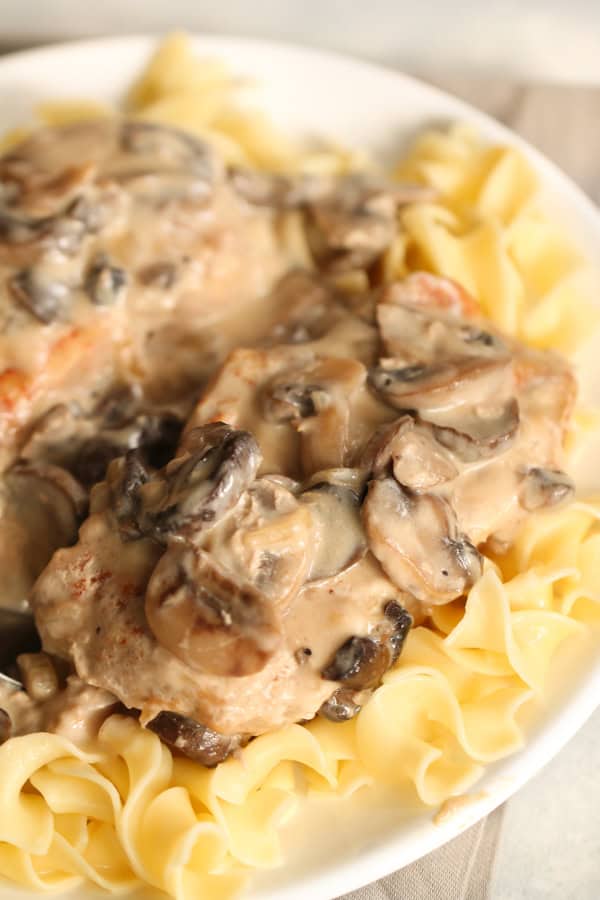 Slow Cooker Pork Stroganoff is a favorite recipe that our whole family loves. It's easy prep and a no fail recipe. Take 10 minutes to place it all in the slow cooker and have dinner waiting for you later that afternoon.
Did I mention that the kids loved it. We put it over a bed of cooked egg noodles and they gobbled it all up in no time at all.
It would be tasty over a bed of mashed potatoes too. The options are endless as to ways to serve these Slow Cooker Stroganoff Pork Chops.
What is stroganoff?
Stroganoff is a Russian word. It's namesake is Count Pavel Aleksandrovich Stroganoff. From what we have read he was a Russian hunk. Beef Stroganoff was invented sometime in the early 1800's. It became popular in the America in the 1950's and 1960's.
We aren't ready to be done with the once popular stroganoff. This slow cooker pork stroganoff is sure to resurrect the old Beef Stroganoff.
Stroganoff is a dish that has the central ingredient as meat (often beef), and is cooked in a sauce that contains sour cream.
Related Recipes: Try our Instant Pot Beef Stroganoff Soup and our Slow Cooker Chicken Stroganoff!
What can you serve with pork chop stroganoff?
We served slow cooker pork stroganoff over a bed of cooked egg noodles. It was the perfect combination. Here are a few other options that will be just as delicious:
Mashed Potatoes
White or Brown Rice
Pasta
Hash Browns