This creamy King Ranch Soup is loaded with chicken, tomatoes, bell peppers, onions, jalapenos, and CHEESE - no canned condensed cream soups in sight! Let it simmer all day in your slow cooker for a flavorful meal that comes together in minutes.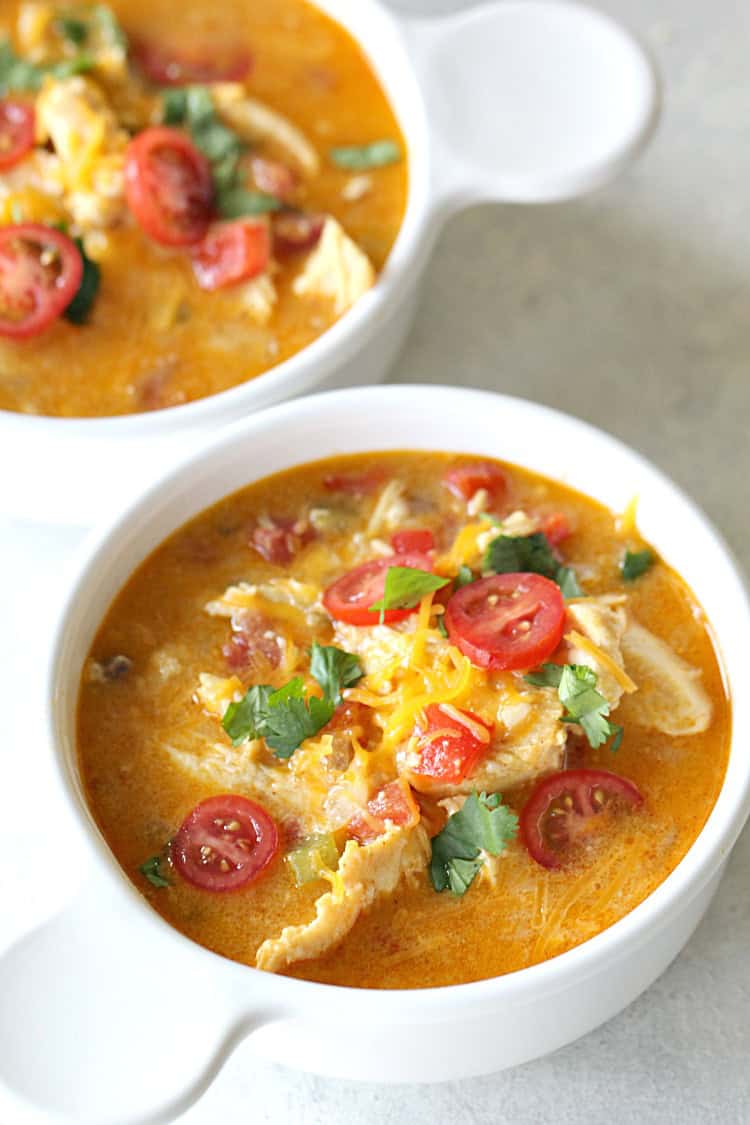 One of our most popular recipes on our blog is Slow Cooker King Ranch Chicken. It's so simple to throw in a crock pot and let it slowly cook all day, then shred it up and serve for dinner.
I love the simplicity of the recipe, but wanted to try a version that didn't use condensed soups. This recipe is made from scratch but is still very creamy and delicious. I threw in some extra vegetables, but my kids didn't even notice.
This soup is a good-for-you comfort food that you can feel great about feeding your family!
If you love soup, be sure to check out our Creamy Ground Beef and Tomato Macaroni Soup!
Why is it called King Ranch Chicken?
No one is exactly sure why it's called King Ranch Chicken, but this Tex-Mex recipe has been around for years!
It's rumored that its name comes from King Ranch, one of the largest ranches in the United States, although no one has actually found a connection between the dish and the ranch (it's kind of funny that a famous chicken recipe would come from a cattle ranch!).
It may be a mystery, but this chicken dish has been a favorite in Texas cookbooks and lunchrooms for a long time.
The basic ingredients in King Ranch Chicken are shredded chicken, grated cheese, tortilla chips, diced tomatoes with chiles, a can of condensed cream of mushroom soup and a can of condensed cream of chicken soup – all the makings of a delicious casserole!
While this soup may not be an authentic version of King Ranch Chicken, it's flavor is spot on.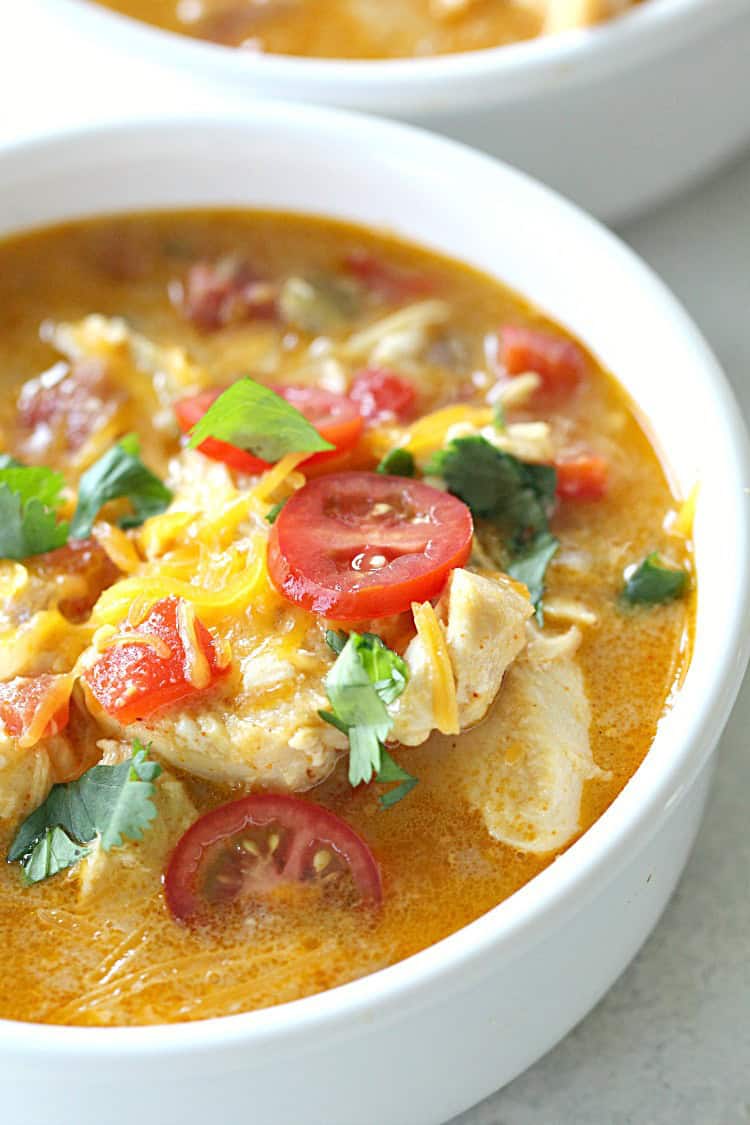 Ingredients in King Ranch Chicken Soup
butter, flour, chicken broth and garlic (we are using this to make it creamy instead of condensed soups
chili powder, cumin, and salt and pepper for flavor
chicken breasts
diced tomatoes with chilies (RoTel tomatoes)
jalapeno
green bell pepper
red bell pepper
onion
sharp cheddar cheese
Serve with tortilla chips and fresh cilantro if desired!
How to make King Ranch Chicken Soup in the Slow Cooker
Melt the butter in a skillet over medium heat. Add in the garlic and whisk for about a minute. Whisk in the flour for one more minute.
Slowly whisk in the chicken broth and then whisk consistently for a few minutes until creamy and smooth. Mix in the seasonings and set the creamy sauce aside.
Add the chicken, jalapeno, bell peppers, and onion to the slow cooker. Pour the sauce on top. Cook on low for 4-6 hours (don't overcook the chicken).
Shred the chicken, stir in the cheese, and let the cheese melt for about 15 minutes in the slow cooker.
Stir and serve with tortilla chips and fresh cilantro on top, if desired.
If you love easy and delicious instant pot soup recipes, be sure to try our delicious Instant pot creamy chicken enchilada soup. It's absolutely amazing!