We love this Habit Grill Copycat Santa Barbara Salad - it's a great summer dish! Full of flavor and better than take out!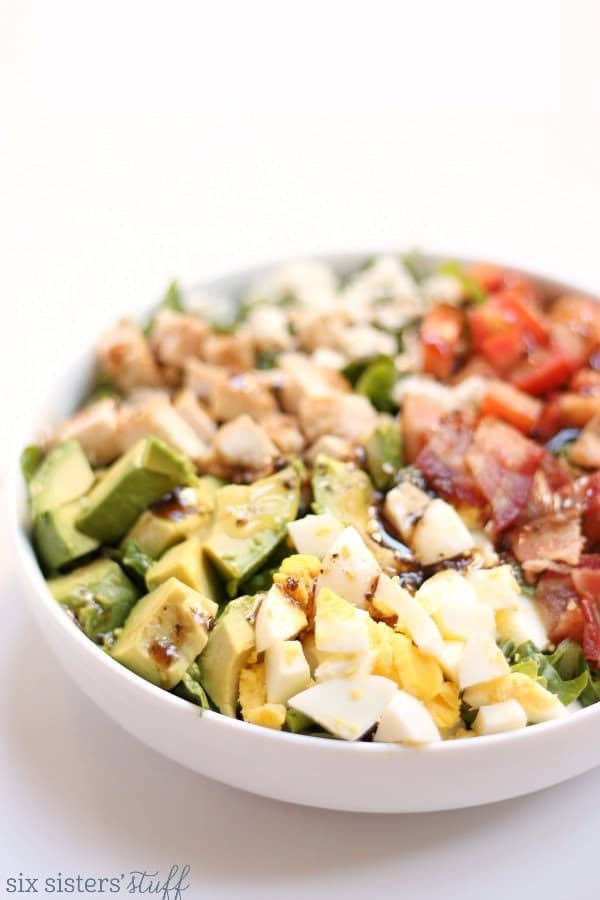 We love the Habit Grill for their delicious hamburgers, but I was pleasantly surprised to find this Santa Barbara Cobb Salad is JUST as good!
Their Santa Barbara Cobb is by far my favorite, so I decided to make it at home.
And now I've had it for lunch three times this week, so I guess you could say it is really good!
Ingredients needed to make this Santa Barbara Cobb Salad Recipe:
6 ounces iceberg lettuce ½ of a 12 ounce bag
5 ounces romaine lettuce ½ of a 10 ounce bag
3 tomatoes diced
2 avocados diced
½ cup blue cheese crumbles
2 boneless, skinless chicken breasts grilled and diced
6 bacon strips cooked and crumbled
3 eggs hard boiled and diced
1 cup favorite salad dressing optional topping
How to make this Copycat Santa Barbara Cobb Salad:
In a large bowl, toss together iceberg and Romaine lettuce.
Top with tomatoes, avocado, bleu cheese, chicken, bacon, and egg.
Serve with your favorite dressing (the Habit uses a red wine vinaigrette, but I like it with balsamic and olive oil dressing better!).