This Red Velvet Popcorn, is the best popcorn recipe. It is so easy to make, works for all different seasons and holidays, and tastes amazing. The best part it,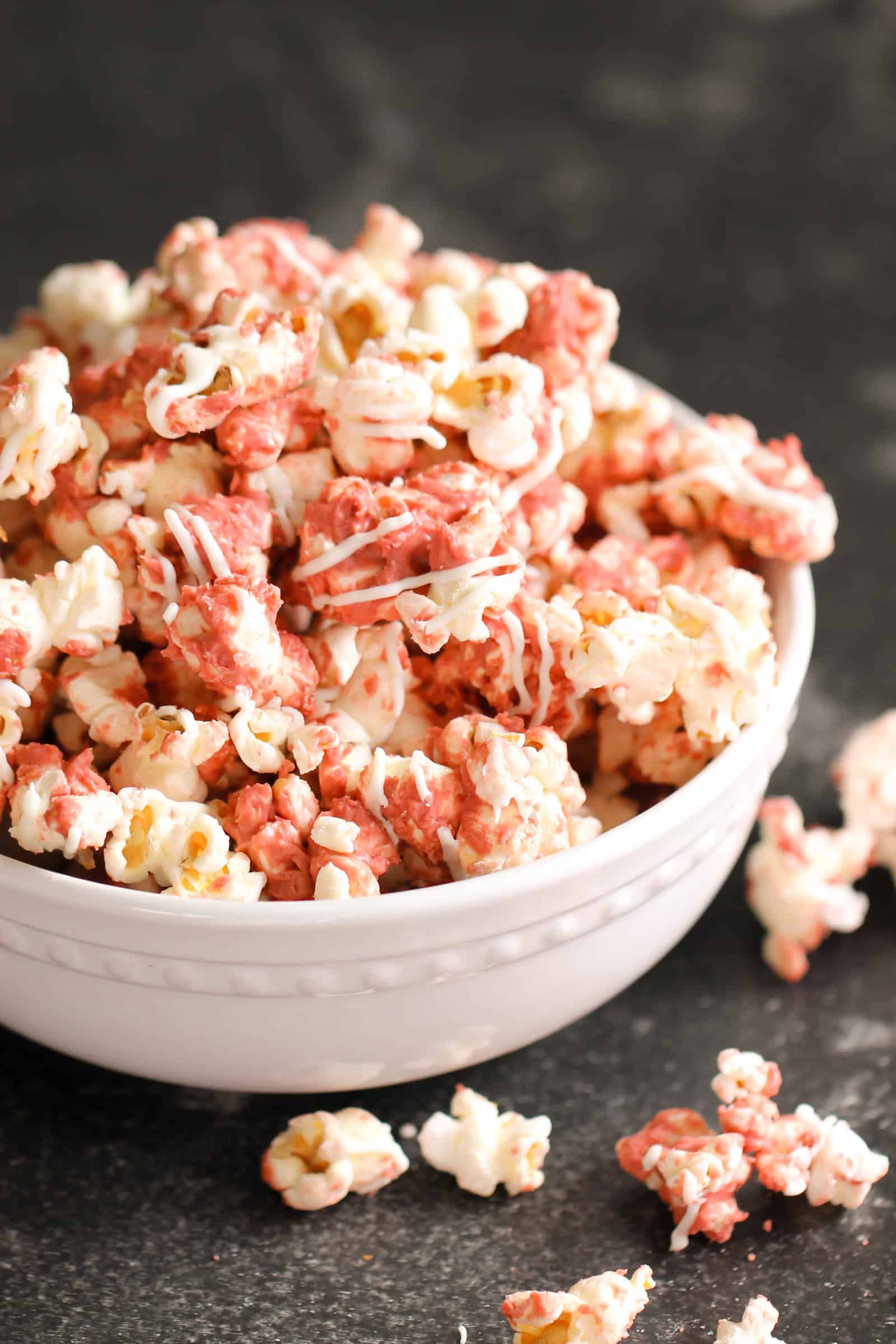 My husband went to Universal Studios for a work retreat a few weeks ago, and he brought me home the most DELICIOUS red velvet popcorn.
I obviously had to try my hand at making it at-home and I was pleasantly surprised with how easy it came together and how tasty it was.
This would make the perfect Christmas gift for your co-workers or neighbors. I also plan on making it for Valentines day and the Fourth Of July. I love how red goes with so many different season.
How to make Red Velvet Popcorn:
Step 1: Pour 6 cups of popped popcorn into a large bowl.
If you don't have a popcorn popper, that's okay. You can also use plain or kettle microwave popcorn.
I have tried this popcorn using microwave butter popcorn and it wasn't as good. I prefer the kettle, over anything else.
Step 2: In a small bowl, pour white chocolate chips and microwave in 30 second increments stirring in between until smooth.
This will take about one minute and thirty seconds to two minutes.
Step 3: Pour in vegetable oil and mix until combined to make mixture smoother, and easier to pour.
Step 4: Pour half the melted chocolate in a small bowl, and mix in red velvet cake mix until smooth. If the mixture is too thick, try adding a little bit of vegetable oil at a time.
Don't use too much, or the mixture will be too thin, and the chocolate won't set up.
If the color comes out a little brownish looking, you could also use a few drops of red food coloring, to get your desired color.
Step 5: Pour over the popcorn and mix so the red velvet mixture evenly covers the popcorn (it may be slightly clumpy, but that is fine).
Step 6: Spread the red velvet covered popcorn out on a piece of parchment paper or aluminum foil.
If you need to transport it out of the way, be sure to think ahead and maybe do this step on a cookie sheet, for easy transportation.
Step 7: Drizzle the remaining half of the white chocolate over the red velvet popcorn.
Wait until hardened, then break into smaller chunks and serve.