This creamy and smooth Raspberry Cream Cheese Jello Salad recipe is one that everyone loves! It's perfect for a holiday dessert that can be made ahead of time. Serve with fresh raspberries and enjoy!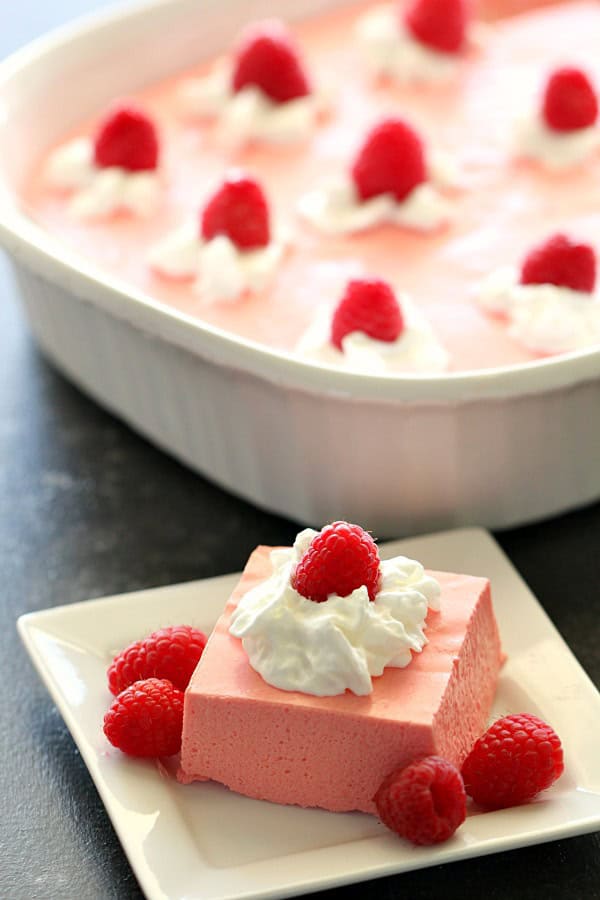 Jello salad is a staple at our family gatherings and holiday dinners and this recipe is going to quickly become your favorite!
It's easy to make – you actually BLEND all the ingredients together in a blender and then pour it into a dish to let it set up. This jello is so smooth and creamy!
Raspberry Cream Cheese Jello salad can be made-ahead of time (I would recommend making it the day before at the earliest) and served with whipped cream and fresh raspberries on top.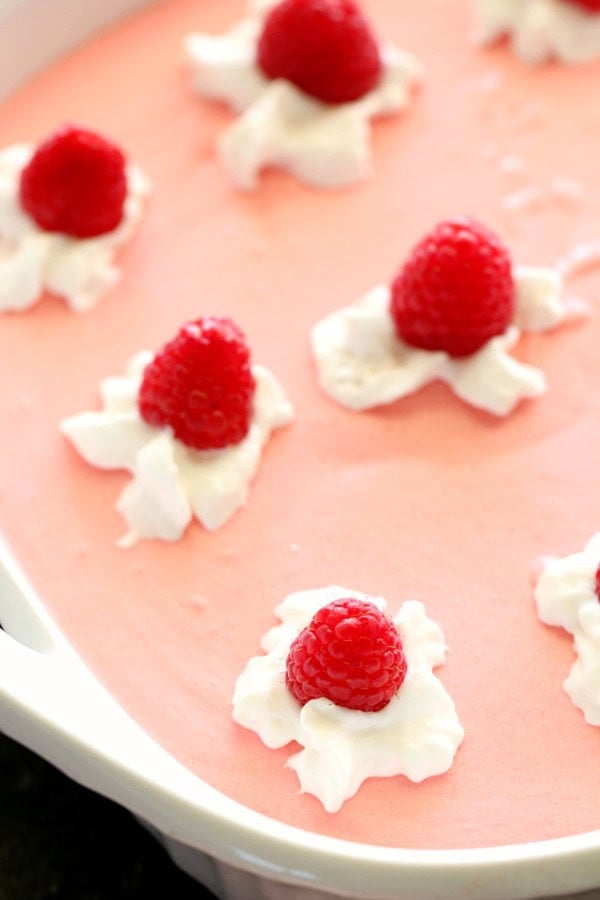 Ingredients needed for this Raspberry Cream Cheese Jello Salad
1 can of pears
Water
Box of raspberry jello
1 package of cream cheese
1 carton of Cool Whip
Why is this called a salad?
Many of our jello recipes are called "salads" – they may not be the typical green salad that you are used to, but they are usually a combination of ingredients tossed together – which is one of the definitions of a salad. 🙂
Many years ago, jello was mixed with vegetables like grated carrots or diced celery. Some also added nuts, fruit, cottage cheese, and pretzels. The combination of these ingredients set in the gelatin gave it a "salad-like" appearance, which is why they started calling it jello salad.
Regardless of if this recipe counts as a salad or not does not really matter – the taste is amazing and everyone will love this recipe!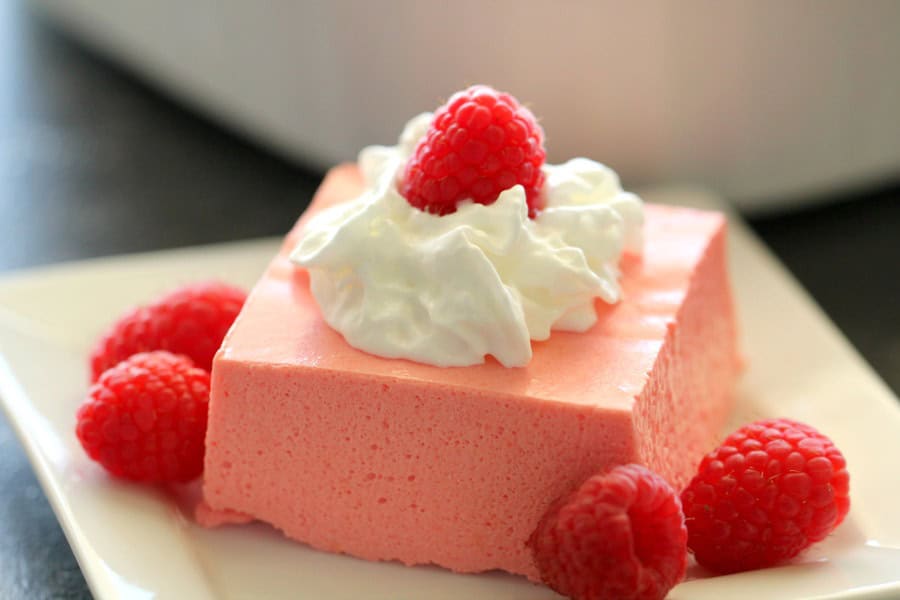 How to make Raspberry Cream Cheese Jello Salad
Open can of pears and drain 1 cup of the pear juice into a bowl. Set bowl aside and throw away the rest of the juice.
Add 1 cup of water to the pear juice and microwave the liquid for 2-3 minutes or until water is boiling.
Add the box of raspberry jello to the boiling liquid and stir until all jello has dissolved. Set bowl in fridge and allow it to cool for about 6-8 minutes.
Dump pears and softened cream cheese into a large blender. Add in cooled jello and container of Cool Whip. Blend until completely combined.
Pour jello into 9×13″ pan and set in the fridge until jello is completely set (should take 3-4 hours – you could also let it set up overnight).
Serve topped with whipped cream and fresh raspberries.
Other flavor combinations to try:
If you want to mix it up, here are some other flavor combinations you might like.