Three words: Pumpkin Spice Oreos. I don't know if I need to say anything more, but I will. Stop whatever you are doing and whip up a batch of these delicious holiday cookies. The holidays just got a whole lot better.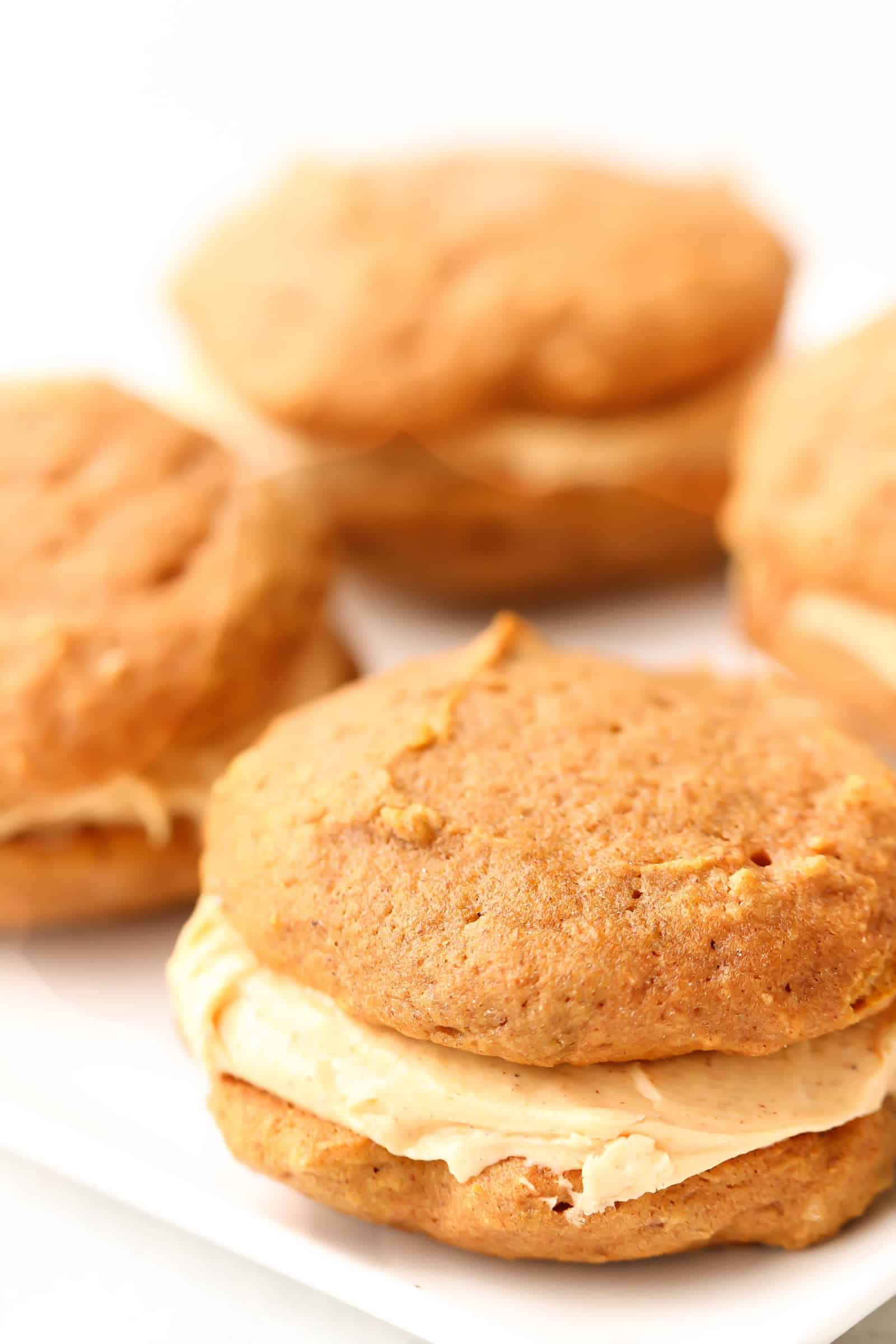 We love anything and everything pumpkin. But these Pumpkin Spice Oreo Cookies hit pretty close to our number one favorite recipe this time of year!
You will love these homemade pumpkin spice Oreo cookies. They are super soft and puffy. The frosting in the middle is pumpkin cream cheese frosting.
Mmmmmm. One bite and you'll be hooked.
It's like the two best things in the entire world, just collided and made the most beautiful baby, this Pumpkin Spice Oreo.
Your friends and family are going to love this one. I bring these to Thanksgiving every year, because a lot of the kids don't appreciate pumpkin pie, but they go crazy over these.
The adults may even like them more than the kids. It must be that cream cheese frosting.
Related Recipe: Try our delicious Pumpkin Cinnamon Rolls!
How to make Pumpkin Spice Oreo Cookies:
Step 1: Heat oven to 350 degrees.
Step 2: Line cookie sheet with parchment paper. If you don't have parchment paper, you could also use a rubber baking mat, or spray your pan with non-stick cooking spray.
Step 3: Mix together pumpkin and butter until smooth. Then blend in eggs, milk and vanilla.
I did this with a whisk, but you could also use a stand mixer, hand mixer, or spoon, to combine the ingredients.
Be sure to soften the butter, so you aren't left with stubborn butter chunks.
Step 4: Slowly add in the cake mix and beat until all is blended well.
Step 5: Drop batter onto cookies sheets. Bake for 12 minutes. Remove from oven and let cool completely.
I just used a regular kitchen spoon to do this. You could use a cookie scoop as well.
Step 6: Make frosting by mixing the softened butter, cream cheese, pumpkin, vanilla, nutmeg, ginger, cinnamon and sugar together, until well blended.
Step 7: Spread on the back side of a cookie, then top with the other cookie to sandwich them together.
You will want to be sure your cookie halves are completely cool, or else they will melt the frosting, and it will take a while to set up. It will turn more into a glaze and be difficult to eat.