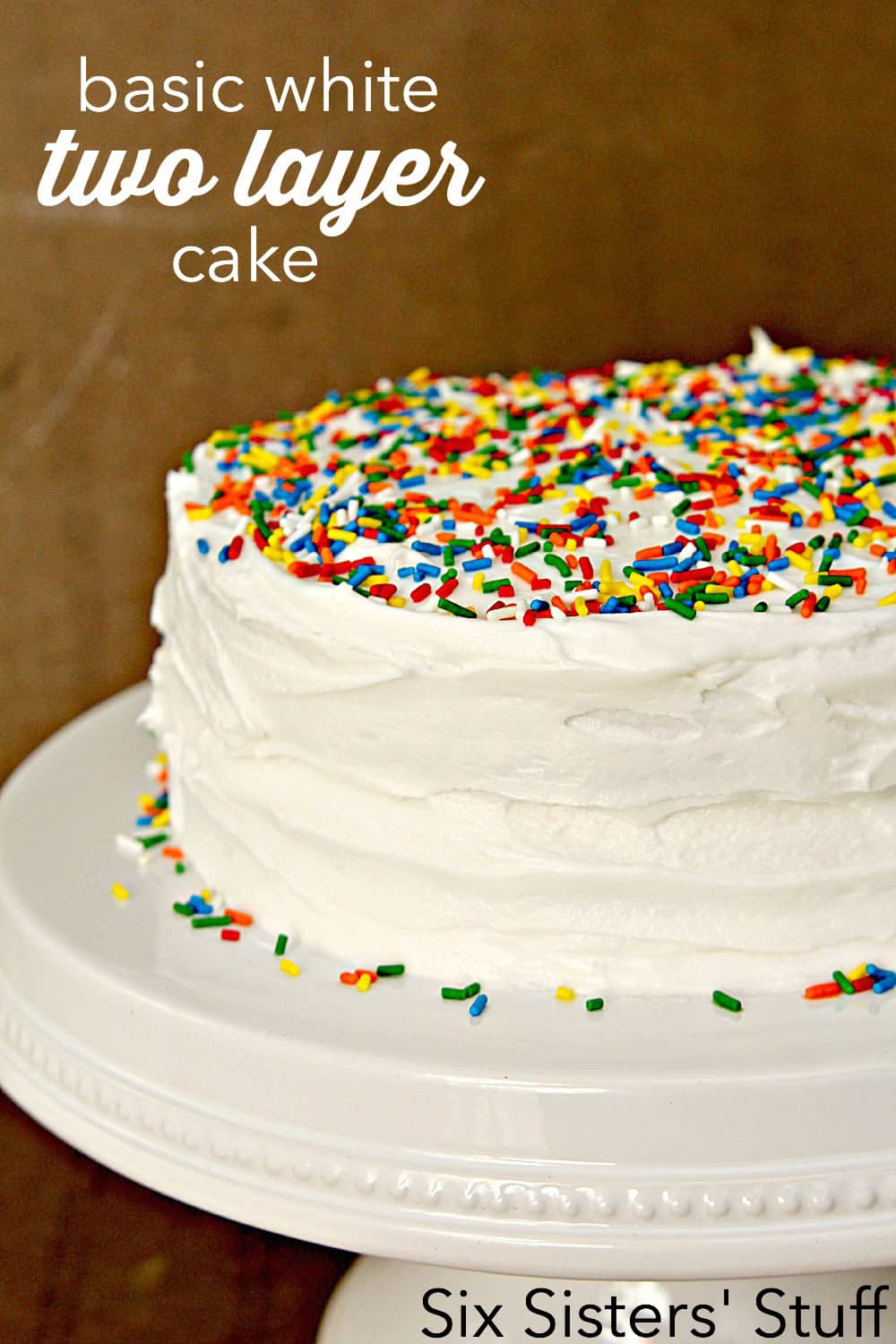 Most of the recipes that we share on our blog are as simple as can be . . . however, for special occasions, I like to branch out a little bit!
Our cute friend Amanda from I Am Baker just released her cookbook, Surprise Inside Cakes. I am sure that you have seen all of Amanda's amazing creations on Pinterest (such as her Infamous Rose Cake!) and I am always blown away by her amazing creativity and talent. So, when I was finally able to get my hands on one of her books, I felt inspired to try and make one of the cakes myself!
To be honest, I have NEVER made a two layer cake. I am the type of girl who makes a cake batter, pours it into a 9×13″ pan, and calls it good. This was definitely going to be something new for me!
Thankfully Amanda's book has such easy to follow instructions and pictures of each step, so even a two-layer cake newbie like myself felt confident in what I was doing.
Check out more of our favorite cake recipes: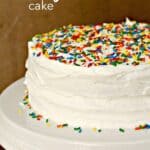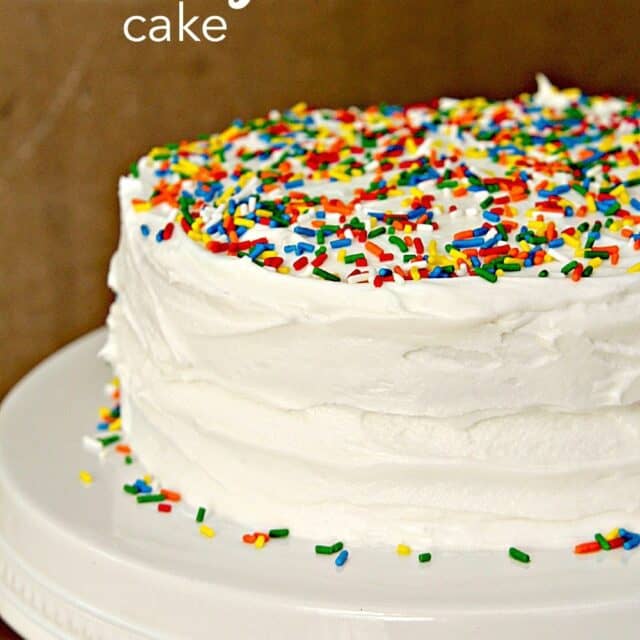 Basic White Two-Layer Cake and White Buttercream Frosting Recipe
This is hands-down the best made-from-scratch white cake recipe I have ever tried!
Ingredients
Cake
3

cups

cake flour

½

teaspoon

salt

1

Tablespoon

baking powder

1

cup

unsalted butter

room temp

2

cups

sugar

1

cup

milk

room temp

1 ¼

teaspoons

clear vanilla

¼

teaspoon

almond extract

5

egg whites

room temp
White Buttercream Frosting
1

cup

shortening

2

teaspoons

clear vanilla

dash

salt

7

cups

powdered sugar

½

cup

milk

(or heavy cream)
Instructions
Cake
Preheat your oven to 350 degrees and make sure that the rack is in the center of your oven. Spray two 8" round cake pans very generously with non-stick cooking spray (I used Baker's Joy ).

In a large bowl, mix together cake flour, salt, and baking powder; set bowl aside.

In another large bowl, cream the butter and sugar together on medium speed for about 2 minutes, or until it's light and fluffy (you can use a standing mixer or an electric hand mixer).

In a large measuring cup, combine the milk, vanilla, and almond extract.

Now it's time to add them all together! Add 1/3 of the flour mixture to the butter mixture and blend on a low speed for about 30 seconds. Add about 1/2 of the milk mixture and blend again. Add in half of what's left of the flour mixture and blend again. Add in the rest of the milk mixture, blend for a couple of seconds, then the remaining flour mixture and blend at a low speed until the ingredients are barely mixed together (don't over mix!).

In a separate bowl (or in your stand mixer using the whisk attachment), beat the egg whites on medium-high speed until they reach "firm peak stage" (a.k.a. when the whisk is held sideways, the peaks will hold and the ridges will be distinct - this took about five minutes of whisking for me!). Fold the egg whites into the cake batter.

Pour the cake batter evenly into the two prepared pans and bake them for 20-26 minutes (mine were done at 25), or until a toothpick inserted into the center comes out clean. Let the cakes cool for about 10 minutes, then carefully remove the cakes and let them finish cooling on wire racks.
Frosting
Combine the shortening, vanilla, and salt in a large bowl (you can use a stand mixer with a paddle attachment or a hand mixer). Add the powdered sugar 1 cup at a time, alternating with the milk or heavy cream, and mix it together until you have used it all. If the frosting is too thick, add more milk. If the frosting is too thin, add more sugar.
Stack your cake
Place one of your cooled, leveled cake layers on your cake stand . Using an offset spatula, place about 1/2 cup of frosting in the middle of the cake. Using your spatula, push the frosting out to the edges until the frosting is about 1/4"-1/2" thick (if you have a rotating cake stand, this step is really easy, but you can do it without it).

Place the second layer of cake on top. You will now create the crumb coat (a thin layer of frosting that seals in all the crumbs to make it easy to decorate). Using the offset spatula, spread the frosting that has spilled out from between the layers smoothly over the surface. Add more frosting as needed, just keep the layer thin and smooth.

Place about 1/2 cup of frosting on the top of the cake, pushing the frosting out to the edges until it's a smooth, flat surface.

Now place the spatula against the edges of the cake and smooth out the excess frosting pushed over from the top of the cake.

To help the cake firm up, stick it in the freezer for about 1-2 hours.

From here, drop 1/2 cup frosting on the center of the cake and push it out to the edges as you did before, making the surface nice and smooth.

Continue adding frosting to the top and edges of the cake until it's the smoothness and thickness you want. (Amanda says that the best way to get smooth frosting is to practice!)

From there, continue to add more frosting to the top and sides of the cake until it's completely covered. I topped mine off with sprinkles, but you could get fancy and add some frosting decorations
Nutrition
Calories:
830
kcal
·
Carbohydrates:
128
g
·
Protein:
6
g
·
Fat:
34
g
·
Saturated Fat:
15
g
·
Trans Fat:
3
g
·
Cholesterol:
44
mg
·
Sodium:
242
mg
·
Potassium:
100
mg
·
Fiber:
1
g
·
Sugar:
104
g
·
Vitamin A:
523
IU
·
Calcium:
105
mg
·
Iron:
1
mg
Equipment
Mixing bowls

2 Round Cake Pans
Recipe Details
Cake and frosting recipe source: I Am Baker