These Baked Pumpkin Spice Donut Holes are a game changer. If you are a pumpkin spice fan, then you need to try these today. They are so simple, and so delicious. You will love them.
These Baked Pumpkin Spice Donut Holes are changing the donut game. They are so easy to make, taste delicious and you only need a mini muffin tin – no fancy equipment or baking sheets needed!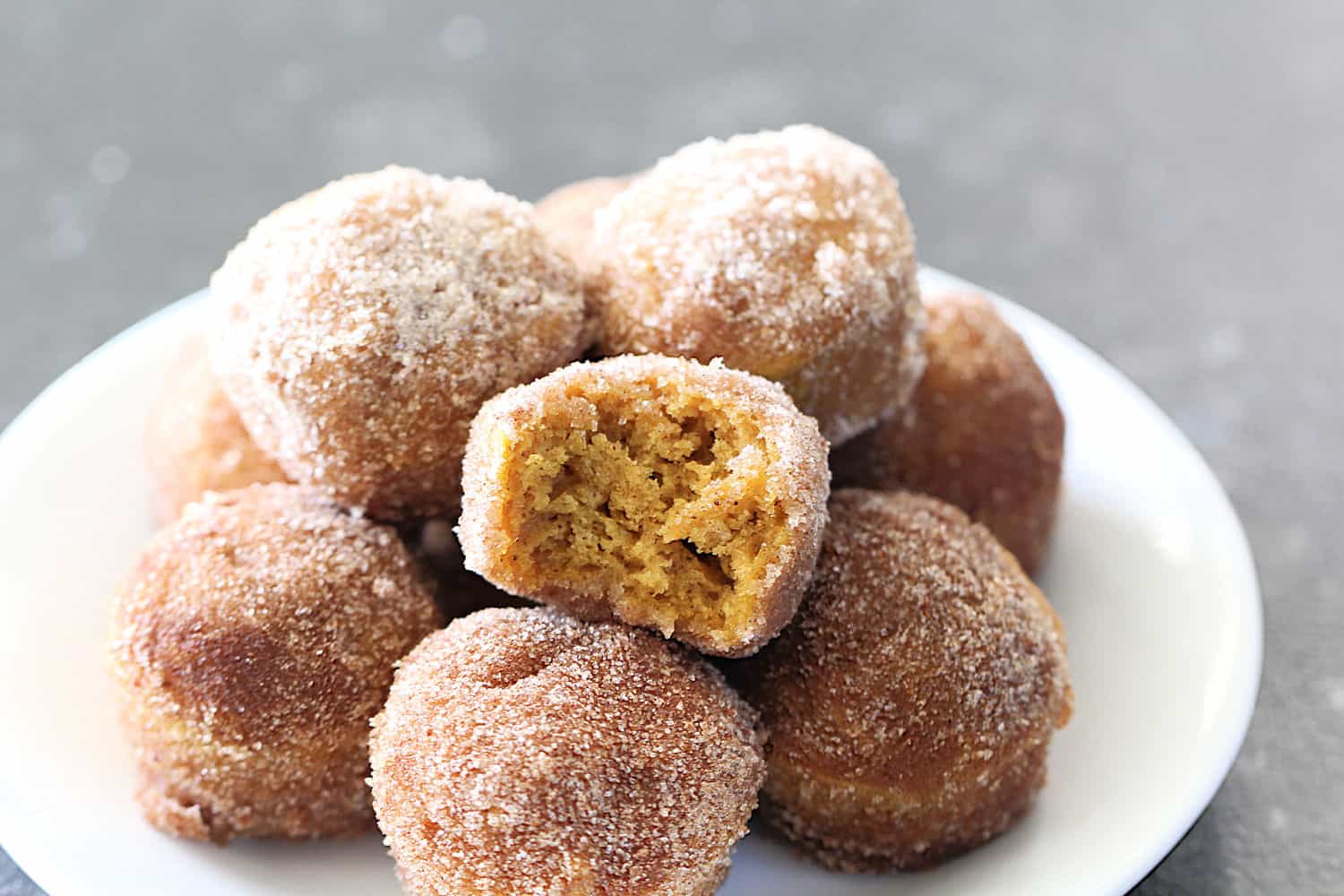 You don't have to worry about frying them, or those extra calories, because they come out of your oven, ready to eat.
They taste like fall, fell in love with donuts, and you will probably fall in love with these. They are so simple, take minutes to throw together, and taste amazing.
These are always a hit when we bring them to holiday festivities, or make them for after school snacks for the kids.
How the pumpkin spice donut holes were created:
During high school, I worked at a donut shop that some of our family friends owned. Every Saturday, I would wake up around 5:00 am to make it to the shop by 6 am and serve donuts to happy morning people.
Seriously, waking up that early as a teenager was torture, but the amazing aroma of donuts definitely helped make it a little easier. For the few years that I worked there, I basically ate a donut every day (I had to be able to tell the customers what they tasted like, right?).
After a couple of years, the aroma no longer smelled good to me and the thought of eating a donut just made me sick to my stomach. Fast foward to today, it's been over a decade since that fun job at the donut shop ended and my love of donuts has returned with a vengeance.
I can't get enough of them.I love that these donuts are baked instead of fried. To be honest, I have never really fried anything in my life because the thought of being scalded by burning oil terrifies me.
I bake my chimichangas, I bake my churros, and now I bake my donuts. The great thing about this recipe is that these little donut bites taste amazing and literally melt in your mouth.