This Pecan Pie Chex Party Mix is the perfect combination of sweet and salty. Crunchy Chex Party Mix and pecans coated in soft caramel and drizzled with white chocolate make this a holiday treat everyone will love!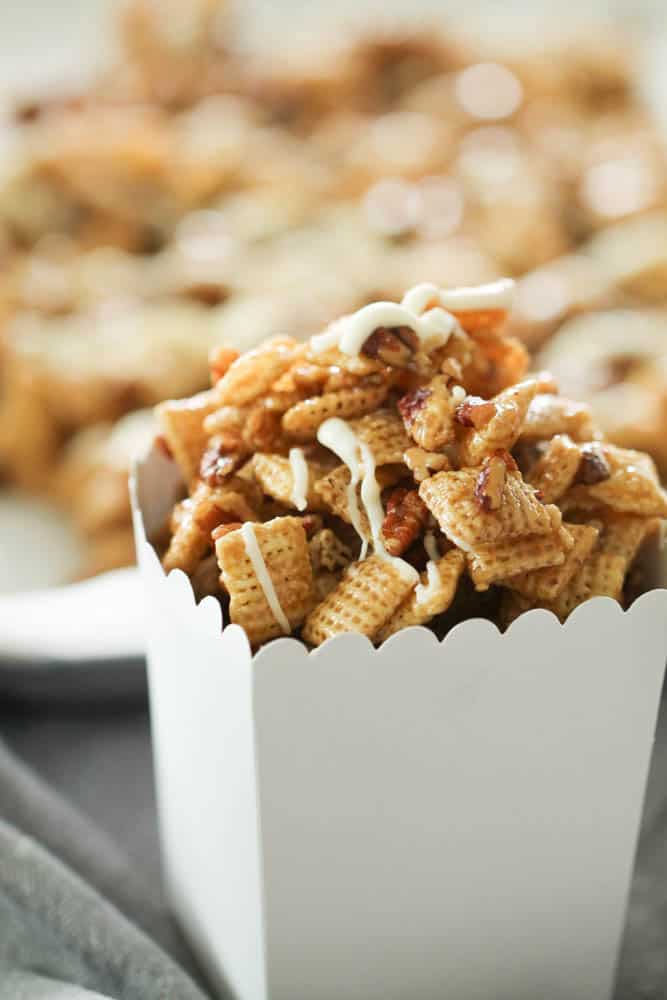 Pecan Pie Chex Mix is the perfect treat to serve at a party or give as a gift to neighbors and friends.
Our family loves getting together as much as possible during the holiday season, and no gathering is complete without party food!
Growing up, our mom always made a huge batch of some sort of Chex Mix or Muddy Buddies to eat while we played games or watched a holiday movie.
I can still remember how good the house would smell when my mom would make batch after batch of our Gooey Almond and Coconut Chex Mix to give to our neighbors as gifts.
It's easy to throw together and makes a ton so that you can share!
Ingredients in Pecan Pie Chex Mix:
Rice Chex
chopped pecans
brown sugar
butter
light corn syrup
baking soda
vegetable oil
white chocolate chips
How to Make Pecan Pie Chex Mix: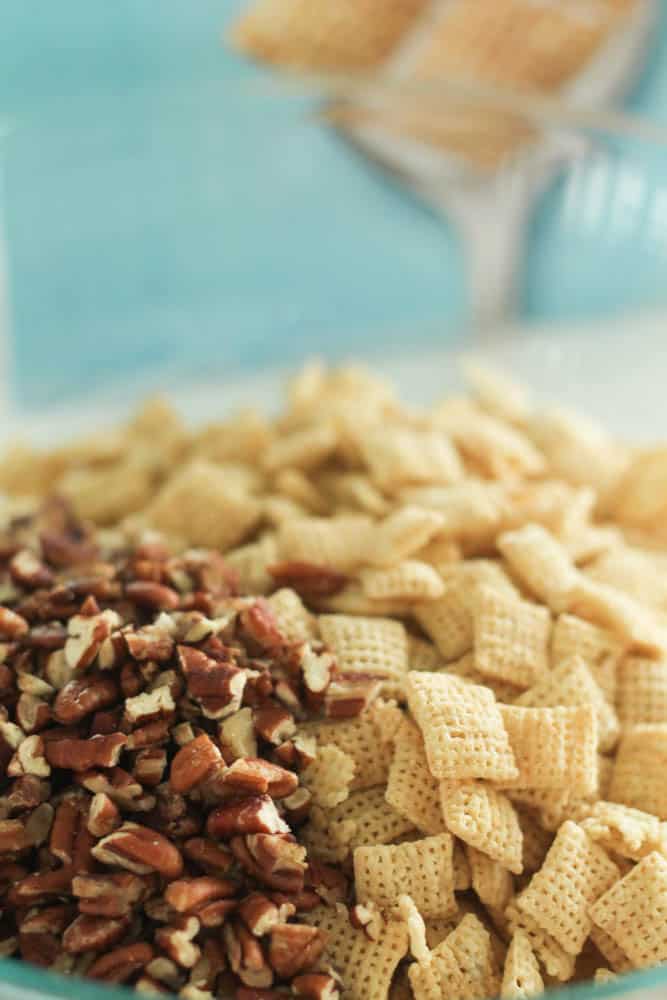 In a large mixing bowl, combine chopped pecans and Rice Chex Cereal.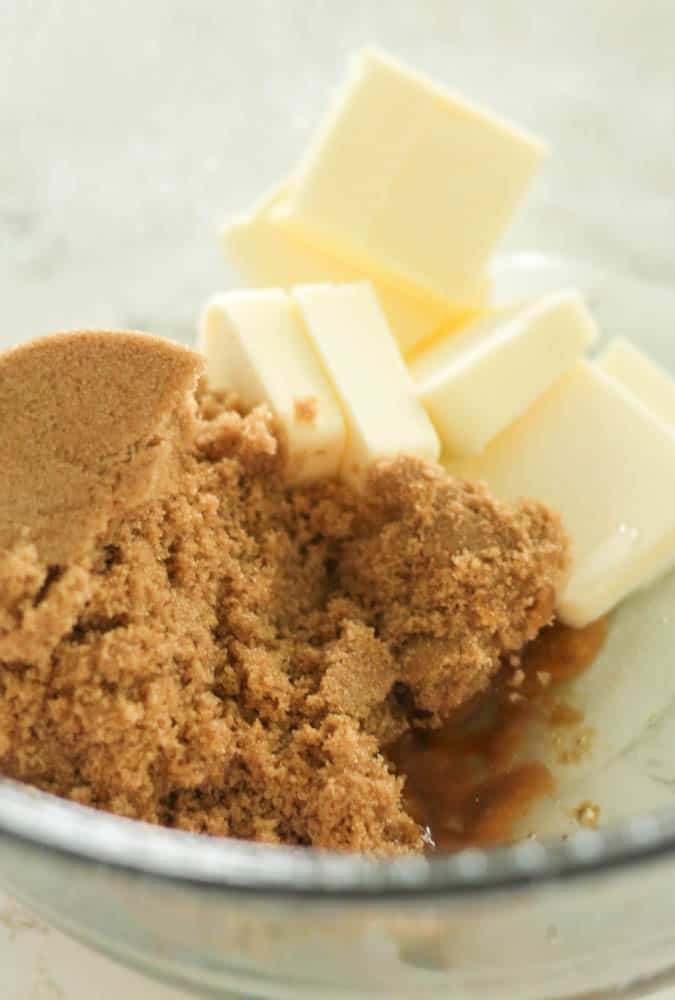 In a separate bowl, combine brown sugar, butter and corn syrup and microwave on high for 2 minute, stirring after 1 minute.
Remove the brown sugar mixture from the microwave and whisk in baking soda until smooth to create caramel coating.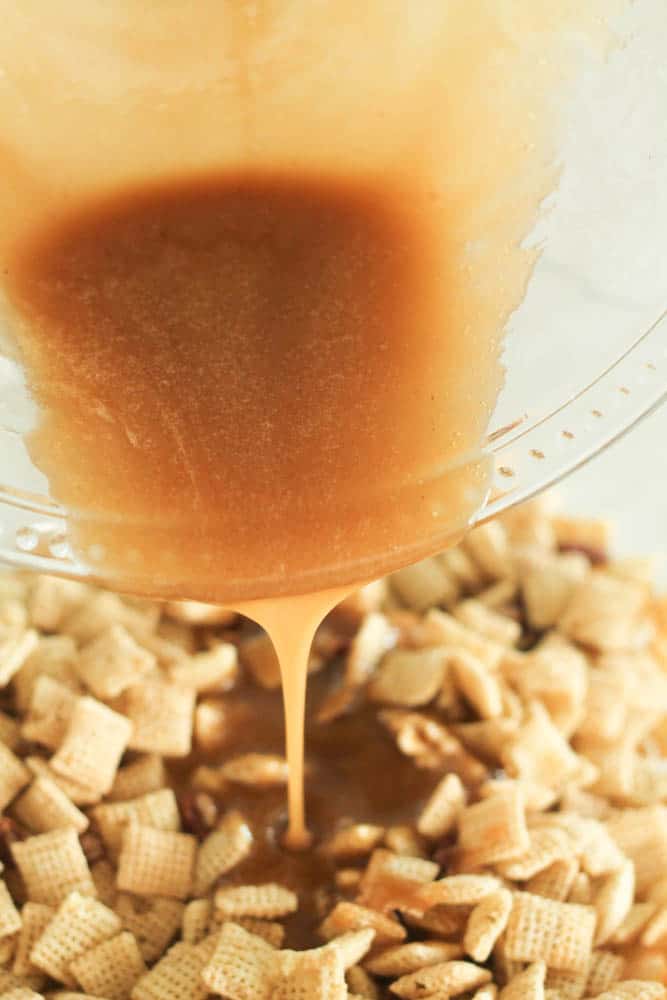 Pour caramel over the Rice Chex and chopped pecans and gently fold until cereal and pecans are evenly coated.
Be really careful not to crush the Rice Chex when you are mixing everything together.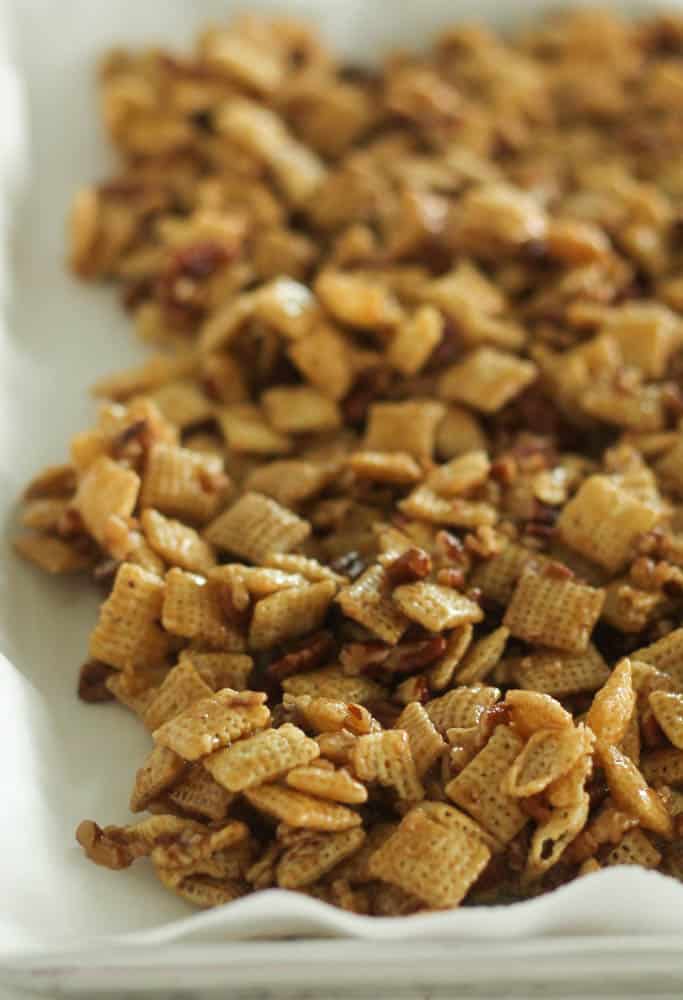 Spread the mixture onto a baking sheet lined with waxed paper and let cool.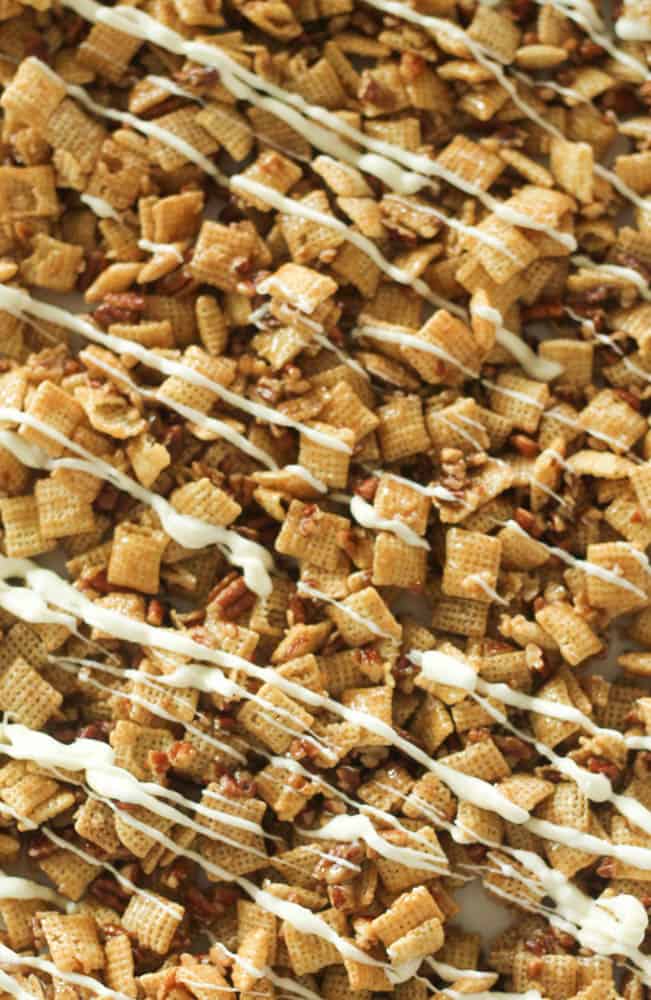 While the mixture is cooling, combine vegetable oil and white chocolate chips in a microwave-safe bowl.
Cook on high for 2-3 minutes, stirring every minute, until smooth.
Drizzle the melted white chocolate over the Chex mix and refrigerate or leave out on the counter until set.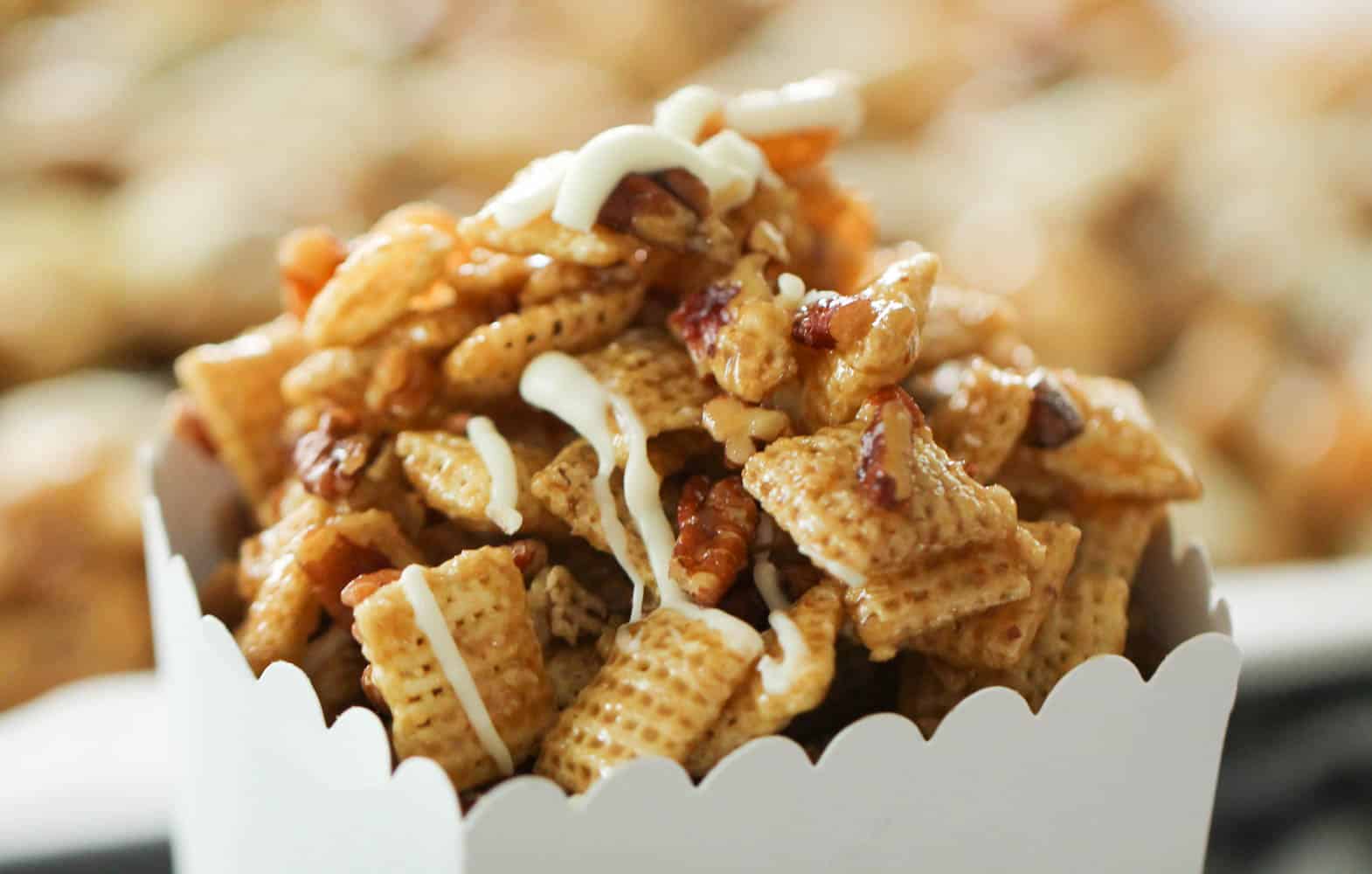 After your Pecan Pie Chex Party Mix is set, you can break it into pieces to serve or place in individual serving cups.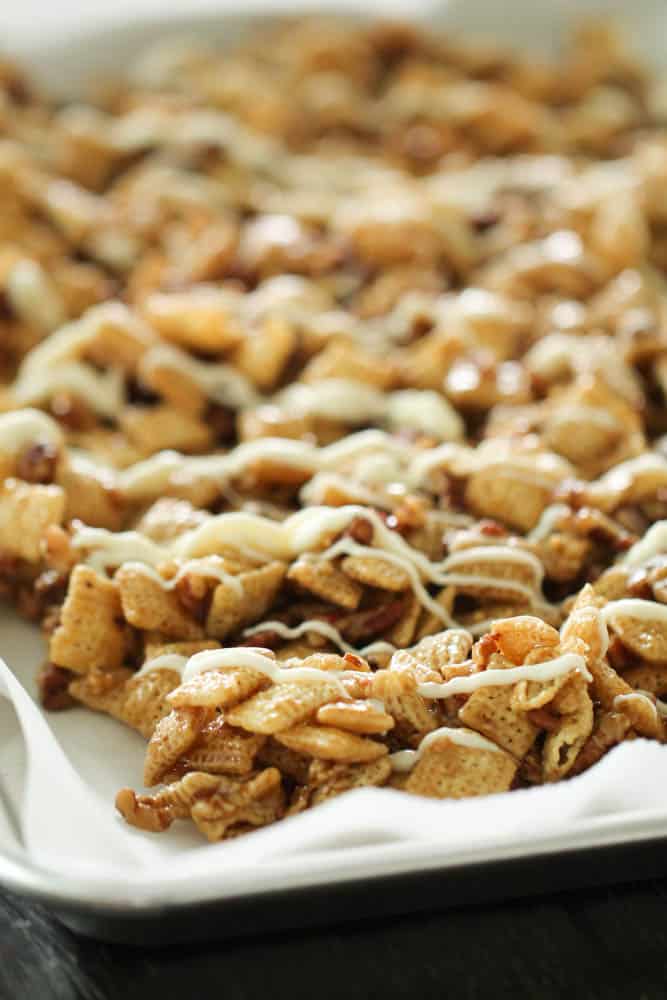 Or if your party guests are too excited to try your Pecan Pie Chex Party Mix, you can serve it straight from the pan or place it in a serving bowl or dish!
Either way you serve it, we know this Pecan Pie Chex Party Mix will be a recipe to help you create some new memories this holiday season!