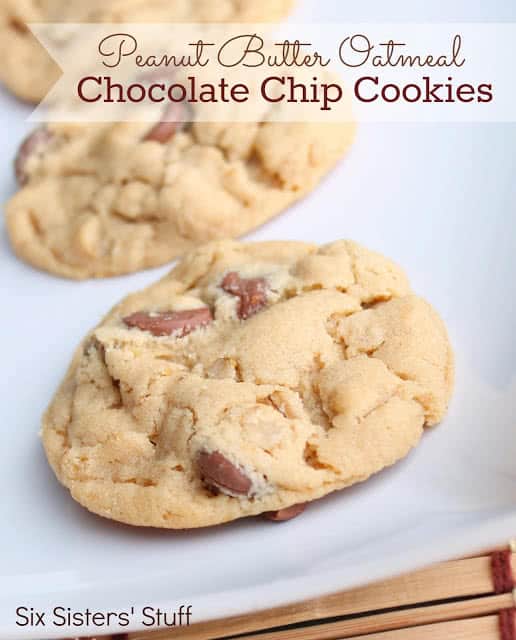 If I had to choose my all time favorite dessert from Six Sisters' Stuff, it would definitely be our
Lunch Lady Peanut Butter Bars
!  I have had to put a ban from making them at our house until I finish losing my baby weight, because I tend to eat half the pan….or more!  I finally couldn't take it anymore and decided I could make a cookie with the same flavor, and boy was I right!  They were delicious!
Peanut Butter Oatmeal Chocolate Chip Cookies Recipe:
(Makes 3 dozen cookies)
Ingredients:
1/2 cup (1 stick) butter, softened
1/2 cup granulated sugar
1/2 cup light brown sugar
1/2 cup peanut butter
1 teaspoon vanilla extract
1 egg
1 cup all-purpose flour
1 teaspoon baking soda
1/2 teaspoon salt
1/2 cup oats (quick or old fashioned)
2 cups milk chocolate chips
Directions:
Preheat oven to 350 degrees.  In a large mixing bowl, combine butter and sugars.  Stir in peanut butter, vanilla and egg until well combined.  Add flour, baking soda and salt.  Fold in oats and chocolate chips and mix until combined.  Roll into 1″ balls and place on a lightly greased baking sheet.  Bake for 10-12 minutes, or until golden brown.
Looking for more delicious peanut butter recipes?
Here are a few of our favorite: