Cake lover or not, you will go crazy for this Chocolate Chip Cookie Ice Cream Cake. It is so simple and tastes delicious. It's presentation is beautiful, but it really only takes a few minutes to make. Your guests and family will love this.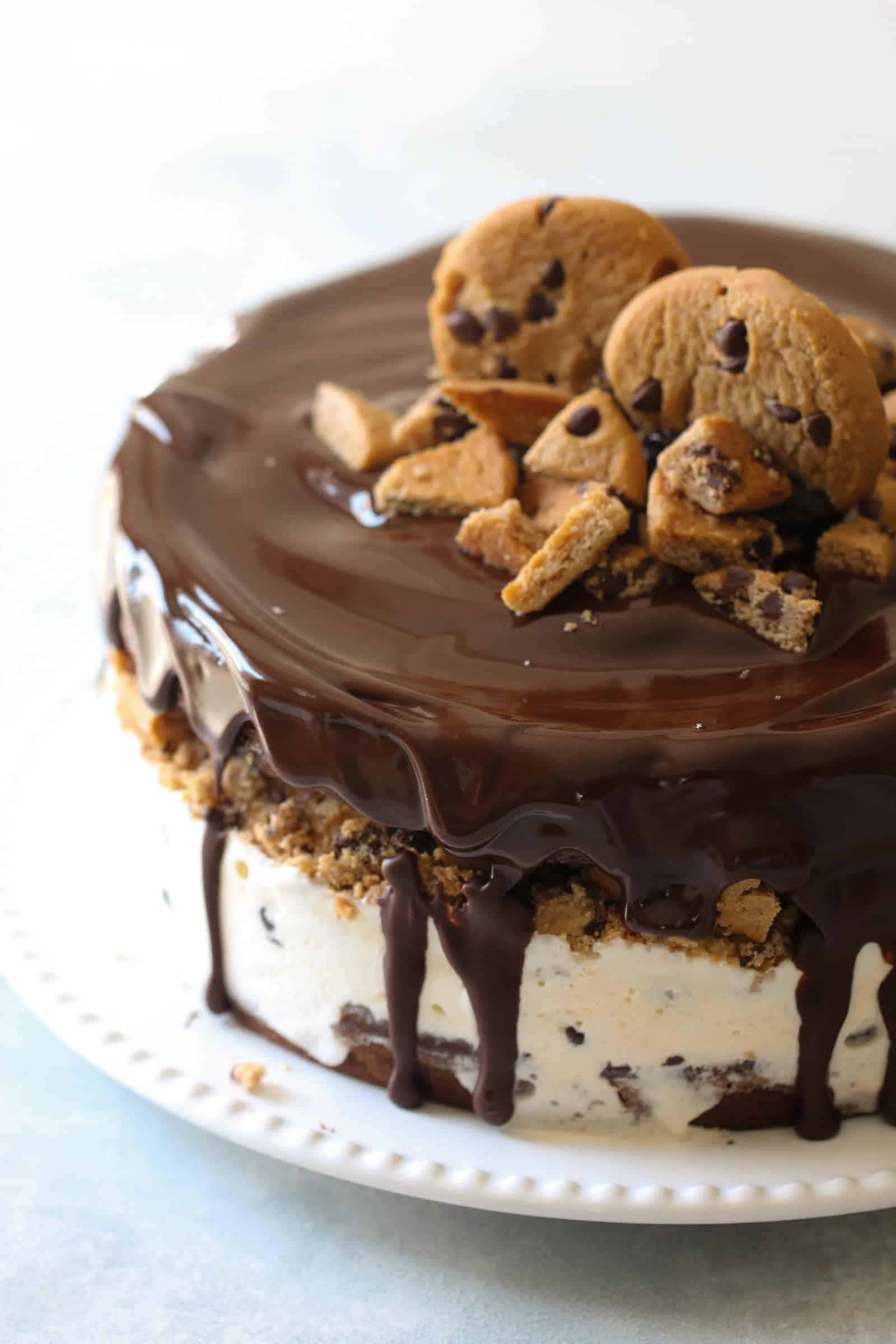 Soon after we were married, my husband kindly let me know that he "didn't actually like cake." I was totally blown away. He does, however, love ice cream.
So, every year (since that fateful first year) for his birthday, I try to switch up his birthday "cake."
I've made our Hot Fudge Sunday Cake, our Reese's Peanut Butter Cup Ice Cream Cake, and even ordered a few, but this year, I tried my hand at a homemade ice cream cake and it was a HOME RUN.
It's easier to put together than it looks, but it tastes AMAZING.
How to make chocolate chip cookie ice cream cake
Step 1: Bake cake mix according to package directions for two 9 inch round cakes. Let cool, and remove from pans.
Step 2: Remove ice cream from the freezer and let it partially thaw (you don't want it to be melted, but it does need to be spreadable).
Step 3: On a freezer-safe plate, place one 9 inch cake. Measure a piece of wax paper, folded in half, to go around the circumference of the cake and secure in place with tape.
Doing this will help the cake keep it shape until you're ready to serve. You could also use a springform pan, to hold the shape while it is freezing.
Step 4: On top of the cake, evenly spread ice cream to the edges, pressing it up against the wax paper.
Step 5: Crumble two-thirds of the package of cookies, and sprinkle evenly over the ice cream.
Step 6: Place the second 9 inch cake on top of the cookie crumbs, and press down gently (don't push too hard, or your wax paper may come undone).
Step 7: Freeze for 2-3 hours, until ice cream can hold it's shape.
Step 8: Before serving, heat chocolate chips and butter in a saucepan over medium heat, stirring until smooth.
Step 9: Remove wax paper from the cake, then pour chocolate sauce over the top, letting it drip down the sides.
Step 10: Top cake with remaining chocolate chip cookies, and serve immediately.